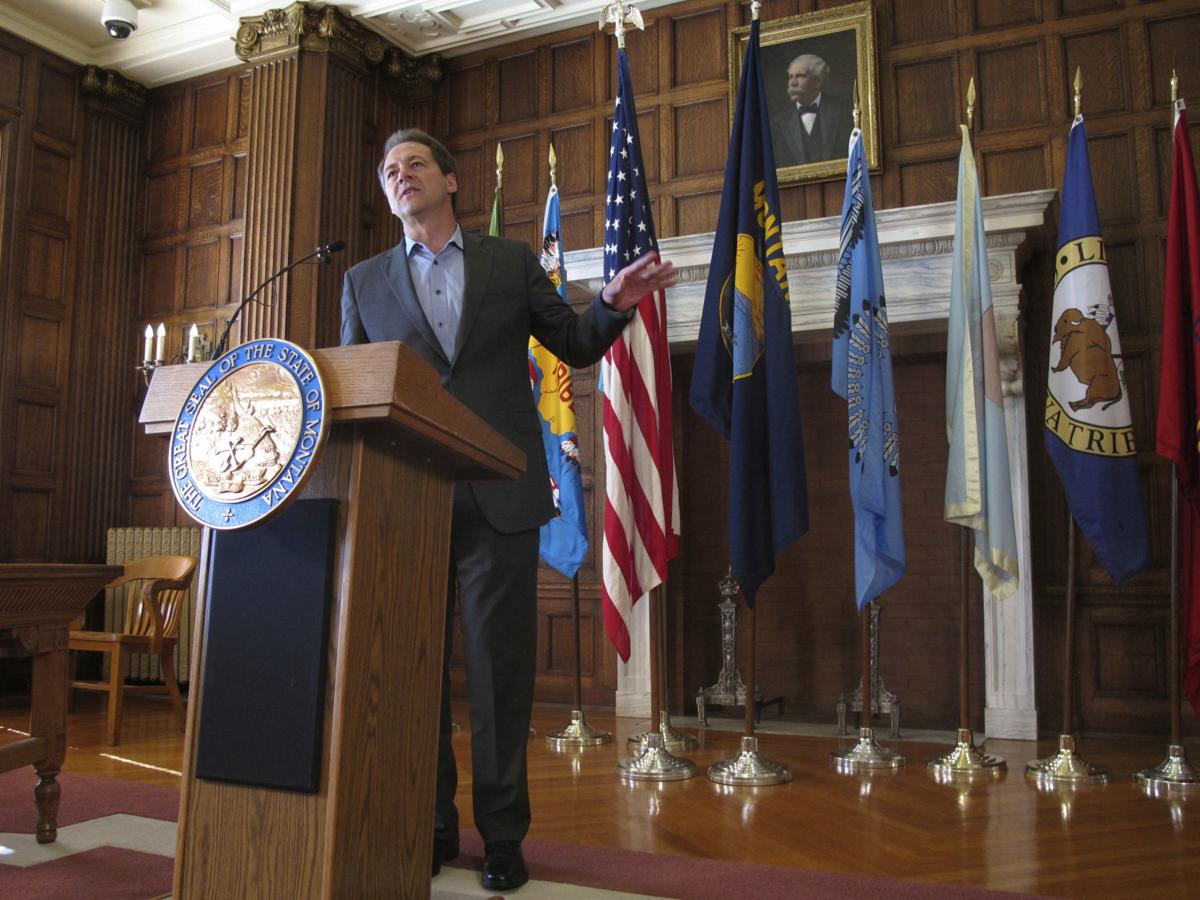 In June 2018, Bullock signed an executive order saying that to receive a state contract, an organization must report its political contributions. The order extends to so-called social welfare nonprofit organizations that, under campaign finance laws, do not have to disclose their donors. It applies to organizations that have spent more than $2,500 over the past two-year cycle and is for contracts of more than $50,000 for goods or $25,000 for services.
The information is then disclosed in a portal on a state website. While Montana has some of the most stringent campaign finance laws in the country, the 501c(4) status of social welfare nonprofit organizations means that unlike political action committees or other groups that spend in elections, they do not have to disclose where their money comes from.
The group bringing the lawsuit against Bullock's executive order is the Illinois Opportunity Project. In the lawsuit, filed Tuesday, the group says it plans to spend money in Montana during the 2020 election cycle, interestingly enough, to urge candidates for governor to unravel Bullock's executive order if they are elected.
"(IOP) plans to make paid communications by mail to thousands of Montana voters within 90 days of the 2020 general election," the lawsuit reads. The organization receives money from a variety of sources, including corporations and Montanans that may want to bid on state projects, the lawsuit says. 
"IOP is concerned that compelled disclosure of its donors could lead to substantial personal and economic repercussions for its supporters," the lawsuit reads. "Across the country, individual and corporate donors to political candidates and issue causes are being subject to boycotts, harassment, protests, career damage and even death threats for publicly engaging in the public square." 
Much of Bullock's campaign message as he seeks his party's nomination for president has been that it will be difficult to address any other issue unless dark money is removed from the political sphere. It's a cause he's championed since his days as attorney general. In 2015, as governor, he was able to partner with Republican lawmakers to pass the Disclose Act, which gives Montana some of the toughest campaign finance disclosure laws in the nation. His executive order last year was the first of its kind. 
In an interview Wednesday, Bullock hammered home his message that what IOP seeks to do, in his view, is an example of what's wrong with campaign finance nationwide.
"They're claiming they want to try to corrupt our 2020 governor race but they don't want anybody to see who's spending," Bullock said. "It sort of represents the whole problem with our overall electoral system. That's the very point of transparency, so out-of-state corporations can't buy elections."
You have free articles remaining.
IOP is represented by the Liberty Justice Center and Anita Milanovich, a Butte attorney.
Daniel Suhr, an attorney with Liberty Justice Center, said Wednesday that Bullock's executive order violates the provisions of the First Amendment.
"Ultimately this case is about the right of every American to engage in advocacy around the issues that are important to our community without fear of disclosure, reprisal or harassment," Suhr said. "Since the founding of our country, go all the way back to the founding fathers and the Federalist Papers, we've had a long and proud tradition of anonymous advocacy in the public square."
Bullock said the order doesn't stop anyone from spending to try to influence things in Montana, just that they have to disclose their spending if they want to bid on state contracts.
"If their theory is dark money groups won't spend in Montana's elections if they have to disclose … then that proves the whole point of why we need to do things like this," Bullock said. 
Bullock said this is the first challenge to the order and that others who are getting state contracts have complied. Back in 2018 when signing the order, he essentially challenged groups to sue over the rule, as the Associated Press reported, saying, "Look, I'd certainly welcome some dark money group to challenge it because I think it's not only consistent with the law but consistent with what Montanans hope to know about who's trying to influence their elections."
Suhr said Bullock's order pries into the private membership information of IOP. He said other laws around the country also concern the organization. He pointed to a law in New Jersey that says any 501c(4) or 527 nonprofit organization, if it spends money on communications or advertisement that mentions an elected official or candidate, must register with the state election board and disclose its donors and members who have given more than a set amount. Suhr classified that as the most "aggressive" law in the country.
IOP wants to spend money in Montana around the 2020 cycle because that's when voters and candidates are paying attention, Suhr said.
"That's the issue that IOP cares about and so when the next governor comes into office, I think they want to communicate during the period leading up to the election why that's important and how when they engage in behavior like this they are letting us down on our constitutional rights to free speech," Suhr said. "Privacy in advocacy is especially important for people with unpopular and minority views. For people who have unpopular and minority views in our society, that type of privacy is important."
The case has been assigned to U.S. District Court Judge Charles C. Lovell  in Helena. IOP is asking that Bullock's order be struck down, something Bullock said he will defend vigorously against.