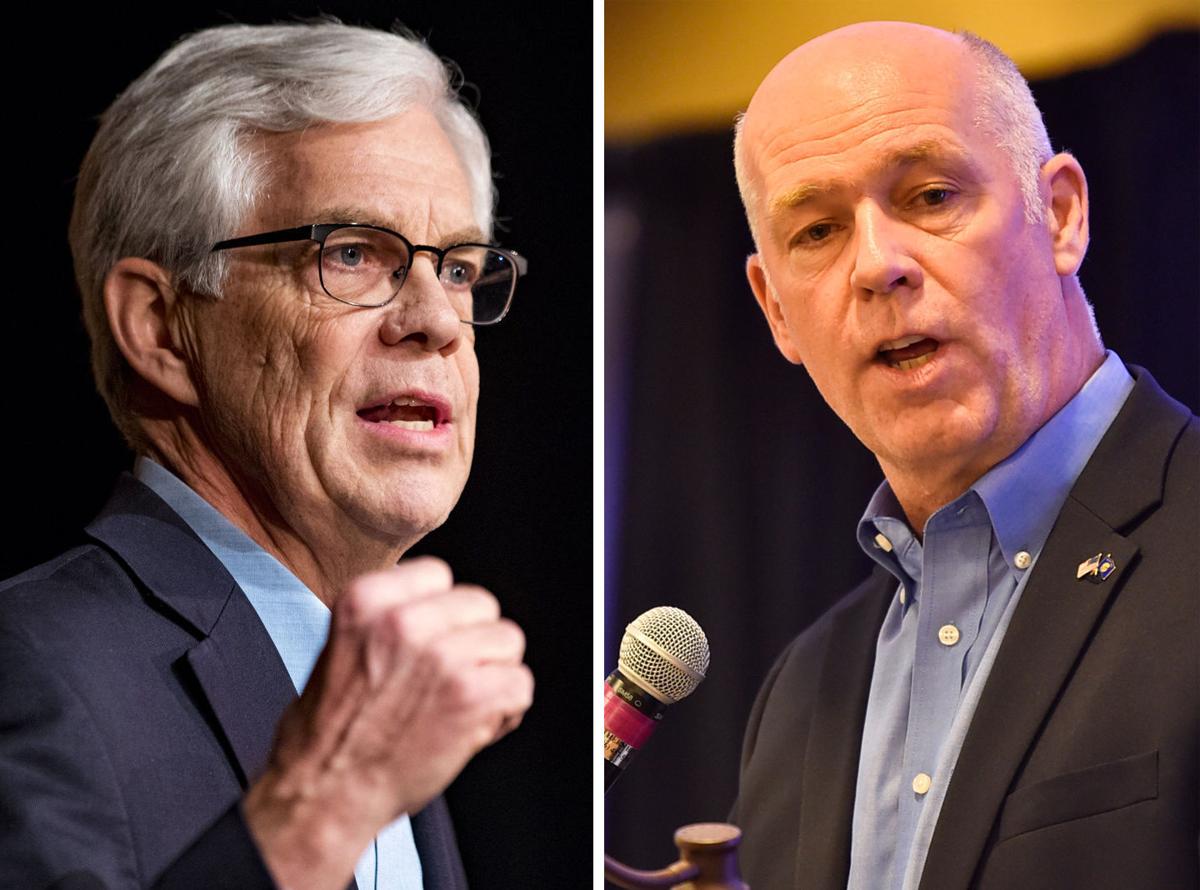 The Democratic and Republican candidates for governor have released dueling health care proposals, touching on issues from the novel coronavirus pandemic to Medicaid expansion and prescription drug costs.
Late last month, Republican candidate Greg Gianforte, who is Montana's lone representative in the U.S. House, released his "Montana Comeback Plan" that dealt on a broad range of issues, including health care. Democratic candidate Mike Cooney, who is the lieutenant governor, announced his proposal at a press conference in Bozeman on Wednesday.
Cooney's plan specifically addresses the pandemic, saying as governor he'd require insurance companies operating in Montana to fully cover both the cost of COVID-19 testing and treatment. He also called for implementing infectious disease standards in workplaces.
"This plan outlines big, bold steps Montana can take to decrease the cost of prescription drugs and increase access to health care for those who need it, including protecting the health and safety of Montanans through the COVID-19 pandemic," Cooney said Wednesday in Bozeman.
Gianforte's "Montana Comeback Plan" does not directly address the cost of COVID-19 testing or treatment or workplace safety related to the virus, but does say that adaptions during a stay-at-home order show that remote work is possible for many types of jobs. 
"Our comeback plan also focuses on increasing access to affordable health care, bringing down prescription drug prices, protecting people with pre-existing conditions and preserving access to rural care," Gianforte said in a Helena gathering in late July that capped a week of events around Montana introducing his plan. " ... This is a distillation of all the best ideas from across the state."
Medicaid expansion has dominated much of the conversation when it comes to health care in Montana for the last half-decade. In 2015 a coalition of moderate Republicans and Democrats in the state Legislature approved expanded Medicaid to cover those who earn up to 138% of the federal poverty level.
The program was extended in the 2019 Legislature to run through 2025. While that provides some clarity, it by no means 100% ensures the program that covers 85,000 Montanans will continue without hiccups.
Medicaid expansion is allowed for under the Affordable Care Act. On Nov. 10, after the Nov. 3 election, the U.S. Supreme Court will hear arguments in a case that could strike down the entire ACA. That would end Medicaid expansion and other popular provisions such as protections for those with pre-existing conditions. 
Earlier this year, the Trump administration's Justice Department filed a brief in that case that called for the high court to strike down the full ACA, which would end protections for those with pre-existing conditions since Congress has not passed any other measure preserving that provision. Gianforte voted against an amendment that would have stripped the U.S. Justice Department's funding to challenge the ACA, though that passed the Democratic-controlled House.
Gianforte has said in the past he would like to see the ACA, also known as Obamacare, repealed and replaced. Democrats often point to this in saying that Gianforte's statements about protecting coverage for those with pre-existing conditions and respecting the safety net provided by Medicaid expansion ring hollow, saying if the act were repealed without a replacement, those provisions would fall.
Gianforte's official office said when the Trump administration's brief was filed that the congressman "thinks a legislative approach to fixing our broken health care system is the way to go" and that any reforms to the ACA should protect pre-existing conditions.
When asked about the potential for the possible repeal of the ACA without any other measure in place, Gianforte has pointed out that he's cosponsored the Pre-existing Conditions Protection Act, which would make insurance companies cover people with pre-existing conditions but has yet to become law.
"I've voted multiple times to protect people with pre-existing conditions in committee and on the House floor," said Gianforte, who serves on the Subcommittee on Health, in July. Gianforte's plan cites a commitment to protect coverage for those with pre-existing conditions, but does not specify an action to do so.
In Cooney's proposal, he said he would veto any attempts to weaken Montana's existing Medicaid expansion program and support "repealing bureaucratic barriers to care for eligible Montanans." His campaign said later those barriers included work requirements, which were added to the program in its 2019 renewal. While Cooney would not bring forward legislation to that effect, he would support efforts to do so.
"Medicaid expansion has been a lifeline fur rural Montanans, and I'm damn proud of the work that we put in to reauthorize that program. ... Anyone who wants to mess with Medicaid expansion in Montana will have to come through me first," Cooney said Wednesday.
The Democrat also said he would oppose any effort to repeal the ACA and that he would work to codify protections for people with pre-existing conditions at the state level.
Gianforte said in July that he supported the continuation of Medicaid expansion in Montana, but wanted more stringent asset and income verification.
In his plan, Cooney called for incentives for behavioral health providers to practice in Montana. He also said he wanted to see a doubling of the number of rural providers, "with preferences for mental health and addiction services."
Gianforte's plan says he would increase access to mental health care and suicide prevention services by working "with stakeholders to implement a strategy to increase the number of mental health practitioners in the state," as well as expanding tele-medicine services to reach more people.
Both candidates' proposals highlight the high costs of prescription drugs. Cooney said he would work to allow for the importation of prescription medication from Canada by "entities other than manufacturers or the Food and Drug Administration."
Cooney also said he would cap the price of insulin copays at $50 for a 30-day supply, not subject to a deductible. His proposed legislation would apply to state-regulated commercial insurance and public employee plans, and include emergency refills.
If elected, Cooney said he would propose the "Montana Anti-Prescription Drug Price Gouging Act." It would require drug manufacturers to justify a 25% or more increase in a wholesale acquisition price, over a period of six months, to the state Attorney General.
Gianforte said he would work with the Legislature to introduce a bill that Democratic Gov. Steve Bullock vetoed in the 2019 session that would have targeted pharmacy benefit managers, or PBMs. Those are the so-called middle men in the prescription drug world who work between drug makers and drug purchasers to set prices.
The 2019 bill was crafted by Republican state Auditor Matt Rosendale, who is running for Gianforte's seat in Congress this year. It would have established a method of determining payment amounts, required health insurance companies to use rebates to lower drug costs and more. It passed both the House and Senate by wide margins, but was vetoed, and the Legislature did not override that veto.
Cooney and Gianforte's plans are fairly similar in calling for the streamlining of overly burdensome licensing processes for health workers and support for increasing options for tele-medicine and the broadband access to facilitate that.
Additionally, Cooney called for an increase in the wages for direct-care workers in the next state budget. He also said he would continue the Tribal Health Improvement Program. The program is a partnership between the eight federally recognized tribes in Montana and state and federal governments.
In his document, Gianforte says he will aim to end surprise medical billing by working with providers and insurance companies to increase transparency.
Get Government & Politics updates in your inbox!
Stay up-to-date on the latest in local and national government and political topics with our newsletter.