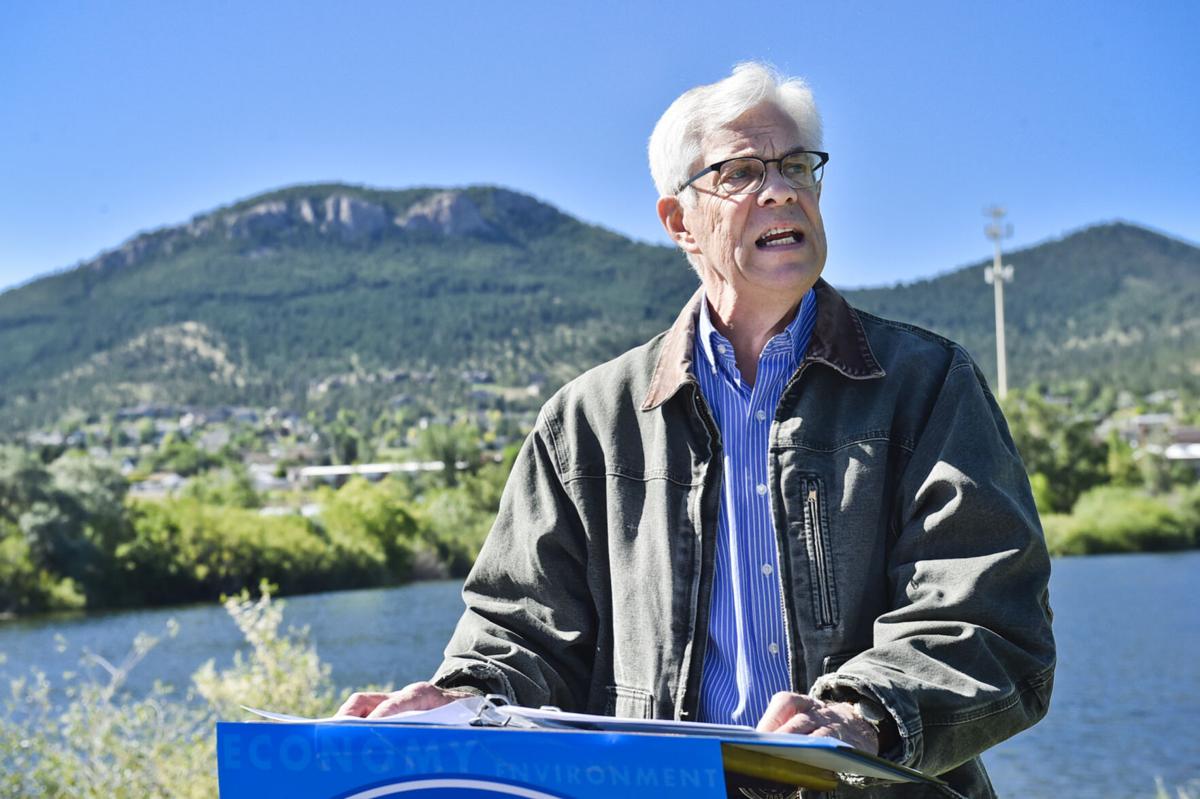 Democratic gubernatorial candidate Mike Cooney pledged this week to work to strengthen the state's public access programs and to veto legislation privatizing wildlife.
The lieutenant governor announced his eight-part public lands plan from Spring Meadow Lake State Park in Helena. The plan calls for support and possible expansion of existing public access programs and defense against efforts to reduce funding and authority.
"Generations of Montanans have fought to protect our public lands, wildlife and rivers and streams," Cooney said. "That fight continues to this day. We need to be clear eyed about the threats we face. Our outdoor heritage and way of life is under attack by politicians in Washington D.C. and extremists here at home in the Montana Legislature. There are powerful special interests that want to see our public lands privatized and sold off to the highest bidder."
Cooney is running against Republican Congressman Greg Gianforte, as well as Libertarian Lyman Bishop and Green Party candidate Robert Barb.
The Democrat pointed to his record as a state legislator, secretary of state and lieutenant governor, billing himself as a champion for public lands.
"When I'm elected I'm going to do everything in my power to protect our public lands, our clean air and clean water and wildlife, for future generations," he said.
Cooney's plan calls for working to expand access to the millions of acres of public lands currently inaccessible due to being landlocked by private lands. To do so, he wants to protect the Habitat Montana program, which taps a portion of hunting license sales for Montana Fish, Wildlife & Parks to purchase private land or public access conservation easements.
Habitat Montana has become a hot button political issue in recent years. While supporters have touted its role as a public access tool, it has come under fire at times for projects that did not have local support, resulting in Republican lawmakers repealing its use to purchase land. The authority to purchase land was later returned, although FWP was encouraged to prioritize conservation easements.
Habitat Montana also became an issue in 2018 when the Republican-majority State Land Board clashed with Bullock over whether the board or the Montana Fish and Wildlife Commission had final say over state conservation easements. The Montana Supreme Court ultimately ruled in the governor's favor.
Cooney also wants to expand other access programs such as tax incentives for landowners to allow access to public lands, block management which compensates landowners for allowing hunting, and promotion of the Public Access to Lands Act. The legislation passed last session, allowing the state to negotiate yearly access agreements with landowners.
The Democrat's plan also includes continued investment in fishing access sites with a goal of a site every 12 miles on the state's navigable waterways. He also wants to continue the governor's office of outdoor recreation as a tool in promoting Montana's outdoor economy.
Cooney said he would veto legislation that compromised public access or tried to privatize wildlife.
He indicated that while his plan focuses on current programs, he is open to new ideas.
Cooney lodged attacks at Gianforte, pointing to a lawsuit the Republican filed against the state over access to the Gallatin River, his support of the state adopting management of some federal lands, which he believes could lead to those lands being transferred to the state and ultimately sold, his decision to not sponsor the Great American Outdoors Act, and legislation Gianforte brought to repeal wilderness study area protections on about 700,000 acres of national forest and BLM lands.
"The choice in this election could not be any more clear," he said.
In response, Gianforte's campaign accused Cooney of lying about the congressman's record.
"After months of being attacked by fellow Democrats for his terrible public lands record, of course 44-year career politician Mike Cooney is lying about Greg Gianforte's record," the campaign said in a statement. "Greg has a proud record of standing up for our public lands -- from securing wild and scenic designation for the East Rosebud near Red Lodge to protecting the Paradise Valley. As governor, Greg will continue his commitment to keep public lands in public hands, increase public access to our public lands, and listen to local communities."
Gianforte filed the lawsuit in question in regards to a public access easement near his Bozeman property. The 2009 lawsuit, which sought to repeal the 1993 easement, came after he says FWP failed to adequately respond to concerns about damage and the public straying from the easement. The issue was eventually dropped after FWP did a site visit and agreed to upgrade trails and fencing.
The issue has played prominently in Gianforte's elections as Democrats have used the issue to portray the congressman as a wealthy transplant to Montana who sought to cut off public access. Gianforte has said the lawsuit was evidence of the lack of responsiveness by the state, and was only filed after non-legal attempts fizzled.
Conservation groups argued that repealing the protections and opening the areas to activities such as logging and motorized use could degrade nonmotorized recreation and wildlife habitat.
Reporter Tom Kuglin can be reached at 447-4076 @IR_TomKuglin