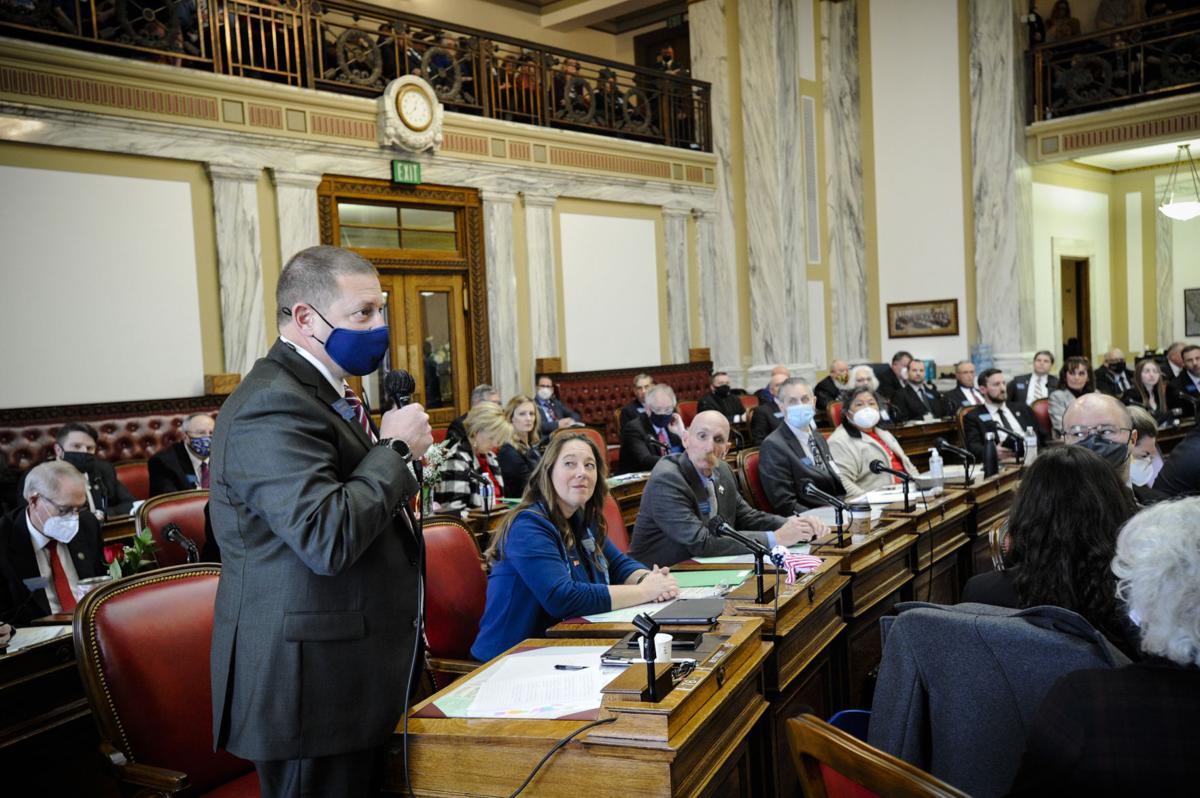 A controversial bill that would have barred nursing homes, hospitals and other medical facilities from requiring any immunizations for staff, visitors or patients has been kicked back to the Legislature with recommendations from Republican Gov. Greg Gianforte.
Gianforte's amendatory veto of House Bill 702 gives the Legislature the chance to consider his proposed amendment to the legislation. The House voted 64-32 to approve the changes later in the day, while the Senate plans to consider them Thursday. That's expected to be the final day of the legislative session.
The governor's proposed changes would prohibit nursing homes, long-term care facilities and assisted living facilities from requiring immunizations unless doing otherwise would put them out of compliance with federal regulations governing Medicare and Medicaid.
Gianforte also wants to add language that would allow health care facilities to ask employees to provide immunization status if needed to provide "reasonable accommodation measures to protect the safety and health" of people in their facility.
But the facility must also provide "reasonable accommodations" for staff, patients, visitors and others who aren't vaccinated or decline to give their vaccine status. The bill does not define that term.
HB 702 received intense support from critics of vaccines who packed the House and Senate galleries to cheer its passage, and was one of several measures introduced this session that sought to limit the ability of businesses and government agencies to require immunizations.
"Ultimately, the decision to receive a vaccine is voluntary and Montanans should not face the threat of discrimination rooted in whether they decide to have a vaccine," Rep. Jennifer Carlson, R-Manhattan.
It passed the Legislature earlier this week after getting lukewarm endorsements from a pair of influential House Republicans. Both indicated that they were uncomfortable with the text of the bill because of concerns about hospitals and nursing homes not allowing visitors if the bill became law, but during speeches on the House floor said they had received assurances from the governor's office that their fears were unfounded.
One of them, Rep. Ed Buttrey of Great Falls, reiterated many of his concerns on Wednesday, before again saying he would again "reluctantly support" the bill based on those assurances from the governor's office.
Medical professionals and groups representing hospitals and nursing homes have been vocally critical of the measure.
Rep. Ed Stafman, D-Bozeman, argued that the proposed amendments from the governor, whose office is on the second floor of the Capitol, failed to address concerns of the state's top health organizations. Those groups have warned in recent days that the bill could lead to measures like masks and visitations restrictions becoming permanent at medical facilities.
"Despite the unspecified assurances we're hearing from the second floor, use your common sense," Stafman said. "How does a hospital make an 'accommodation' for a surgeon whose vaccination status precludes him from safely performing surgery? Assign him to desk duty?"
He also said that the changes would still ban other facilities, such as those that cater to the elderly, from requiring staff get any vaccines, including for the flu, which can be deadly for older people.