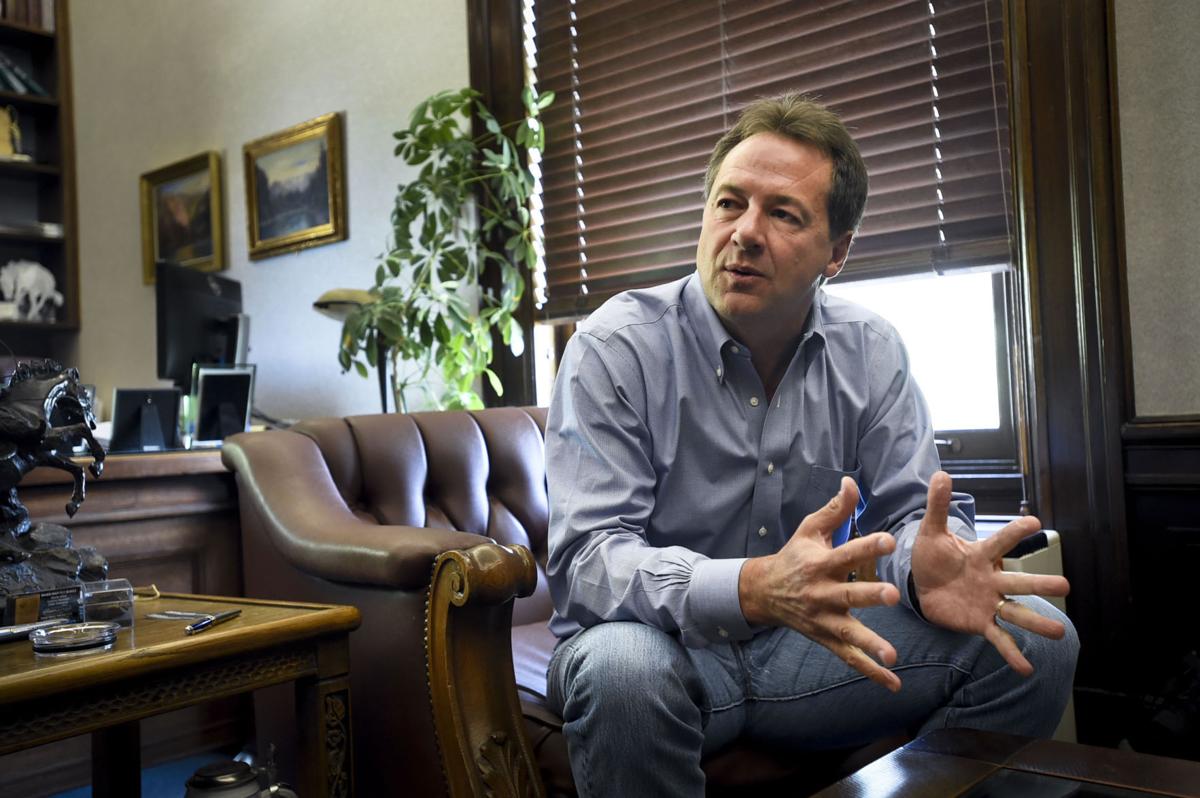 In an opinion piece that ran last week in newspapers around the country, Montana's Democratic Gov. Steve Bullock made a significant change in his views on gun policy by endorsing universal background checks. It's a shift some see as Bullock positioning himself for a presidential run in 2020.
"Let's focus on what works. Most gun owners are law abiding, yet too often guns get into the wrong hands. That's why the first step ought to be universal background checks and cracking down on straw purchases of guns," Bullock wrote in the opinion piece that first appeared in newspapers that are part of the USA Today Network.
"Steve Bullock supports Montana's current laws when it comes to gun rights. He opposes universal background checks, he has expanded gun rights as governor and he will always stand up for the Second Amendment."
On Friday, Bullock said his view on universal background checks has evolved over time.
"Like Montanans and Americans across the country, I'm reflecting on how we got to the point where mass shootings are a common event and trying to find a way to stop it," Bullock said.
There wasn't a specific event that led Bullock to change his mind to support universal background checks, but rather the magnitude of many.
"I've had to lower the flag 13 times for mass shootings since I've been governor. The first time was one too many," said Bullock, who became governor in 2013.
Bullock added he's heard from Montanans who want to see gun laws change.
"As governor, I hear directly from the people I serve. They want action. They recognize that like most policy issues, there is no single proposal or prescription that will solve the issue of gun safety. But they are tired of the enormity and complexity of the challenge being the excuse for inaction," Bullock said.
In the opinion piece, Bullock described feeling "paralyzed" in the spring of 1994 when he was told his 11-year-old nephew had been shot and killed outside a Butte elementary school. He also wrote about the tradition of hunting in Montana, saying his son shot his first deer last fall while practicing the "fundamentals of fair chase" and following hunter safety principles.
"Both experiences shape my views of gun policy, as a policymaker and a parent," Bullock wrote.
Bullock has three school-age children who have informed his views. In the state capital of Helena, a student group called Helena Youth Against Gun Violence coordinated a March For Our Lives rally after the school shooting in Parkland, Florida. The rally drew more than 1,000 people. A March For Our Guns event on the Capitol lawn the same day drew about 150.
"I attended the March For Our Lives rally in Helena with my teenage daughter, Caroline," Bullock said Friday. "I heard from Montana students from Helena to Whitefish to Plevna about their ideas about how we can reduce gun violence and keep students safe. We have so much to learn from them. They believe in taking control of their own future and safety. They are change makers, and as a decision-maker myself their voices are important drivers in this conversation."
"Why this is helping him at the national stage is we've had several high-profile incidents of gun violence, and of course with what happened in Parkland, Florida, that has really moved the needle," Johnson said. "For a candidate to win a Democratic primary nationally you have to basically favor some sort of firearms restriction of the nature that you see in this op-ed by Bullock."
Johnson pointed to a similar pivot by Sen. Robert Casey, a Democrat from Pennsylvania who shifted his thinking on gun legislation in the wake of the school shooting at Sandy Hook Elementary in Newtown, Connecticut, in 2012.
While it's unclear how supporting universal background checks will help or hurt Bullock in his home state, Johnson pointed out it's unlikely he'll run for another statewide office. In an interview earlier this year, Bullock came close to outright ruling out a U.S. Senate run in 2020.
"To write this op-ed right now, it certainly does look like he's at least keeping the options open to appeal to a national audience," Johnson said.
A spokeswoman for Bullock said Friday that an "overwhelming majority of Americans agree universal background checks would make a difference in reducing gun violence."
"Gov. Bullock also recognizes there is not a one-size-fits-all solution, which is why he's also called for action to crack down on straw purchases of guns, the implementation of 'red flag laws' and greater limits on access to high-capacity magazines and bump stocks," the spokeswoman, Ronja Abel, said.
Abel noted that 19 states have enacted comprehensive background checks. Research from Everytown, a group that supports gun regulation, says that in the 19 states that require background checks for all handgun sales, there are 47 percent fewer women shot to death by intimate partners, 47 percent fewer suicides by gun and 56 percent fewer law enforcement officers shot and killed in the line of duty.
When asked if his views on gun legislation could hurt him statewide, Abel said the governor is still a strong advocate for the Second Amendment, but his thinking mirrors what he's hearing from Montanans.
"Gov. Bullock is a gun owner, a hunter, a father and a policymaker. He supports the Second Amendment and the Constitution, but like so many others across Montana and the nation, he is concerned about mass shootings," Abel said. "When it comes to gun safety, he's focused on solving problems. The way he sees it, all Montanans want to keep our families safe."
Abel emphasized Bullock still supports the Second Amendment.
"Montanans care deeply about our ability to keep our families safe and access to public lands to recreate through hunting and shooting sports, both of which Gov. Bullock has and always will defend."
Abel also pointed out many Montanans already go through background checks to obtain guns.
"Universal background checks would close the loopholes that make it easier for guns to fall into the wrong hands and still ensure Montanans can safeguard the right to own guns," Abel said.
Since 1999, nearly 100 pieces of gun-related legislation have been introduced. Most were aimed at loosening restrictions on concealed-carry permits, increasing the number of places guns are allowed, opening up the state's "stand your ground" laws, increasing shooting range funding and enshrining the right to hunt in the Montana Constitution. A high percent of the bills were brought by Republicans; only 17 of the bills were carried by Democrats.