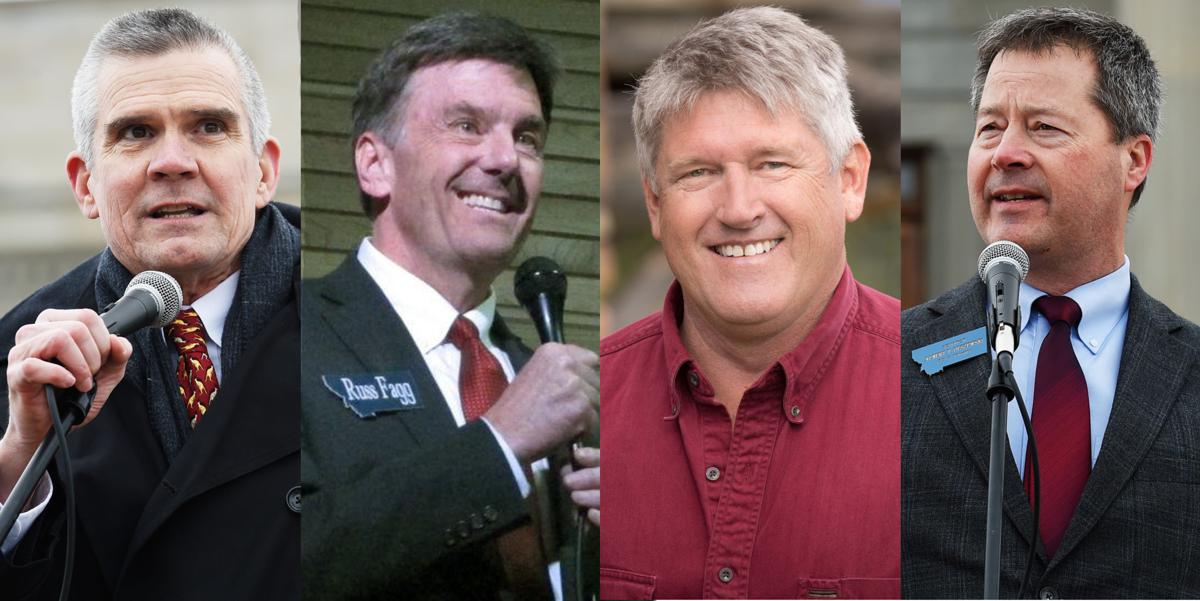 Second in a two-part series.
With public lands and natural resource policy typically high priority on the minds of Montana's voters, the four candidates running in the Republican primary for U.S. Senate presented themselves as unifiers who could bring diverse groups together on difficult issues.
As they run for a chance to unseat Democratic Sen. Jon Tester, Big Sky businessman Troy Downing, former Billings judge Russ Fagg, Whitefish legislator and surgeon Al Olszewski and former legislator and current state Auditor Matt Rosendale said in Monday's first installment of this two part-series that they believe the Trump administration's environmental regulation rollback will strike a better balance between recreation and mining and logging. The candidates also shared policy positions on curbing environmental litigation and expanding motorized access to public lands, but drew distinctions on federal land transfer policy.
In the second part of this series, the four Republicans are now touting their experience and say they support grizzly bear delisting from federal protections while offering different approaches to wilderness study areas, possible new wilderness and climate change.
Delisting grizzlies
Delisting grizzly bears near Yellowstone National Park from the Endangered Species Act and talk of delisting northern populations has sparked controversy over potential hunting seasons under state management. The candidates offered general support for the move, citing the delisting process and population data.
"The joke in the Flathead Valley is if you throw a rock into a bush along the river you'll encounter a bear," Olszewski said. "At this point I believe we've met the goals put in place by the U.S. Fish and Wildlife Service."
Fagg called the delisting process "stringent," going on to say that "if the data supports delisting, then I support delisting."
Rosendale felt that if the population is considered sufficient, then the grizzly bear "absolutely needs to be managed" by the state.
Downing said he sees a need for more commonsense conversation about the ESA and its implications and wants a "seat at the table" for those discussions.
Climate change
While they saw the scientific review of grizzly delisting as sufficient, the candidates were mixed when asked about the role of humans and climate change as supported by mainstream climate science. They all agreed, however, that not enough is known to uproot industries and economies.
"I think that the only thing certain in life is change," Downing said. "I think all things contribute, we should continue studying and deciding what makes sense moving forward. I think destroying entire communities and industries and economies on something that may be causal or may help, it is the wrong direction, but I think we need to continue having that conversation."
Rosendale cited naturally occurring climate change such as glaciation in prefacing his answer.
"The climate does change, the question is how much impact do humans have on it and how much impact can we have on it by dramatically imposing draconian restrictions on our businesses," he said. "I haven't seen enough evidence that by imposing draconian regulation on our business and our industries, and the cost would be transferred to the consumer, for the potential of possibly having a miniscule impact on the climate."
Fagg also cited cyclical climate change and agreed that additional regulation is unwarranted.
"There's no question that we as a society need to become more efficient, domestically produce oil, and like any conservative, live within our means," he said. "Looking at the issue I don't support a bunch of regulations, and I think market forces will take care of it."
Olszewski cited his scientific training and said he did not believe a human-climate link has been proven.
"I am suspicious that what we do has an effect on our environment and our climate, but if scientists could prove this is a cataclysmic event, then we have to have a rational discussion and not find a way to tax it and send the money and repurpose it somewhere else," he said. "We would need to drastically shut down what we do if it's proven our carbon-based energy sources are the reason and will cause a cataclysmic change. These are theories, they are anxieties, they are fears, but they're not proven. But if they are proven, I'm a scientist, I'm 100 percent behind following the science and making changes in our culture and our society if it means the survival of our society."
Withdrawing WSAs
Legislation introduced by Republicans Sen. Steve Daines and Rep. Greg Gianforte to withdraw wilderness protections for several wilderness study areas determined by federal agencies as unsuitable for wilderness drew support from several county commissions but backlash from conservation groups.
Those supporting the withdrawal note that study areas were originally designed for five years, but inaction has left many of them managed as wilderness for nearly 40 years.
Opponents fear environmental consequences if the withdrawal leads to motorized access or mineral development, and have been highly critical of Daines and Gianforte for introducing legislation without formal public hearings.
The Republican senate candidates say they support the legislation, but Fagg says he is open to public hearings.
"The idea of taking the wilderness study areas out of consideration has a lot of merit. I love the wilderness areas that we have and I've been in most of them in Montana, but it's been 40 years … and obviously as a consequence people are losing access," he said. "I think you always have to have public input when you're making major policy decisions and hear from both sides, or there's probably five sides to that issue and hear from all sides."
Rosendale believes the issue was decided when federal agencies determined some areas did not meet wilderness criteria. If withdrawn, the areas need community-level planning for access management rather than a broad brush approach.
Downing also suggested a collaborative approach to withdrawing study areas, saying. "I haven't looked deeply into the issue but my gut tells me Sen. Daines is correct," in bringing the legislation.
With a need for more motorized access, Olszewski believes a withdrawal opens up new access opportunities, and that public hearings already occurred when the study areas were implemented.
"If there is a demand to restudy those areas, it should occur, but based on right now, the government told us they're not worthy of (wilderness) designation," he said.
New wilderness
The candidates brought varying levels of interest in new wilderness areas, from support for specific legislation to belief that enough wilderness is in place.
When asked if he could support new wilderness in Montana, Rosendale replied in the affirmative. He says he recognizes a need for access to wild areas and talked about a property he developed in Great Falls providing an 11-acre park.
"Public lands are an absolute critical part of our culture, not just in Montana but in the United States," he said.
Downing said he would not dismiss the idea of new wilderness, portraying himself as a problem solver and a businessman accustomed to tackling complex issues.
"All of this needs to be a conversation on how we decide to manage everything, and that needs to be a comprehensive conversation," he said. "The short answer is all of the above and we need to keep looking at what is unique enough to preserve."
Fagg has not seen a new wilderness proposal that he currently supports. As a judge, he says he is used to listening to all sides of an issue and rendering a difficult decision.
"Honestly I haven't seen anything to date that looks like it can be justified. I mean, we have millions of acres currently … which I'm fully in support of, but I think we probably have enough," he said.
But Olszewski said he would throw his support behind the Blackfoot-Clearwater Stewardship Act, which includes some new wilderness along with mountain biking and timber, saying as a legislator he tried to be conservative but not dogmatic. The act is currently sponsored by Tester.
"What I love about this one is so many different stakeholders coming together with an open dialogue," he said. "As far as I'm concerned, the Blackfoot-Clearwater project has been very successful and it should be made into law. Not only do I agree with it, but as your next senator I would support and champion those types of projects."
Reporter Tom Kuglin can be reached at 447-4076 @IR_TomKuglin