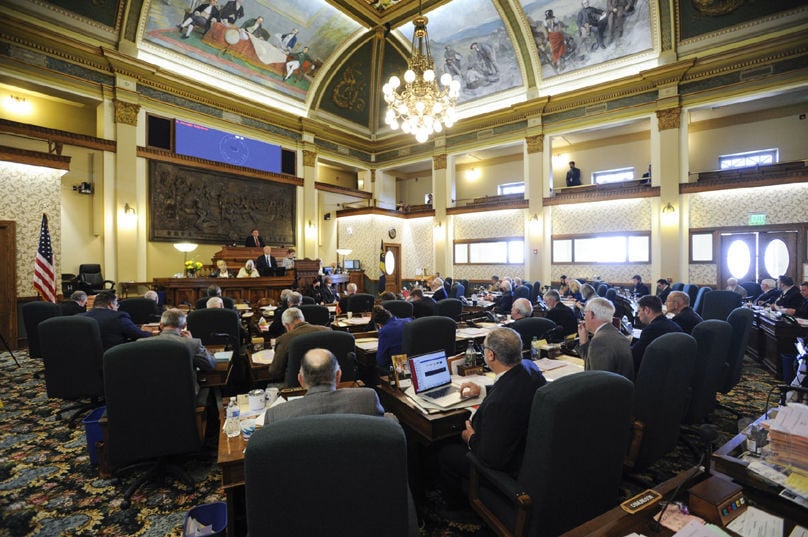 Before wrapping up its 67th session Thursday afternoon, the Montana Legislature passed a controversial vaccine bill after approving changes to give medical and long-term care facilities more leeway to navigate new restrictions.
The Senate voted 31-19 to back the governor's proposed changes to House Bill 702, with all Republicans supported the bill and all Democrats opposing it. The House had already approved the amended bill on Wednesday.
Republican Gov. Greg Gianforte issued an amendatory veto of House Bill 702 on Wednesday, proposing changes to allow nursing homes, long-term care facilities and assisted living facilities to require immunizations if not doing so would put them out of compliance with federal regulations governing Medicare and Medicaid.
Sen. Tom McGillvray, R-Billings, carried the amended bill on the Senate floor.
"This amendment does provide reasonable accommodations," McGillvray said. "The governor did work with hospitals and did work with nursing homes on this, and they're comfortable with the amendments."
But while the law now explicitly gives nursing homes are related facilities the ability to require vaccinations if that's required by federal law, Montana Hospital Association CEO Rich Rasmussen said in an interview Thursday that the state's hospitals will still be left in a bind.
The changes allow health care facilities to ask employees to provide immunization status if needed to provide "reasonable accommodation measures to protect the safety and health" of people in their facility.
"You're treating nursing homes one way and hospitals another," Rasmussen said. "Frankly, we treat patients that are more acute in their illnesses and are equally as vulnerable as (patients in) nursing homes."
Despite proponents of HB 702 taking particular aim at the vaccines currently available for COVID-19, the new law will require Montana's hospitals to stop requiring that employees be vaccinated against any diseases, including "baseline vaccinations" like measles, mumps, rubella, chicken pox and diphtheria.
The MHA and other medical groups stepped up their efforts to oppose the bill in the past week, suggesting that if passed, the measure could force hospitals and other facilities to require all staff and visitors wear masks as a permanent rule, because they would have to assume everyone lacks even the most common vaccines.
Rasmussen also argued Thursday that the new law will make it harder to recruit qualified health professionals to Montana.
"They will look at Montana and say, 'I can't be guaranteed I will be working in an environment where everyone has been vaccinated,' and some of them will stand back and make a determination that they don't want to practice (medicine) in Montana," he said.
Vaccination requirements, and especially the debate over "vaccine passports," have been targeted by several bills during the session. HB 702 was one of the last to appear, alongside a similar measure that failed to pass a Senate vote last week.
"The other side wants to coerce and intimidate and fire people if they don't get 100 percent compliance" with vaccinations, McGillvray argued on the Senate floor Thursday. "This keeps hospitals safe. It allows hospitals to make reasonable accommodations for employees keeping their facilities safe."