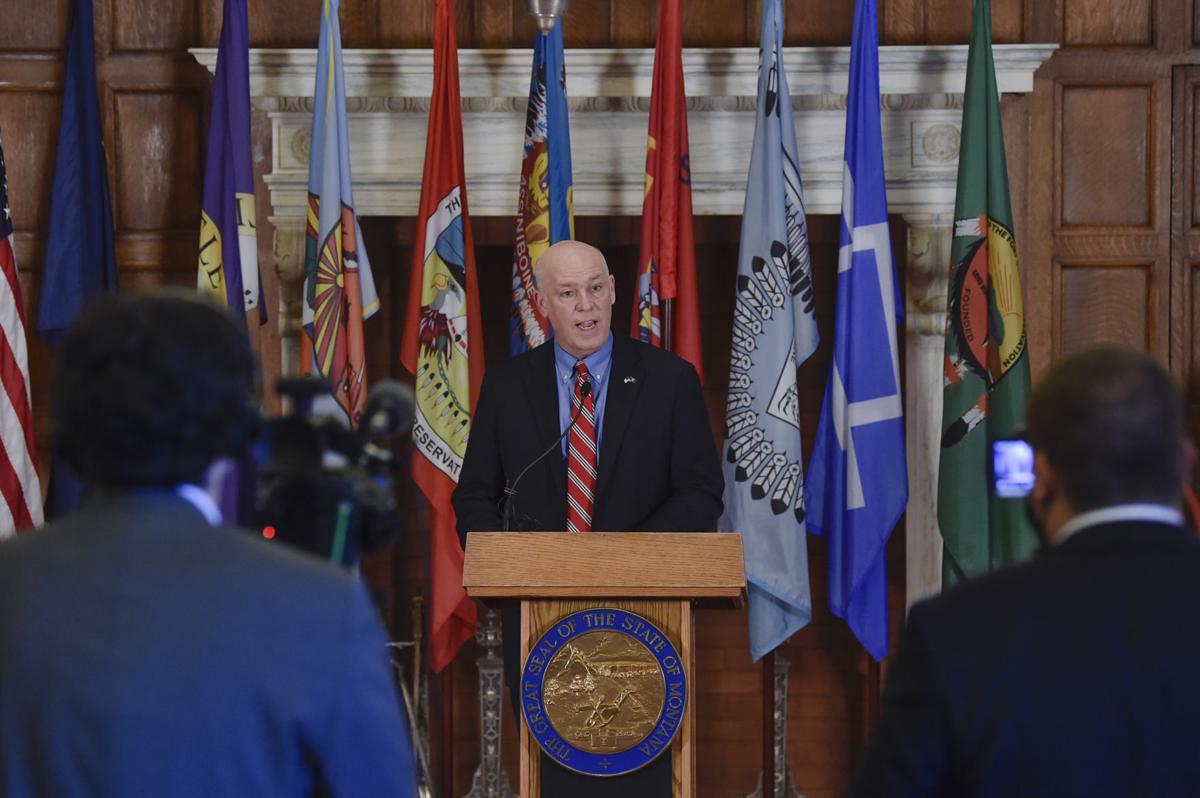 Montana's new Republican Gov. Greg Gianforte on Tuesday said he will remove the statewide mask mandate once the most vulnerable are vaccinated and the Legislature creates liability protections for local businesses, churches and others.
Gianforte also said he will change the next phase of the vaccine rollout, 1B, to focus on people ages 70 and older, as well as those ages 16-69 who have specific underlying health conditions. About 250,000 people, or just under a quarter of the state's population, falls into this group, Gianforte said.
"I fully intend to rescind the existing statewide mask mandate," Gianforte said. " ... I hope to do that in weeks, not months," he added later in his first press conference as governor. Gianforte was sworn in Monday, becoming the first GOP governor in 16 years.
Montana has been under a statewide mask mandate since July issued by former Democratic Gov. Steve Bullock.
The state has received 36,000 first doses of vaccines, Gianforte said, and another 41,000 initial doses are expected in the coming weeks. About 23,000 Montanans have been vaccinated so far, with their first shot of the two-dose Pfizer and Moderna vaccines.
The change in the vaccine distribution plan will take effect immediately, Gianforte said. The state health department is working with local health departments, hospitals and other health care providers to figure out how to get doses distributed.
"This will not be simple. There will be challenges, but we are committed to prioritize protecting the most vulnerable in our communities," Gianforte said.
The next phase, 1B, included people 75 and older, front-line essential workers, those residing in congregate care and correctional facilities, and American Indians and other people of color who may be at elevated risk.
The change from Gianforte means the 1B group now includes people 70 and older, those ages 16-69 with specific preexisting health conditions, and American Indians and other people of color who may be at elevated risk.
That means essential workers, if they do not have any health conditions that qualify them for earlier vaccination, will be moved to phase 1C.
"We want to minimize deaths and hospitalizations from this virus. If you're a teacher and you have an underlying health condition, we've just accelerated access to the vaccine," Gianforte said. "If you're an essential worker and you have an underlying health condition, we just accelerated your access to the vaccine. We're going to get the people that are most susceptible vaccinated as quickly as possible."
Maj. Gen. Matt Quinn, who leads Gianforte's COVID-19 task force as he did for former Democratic Gov. Steve Bullock, added that he thought the percentage of people willing to be vaccinated would increase as it is offered to those he said are most vulnerable.
It was not immediately clear what the underlying health conditions would be, but Quinn said a list would be sent to health care providers Tuesday. Doctors can also raise specific concerns to get patients vaccinated.
The state's largest public employee union, the Montana Federation of Public Employees, called the change "unfortunate and a slug in the gut to thousands of heroic Montanans."
"The threat to lift Montana's mask mandate coupled with the decision to delay vaccinations for educators and front-line workers undermines and delays efforts in nearly every Montana community to keep schools open and our economy moving forward," union president Amanda Curtis said Tuesday afternoon. "The math doesn't add up, the timeline is flawed, and the policy is misguided."
Karen Sullivan, the public heath officer in Butte-Silver Bow County, said Tuesday that Gianforte's modifications for Phase 1B of the vaccination rollout make sense because "the most vulnerable of our citizens are being advanced up in line."
She raised questions about the delivery network, however.
"The logistics of this — vaccine availability and distribution systems for mass vaccination — now need to be worked out and accelerated," Sullivan said.
"While Montana will receive more vaccine, we do not have the inventory currently to vaccinate those being advanced into 1B, nor do we have built distribution systems," Sullivan said. "So logistically, while the governor's change to 1B is a very good idea clinically, we have a lot to work out logistically."
In addition to the vaccine reaching the new populations in Phase 1B, Gianforte said he would not lift the mask mandate until there were protections for businesses, churches, schools and nonprofit organizations that "make a good-faith effort to protect individuals from the spread of the coronavirus and follow clear public health guidelines to combat the virus."
"What we want to do is give these organizations some confidence that if they follow these publicly provided guidelines they will be protected from lawsuits," Gianforte said.
Republican lawmakers have said one of their priorities this session would be to pass legislation to prevent businesses from being sued over claims of exposure to the virus. Gianforte said once that legislation reaches his desk and the vaccine has reached enough people, he would eliminate the mask mandate.
"In the meantime, I choose to wear a mask and I encourage others to do the same as a way to show respect and care for the people around us," Gianforte said.
Democrats in the Legislature have said they want to work to pass laws ensuring presumptive health care coverage for front-line workers exposed to the virus.
There are several other mandates in place, such as measures that close bars and restaurants at 10 p.m. and limit capacity at some types of businesses. Gianforte said he planned to change some of those orders in the coming days.
"Some guidance and directives will be revised. Others will be removed entirely. Our goal is to make these new directives and guidance very clear," Gianforte said. "They will be practical and take into account that while we're in the middle of a public health crisis, we're also in the middle of an economic crisis."
Gianforte also said he would develop strategies to increase access to testing and availability at what he said would be no cost to Montanans.
The state's online dashboard of COVID-19 data will also include vaccination numbers and available doses of the vaccine, Gianforte said.
Even if the state's emergency declaration was lifted, local health departments would still have the authority to adopt their own rules and regulations for the pandemic, according to the Gallatin County Attorney's Office.
— Montana Standard reporter Mike Smith contributed to this story.