Republican Gov. Greg Gianforte on Monday signed three bills to limit access to abortion in the state.
The bills Gianforte signed ban abortions after 20 weeks gestational age, require a woman be informed of the option to view an ultrasound before an abortion and require informed consent before a drug-induced abortion.
Gianforte is the state's first Republican governor in 16 years and campaigned on an agenda that included limiting access to abortions in the state. Legislation similar to the bills Gianforte signed into law Monday have advanced in past sessions but were vetoed by past Democratic governors.
"There were many who served in this building before us who champion the unborn, people who worked hard to advance the cause of life," Gianforte said during a bill-signing ceremony outside the Capitol on Monday. "Unfortunately, their efforts were vetoed. But not today."
The legislation moved through the session with support from Republicans and opposition from Democrats.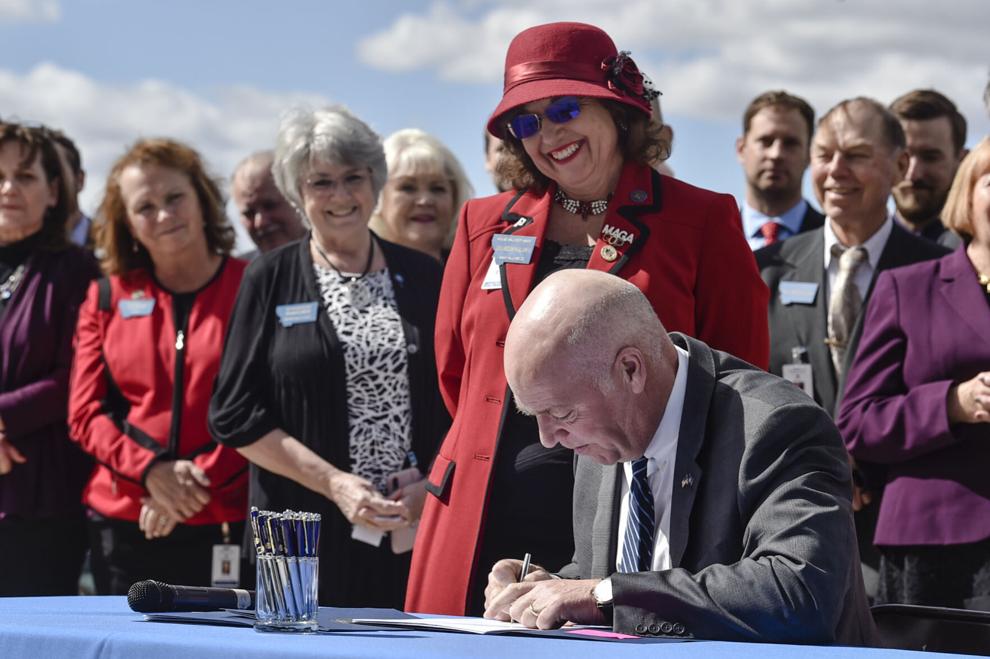 House Bill 136, from Rep. Lola Sheldon-Galloway, R-Great Falls, bans abortions after 20 weeks gestational age. Abortions after 21 weeks gestational age or later are rare, making up about 1.3% of abortions in 2015, according to the Centers for Disease Control and Prevention.
"We have waited 48 years to see our governor in Montana sign this bill," Sheldon-Galloway said at the bill-signing ceremony.
House Bill 140 from Rep. Amy Regier, R-Kalispell, requires information including the option of viewing an ultrasound before an abortion.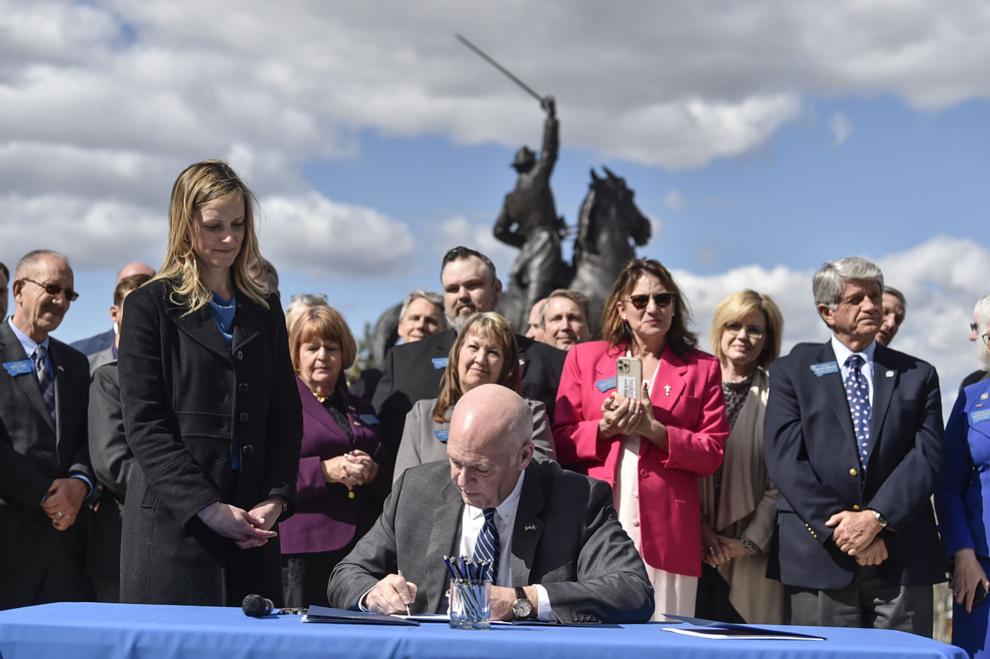 "This particular bill was vetoed last session. I am grateful to serve with the governor that is now signing this legislation into law for the good of the people of Montana," Regier said.
House Bill 171 from Rep. Sharon Greef, R-Florence, would require informed consent before a drug-induced abortion.
"This is putting sidebars on the dispenser dispensing of the abortion pill," Greef said.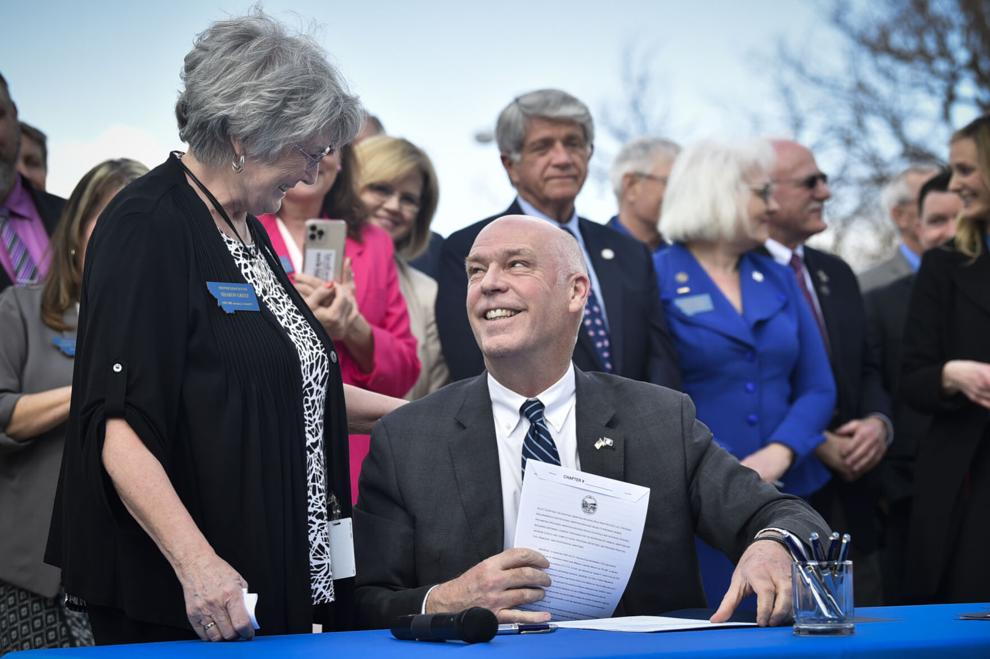 The risks the law requires doctors to discuss are risk of death, substantial physical harm and more. The woman would be required to sign a form acknowledging the risks. It would also require that the drugs be prescribed in person. The chance of a major complication from an abortion through medication is 0.4%, according to the CDC, and the risk of death is 0.00064%.
The legislation is part of several bills meant to limit access to abortions in Montana that lawmakers debated this session.
After Gianforte signed the bills, Rep. Kim Abbott, the House minority leader and Democrat from Helena, released a statement calling the bills an attack on women's access to health care.
"As we approach the end of the 67th Legislative Session, Montanans are still in desperate need of an economic recovery plan that lifts up small businesses and creates jobs. Instead of staying laser focused on that priority, Republicans and the Gianforte administration are spending their time pushing through a volley of attacks on Montanans' access to health care," Abbott said.
Senate Minority Leader Jill Cohenour, an East Helena Democrat, said the bills were "unconstitutional and extreme."
"This is government infringement on Montana's freedom and liberties," Cohenour said in a tweet.
Daniel West, with the Susan B. Anthony List, a group that advocates to end access to abortion, said Montana's legislation fit with a national effort his organization has backed.
"The Treasure State takes a bold leap today in protecting the most vulnerable and all Montanans can be proud," West said. "For years, popular pro-life legislation was blocked. ... Now with pro-life Gov. Greg Gianforte in office, Montana is at the forefront of a groundswell of pro-life momentum nationwide."
Montana first saw a "born-alive" bill in 2019 after the concept came into the spotlight over failed legislation in West Virginia that year that would have removed barriers to third-trimester abortions when a patient's life or health is at risk.
At the time, that state's governor said third-trimester abortions are "done in cases where there may be severe deformities. There may be a fetus that's nonviable. So in this particular example, if a mother is in labor, I can tell you exactly what would happen. The infant would be delivered. The infant would be kept comfortable. The infant would be resuscitated if that's what the mother and the family desired. And then a discussion would ensue between the physicians and the mother."
The anti-abortion movement seized on that message as part of a broader opposition to abortion rights and several "born-alive" bills have been introduced around the country since.
Democrats and others opposed to the bills have pointed out there are already protections in state and federal law for infants.