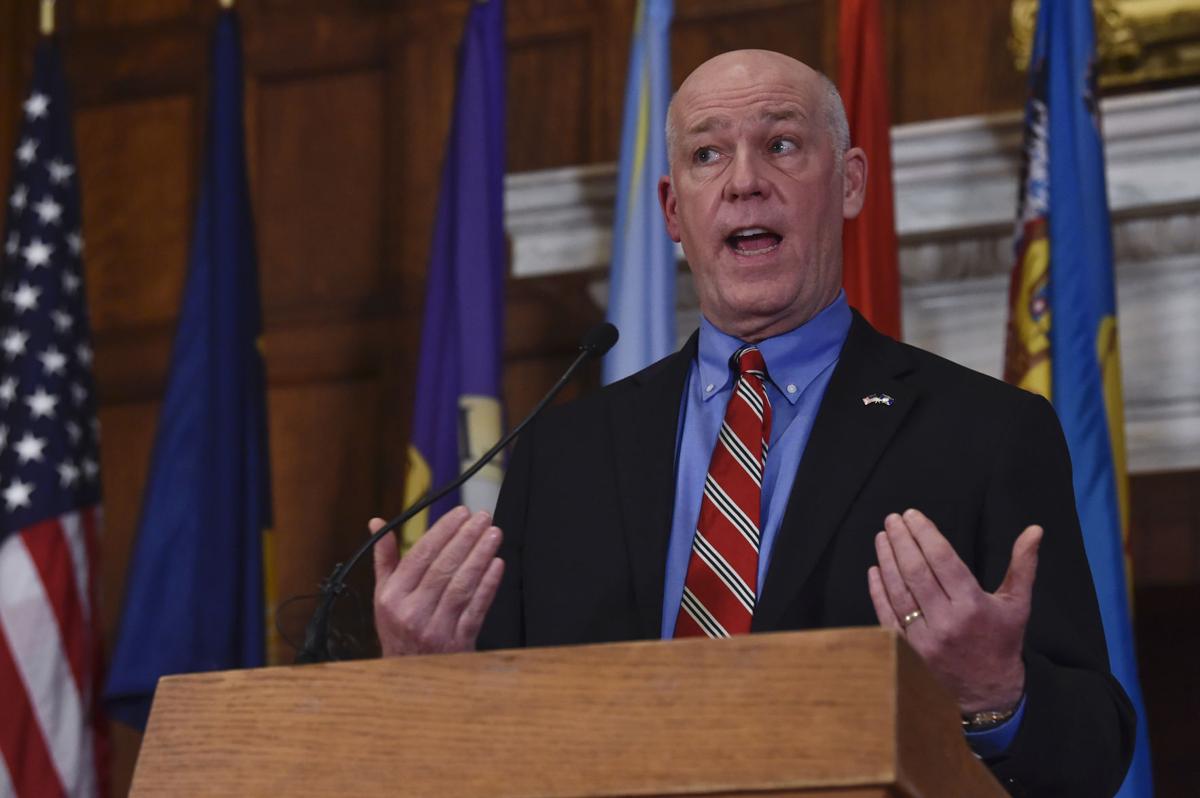 Republican Gov. Greg Gianforte on Friday, the day before the one-year anniversary of COVID-19's Montana landing, recalled the struggles endured since the pandemic began and the growing light at the end of the tunnel. 
"Through it all we've seen the resiliency of Montanans," he said during a Friday press conference. "As has been the case for several weeks, we're making encouraging progress in Montana combating this pandemic. Our trend lines remain promising."
For the fourth straight week, daily new COVID-19 cases have remained below 200, while the last seven days have averaged at 130 new cases. 
And for the first time since July, the state has fewer than 1,000 active cases. The seven-day average for hospitalizations in Montana is also below 70 for the first time in that same eight-month frame.
On Thursday night, Democratic President Joe Biden called for making all adults eligible to receive COVID-19 vaccinations by May 1. Montana counties are generally in Phase 1B+, with Phase 1C remaining before the general population is eligible. Though at least one smaller county, Rosebud in eastern Montana, announced this week it was vaccinating all adults.
In response to an email asking how the state would respond to Biden's call, Gianforte's office in an email said: "Gov. Gianforte remains focused on protecting the most vulnerable and ensuring that every Montanan who wants a vaccine, can get a vaccine as soon as possible."
In the press conference, Gianforte said he was hopeful in the near future anyone in the state who wants a vaccine could get it, but did note attach a date to that.
General Matthew Quinn, who leads the state's COVID-19 task force, acknowledged the nearly 1,400 Montanans who have died from COVID-related illness and the more than 100,000 who have been sickened by the virus in the last year. He gave thanks for the medical workers who worked through the pandemic.
Each week, bureau reporters Seaborn Larson and Sam Wilson, along with deputy bureau chief Tom Kuglin, bureau chief Holly Michels and host Thom Bridge, will take their work off the printed and digital page.
There's only so much that can fit into a report, and there's always much more tell.
"It has taken Montana a year to reach those unfortunate and sad numbers and we grieve for each one and their families," Quinn said. "You may not agree with all the decisions (health officials) made, many decisions I have been a part of, but I assure you those decisions were not made out of malice, a desire for power or self-serving attitudes. Quite the opposite, those decisions selflessly were made to try to protect each and every one of our fellow Montanans."
The governor acknowledged all the intangible consequences suffered since the pandemic began, such as anxiety, depression, rising domestic violence and child abuse cases, and the economic crater the state has suffered, as well. 
"Thousands of Montana businesses have closed, many for good," he said. "Too many Montana small business owners, men and women who have invested their savings, their energy and their lives, saw what they built disappear."
Todd O'Hair, president and CEO of the Montana Chamber of Commerce, lauded businesses that adapted during the pandemic, swapping operations for mask or hand sanitizer output. He also hailed the business community for keeping their customers and businesses safe when they were deemed essential.
In recent months, more than 345,000 vaccines have been administered and nearly 133,000 Montanans have been fully vaccinated, Quinn said.
Gianforte again encouraged Montanans to get the vaccine, stating he plans to get the vaccine when his turn comes. Montana is expected to receive 25,000 new vaccine doses next week, along with 23,000 second doses.
"Vaccines are the path out of the COVID-19 world we've been living in the past year," Quinn said.