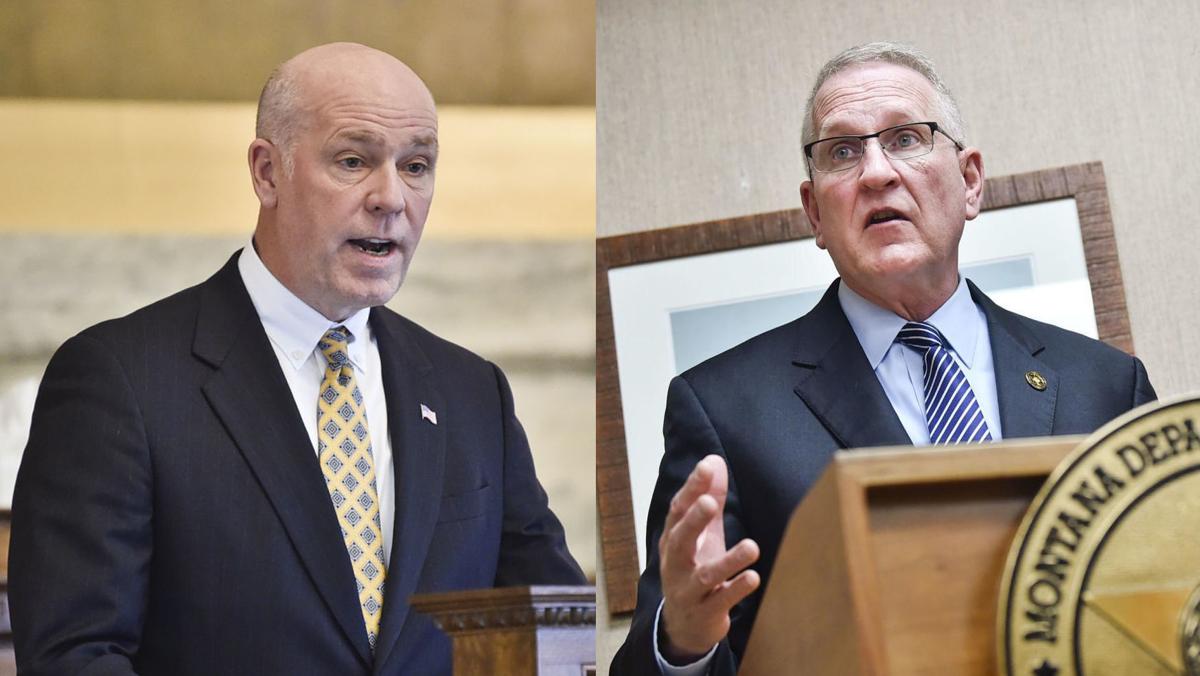 Last week the campaign of Republican governor candidate and Attorney General Tim Fox claimed in an email that one of his primary opponents, U.S. Rep. Greg Gianforte, is financing his campaign with "profits derived from insider trading that capitalizes on the COVID-19 pandemic," an assertion Gianforte said is false.
The email also calls Gianforte the weaker general election candidate, citing the website FiveThirtyEight's reporting and compilation of political rankings.
The letter comes as early voting for the June 5 primary is rapidly approaching. Ballots hit the mail May 8. State Sen. Al Olszewski is also running for the Republican nomination. The governorship is open as Democratic Gov. Steve Bullock is termed out. Democrats have held the seat for what will be 16 years by the time Bullock departs.
Gianforte entered politics after a career in the high-tech industry that made him wealthy, after founding RightNow Technologies and later selling it to Oracle in a $1.8 billion transaction. He's been ranked the wealthiest member of Congress, with an estimated net worth of $135.7 million.
Gianforte's campaign says insider trading would be impossible under what's called a "blind investment agreement" that Gianforte and the company that manages his money entered into in June 2017, the day before he was sworn into Congress after winning a special election to the U.S. House.
When campaigning in the 2017 special election, Gianforte said he would place his assets into a blind trust to avoid any conflict of interest. His campaign said this week that Gianforte chose to go the route of a blind investment agreement because he believed it would offer more transparency about his holdings.
Transactions made by blind trusts do not have to be reported to the U.S. House, while those made under a blind investment agreement do. That reporting is where the Fox campaign saw the trades it called into question, including investments in NV5 Global, which provides consulting services related to COVID-19 risks; Roche Holdings, which is ramping up testing for the virus and a drug to treat it; Shionogi, which is trying to develop testing for the virus; and Sanofi, which makes the drug hydroxychloroquine, a malaria drug that President Donald Trump has touted as a treatment for COVID-19, though its effectiveness is not clear.
The blind investment agreement requires all parties, which include Gianforte's family, not to communicate or discuss specific transactions or investment decisions. Reports from the investment manager to Gianforte cannot disclose individual stocks, though the reports made to the U.S. House do.
Fox's campaign contends that the trades, regardless of who made them, could result in profit for Gianforte, and that the companies, though they might have broader scopes beyond just COVID-19, engage in work related to the virus.
"What this agreement says to me is that Congressman Gianforte has no problem giving absolute authority with no accountability as long as he can profit off a crisis," Jack Cutter, Fox's campaign manager, said. "Even after the disclosure report was made public, Congressman Gianforte has made no effort to stop the continued purchase of these profiteering stocks," Cutter added.
It does not appear the Fox campaign has taken any action following its claims of insider trading, such as raising concerns to the federal Securities and Exchange Commission. The SEC issued a warning in March after Sen. Kelly Loeffler, a Republican from Georgia, and three other senators, made trades following a private briefing for senators on COVID-19.
Gianforte's campaign said the goal was to remove any control from the congressman and they feel the blind investment agreement, which requires reporting to the House, is more transparent.
"Greg has no control over trades made on his account, an investment manager conducts all trades without Greg's advice, direction or consent," the campaign said this week. " ... Greg is only made aware of trades after they have been made, reports them to the Clerk of the U.S. House of Representatives, and does not communicate with the investment manager per the terms of the blind investment agreement."
The Gianforte campaign points out that the companies Fox's campaign calls into question have other focuses and that the trades represent 10 out of 200 since the first of the year, though their amount could total up to $415,000.
Throughout the primary campaign, Gianforte's internal polling has shown him with a lead over his Republican foes.
Get Government & Politics updates in your inbox!
Stay up-to-date on the latest in local and national government and political topics with our newsletter.