The Montana Fish and Wildlife Commission has increased from a five- to seven-member body following a new state law and appointments Monday from Gov. Greg Gianforte.
The governor appointed Jana Waller of Florence and Bill Lane of Ismay to serve on the commission to represent Montana Fish, Wildlife & Parks' Region 2 and Region 7 respectively. A new law passed by the Legislature and signed by Gianforte expands the commission by two members assigned to each of the state's seven administrative regions. Commissioners had previously represented five districts that often crossed regional boundaries.
Waller produces and hosts the hunting show Skull Bound Chronicles on Carbon TV after co-producing Skull Bound TV on the Sportsman Channel for nine years. She is also a freelance outdoor writer and has appeared on other outdoor-oriented TV shows, according to her website. Gianforte praised Waller's work in conservation and particularly with getting veterans outdoors in a press release announcing the nomination.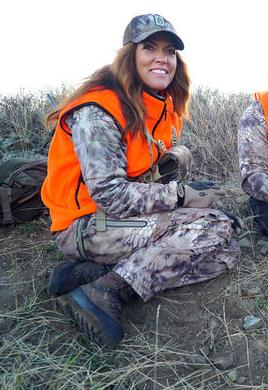 "It's truly an honor to accept this appointment from Gov. Gianforte," Waller said in an email. "I understand the complexity and importance of wildlife management and look forward to representing Region 2 and Montana as a whole. I am very passionate about Montana's wildlife, habitat and traditions and will listen to all sides of the issues to make sound decisions for the herds, flocks and people of Montana."
Waller's term will run until Jan. 1, 2023.
Lane owns and operates Crescent Cross Ranch, a family operation specializing in black Angus cattle. He said in an interview he believes he can bring the multifaceted perspective of a landowner, sportsman and former outfitter to the commission.
"The biggest thing is I felt disconnect as far as being able to have our area represented," he said of his interest in serving on the commission. "Not that they did a bad job but it's way different in southeastern Montana than in western Montana, and I thought I could offer hopefully some common sense and listen to all different sides before I make my decision."
Lane sees the heightened emotions around many of the commission's decisions, saying he wants to make the best informed decisions that while not always popular make the most sense for the majority of people.
Lane's term will run until Jan. 1, 2025.
House Bill 163 from Rep. Paul Fielder, R-Thompson Falls, made the changes to the number of commissioners and appointment by region. The bill bridged political divides between often-opposing groups, who agreed that given the wide diversity of wildlife and landscapes in Montana and five large commissioner districts, commissioners are often stretched too thin. Adding two members and representing smaller regions would offer better representation and understanding of local fish and wildlife issues, supporters said.
Opposition to the bill came largely from trapping opponents who believed HB 163 did not allow adequate representation for those who enjoy wildlife but do not hunt, fish or trap, often called "non-consumptive" users.
The bill saw broad bipartisan support in the House and passed largely along party lines in the Senate.
In the coming months, the commission is expected to take up major changes to elk and deer regulations, including a reduction in the total number of hunting districts and changes to season structures and license and permit types.