Montana Gov. Greg Gianforte on Monday seized his first day in office with the promise of a comeback from the coronavirus that has killed nearly 1,000 Montanans and cratered the state's economy. 
"Let's work together to help Montana realize our full and outstanding potential," Gianforte said in his inauguration speech in the governor's reception room. "Because together we can make Montana better and together we will."
Gianforte, 59, is the 25th governor of Montana. He and Lt. Gov. Kristen Juras replace Democrats Steve Bullock and Mike Cooney. Bullock was Gianforte's first opponent on his gubernatorial path in 2016, a race Gianforte lost before going onto beat Cooney this November, leading a GOP sweep of statewide offices. Every person was masked through the ceremony, which saw limited attendance, roughly 25 people, due to COVID-19 concerns.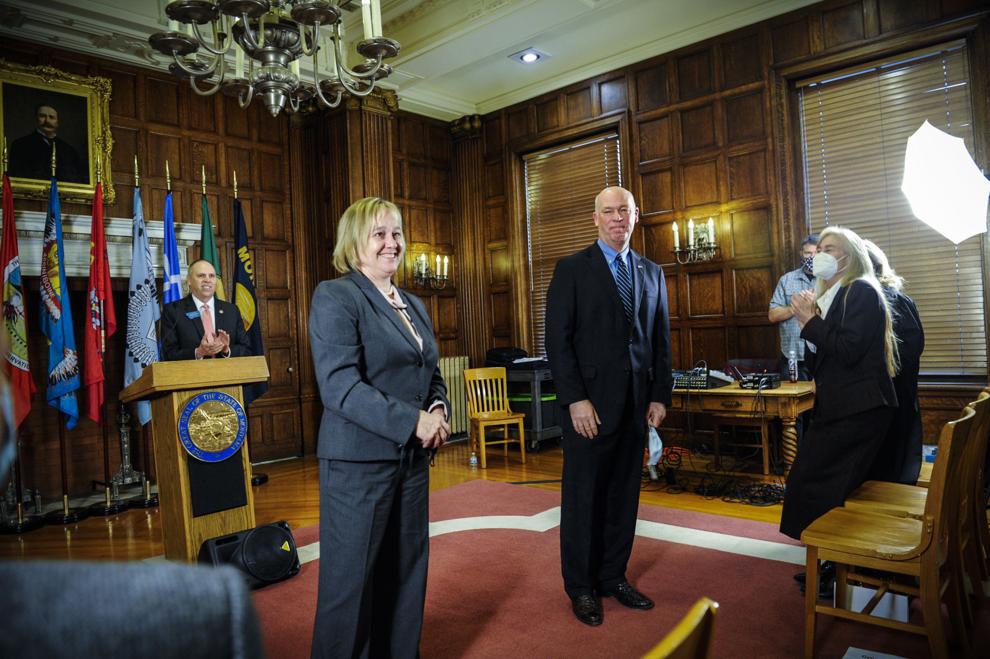 Gianforte said late last month he would release his COVID-19 response plan after his inauguration and based on recommendations from a 21-member task force. He had not done so immediately after his swearing in on Monday. The governor's spokesperson did not immediately respond to when the plan would be released.
Republican lawmakers have said they look forward to working with Gianforte, whose "Montana Comeback Plan" sets out his economic priorities in agriculture, manufacturing, tax reform, natural resources and tourism. On Monday Gianforte spoke of his core principles which will guide his agenda, including economic growth, fiscal responsibility, reform of state government toward a "more responsive" customer-service approach and "protecting the Montana way of life."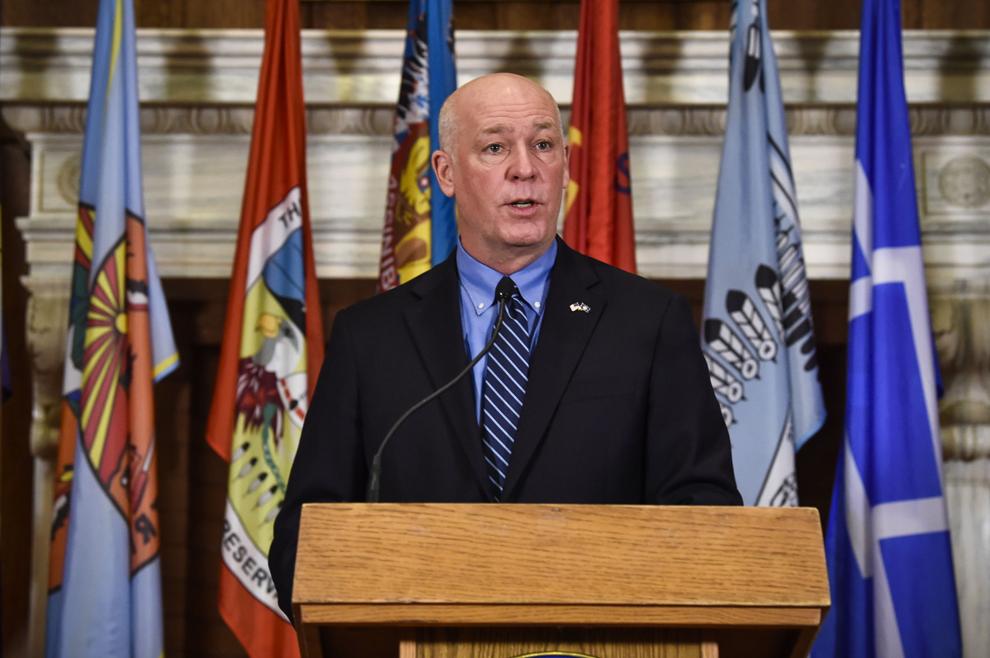 Gianforte was sworn in Monday by Yellowstone County District Court Judge Mary Jane Knisely. In his inaugural speech, he spoke of the challenges that followed COVID-19's arrival in Montana: distant holiday celebrations and scaled-down weddings. 
"And let's not forget about the nearly 1,000 people who have fallen victim to this virus who are no longer with us," Gianforte said. 
He pointed out, amid the chaos, front-line health-care workers, parents, educators, truckers and grocery store clerks have emerged as heroes. Gianforte said he was optimistic for the near future, with widespread vaccines within reach and an increase in testing.
"I am confident that we will recover," Gianforte said. "I am confident that Montanans will make our comeback. Today's inauguration sets a new course for Montana. Today marks a new chapter in our history. Today marks a new beginning for Montanans throughout our state because the possibilities are vast and our potential is as boundless as our skies."
Gianforte said he's ready to work with anyone, Democrat, Republican, independent and anyone "that has a good idea."
State Senate President-elect Mark Blasdel sent a statement Monday saying Republican lawmakers were eager to start work with a member of their own party in the governor's office.
"Today is a new day for Montana with Greg Gianforte being sworn in as our new governor," Blasdel said in the release. "We look forward to working with Gov. Gianforte to start Montana's comeback, get our economy going, shore up our health care system and protect the Montana way of life."
Austin Knudsen, 39, became Montana's attorney general Monday morning in a ceremony at the state Supreme Court chambers.
In a brief speech to a small group of friends and family, Knudsen said elected officials have an obligation to use taxpayer resources efficiently and that he would implement "a number of operational efficiencies" immediately.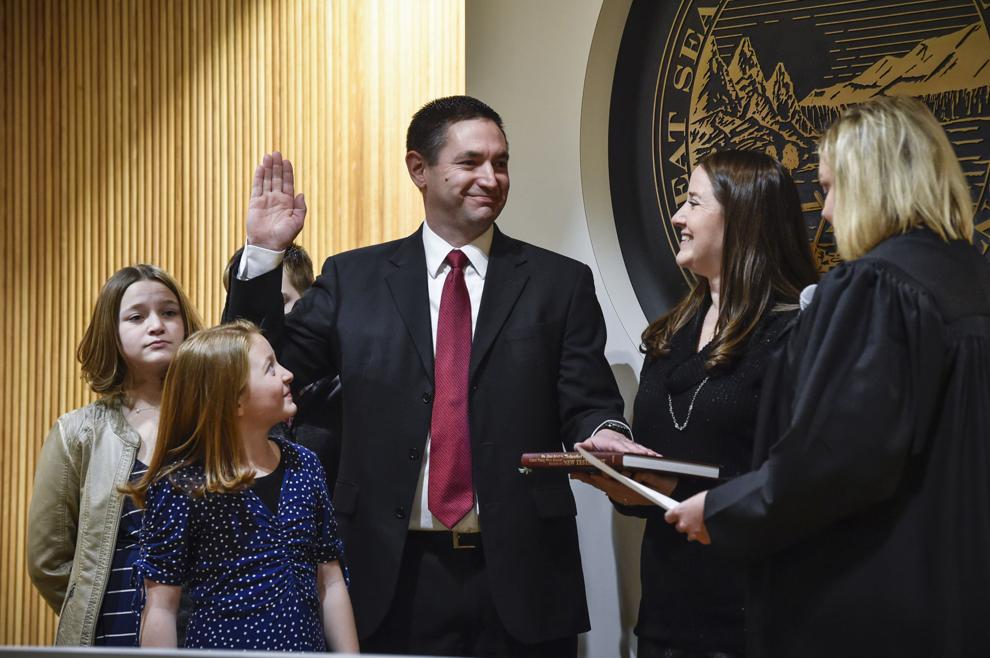 To that effect, Knudsen said he would be reverting $4.1 million from a state special revenue account meant to help implement REAL ID to the general fund, citing the extension given to the state to comply with the provision.
Knudsen also echoed a campaign message of lowering crime rates in Montana.
"The people of Montana sent a clear message in electing me as their attorney general. They want their state's top legal office aggressively prosecuting criminals, get the drug and crime problem under control and protect their constitutional rights. That's exactly what we're going to do at the Department of Justice," Knudsen said.
Touting record voter turnout in the 2020 election, Republican Christi Jacobsen was sworn in Monday as Montana's 22nd secretary of state by Montana Supreme Court Justice Laurie McKinnon.
Jacobsen served as chief of staff for previous Secretary of State Corey Stapleton, a one-term Republican who lost a primary bid for Congress. Jacobsen is the second consecutive Republican to win the office.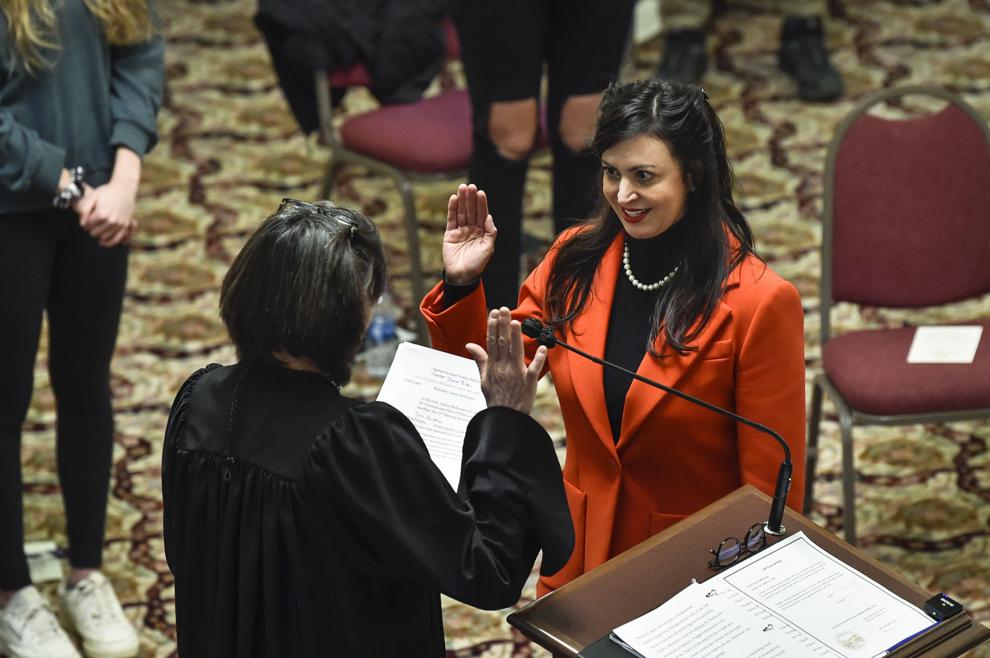 In a short ceremony in the Capitol's Old Supreme Court Chambers, Jacobsen reflected on a difficult 2020 due to the pandemic, but highlighted a successful election with high voter turnout.
"Montanans are built to overcome challenges" she said. "The 2020 election is a result of our voices being heard. Montana voices proved they will not be swayed from these values."
Jacobsen spoke about her approach to the office and promised to lead with a "servant's heart." The secretary's office oversees Montana's elections and business records.  
"I promise to give it my all each and every day for the next four years and keep my promise to you to protect the integrity of elections and always be a partner with businesses," she said.
Montana's new state Auditor Troy Downing, a Republican, took his oath of office in the Capitol on Monday.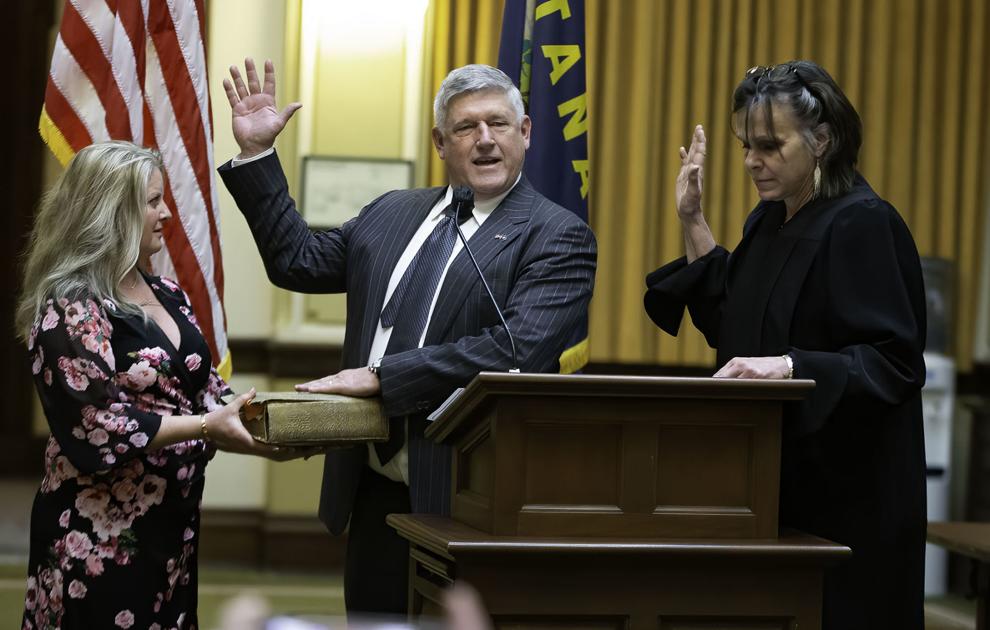 Downing thanked his friends and family as he was introduced by outgoing Attorney General Tim Fox and sworn in by Montana Supreme Court Justice Laurie McKinnon. It is the first elected office for Downing, a Republican businessman from Big Sky. He follows fellow Republican Matt Rosendale, who ran successfully for the U.S. House after one term as auditor.
The state auditor is Montana's commissioner of securities and insurance, and Downing said he was looking forward to working on consumer protection and fraud as well as the state Land Board, which oversees the state's trust lands. He offered an open-door policy as a pledge to communicate with both those who agree and disagree with him.
"As I go into this, I'm so honored to be here but this is really about all of us," he said. "This is about doing right for Montana wherever you come from. This is about doing right for Montana and I take this very seriously. And I'll tell you right now, I don't care what your political background is, come talk to me, we will have respectful dialogue and conversation. I can't promise we'll always agree, but I can promise that I will always listen and consider because I think that ideas and solutions come from all different directions and that's one promise that I do have for you."
Superintendent of public instruction
Republican Superintendent of Public Instruction Elsie Arntzen took her second oath of office on the steps of the Capitol Monday morning.
Arntzen, a former Billings teacher and lawmaker, was first elected to Montana's top education post in 2016 and won reelection in November.
"I am very humbled and honored to be able to lead the next four years for our children and our families," she said. "Behind me we have so many teachers, administrators, great people who work in the agency, who work in the Office of Public Instruction that we will be leading forward in putting our Montana students first."
Arntzen also said she had faith the Legislature convening Monday understood the importance of education.
"I know they also join me in making sure the children's future, our future is bright with public education," she said.
Arntzen later convened a panel of Montana educators, parents and students which discussed the difficulties of the coronavirus pandemic on schools and where some have found successes.  
Montana State News Bureau's Holly Michels contributed to this story.