On a night meant to energize Democrats around the state of Montana, former Vice President Joe Biden spoke to a sold-out crowd about 1,300 people at the 40th annual Mansfield-Metcalf Dinner in Helena.
Biden took the stage late Saturday night, calling U.S. Sen. Jon Tester an authentic person and "a guy who looks like he can lift an ox out of a ditch."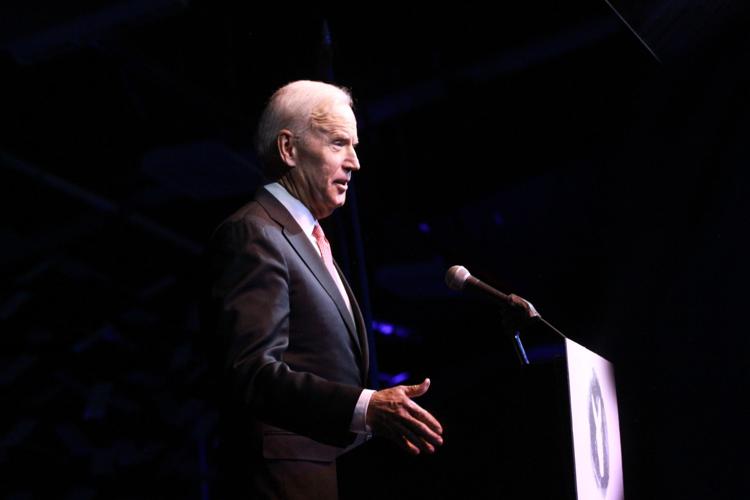 Tester's re-election was one of the main focuses in an evening featuring party leaders and candidates, all of whom touched on the national political mood under Republican President Donald J. Trump but spent most of their time on hope for the future.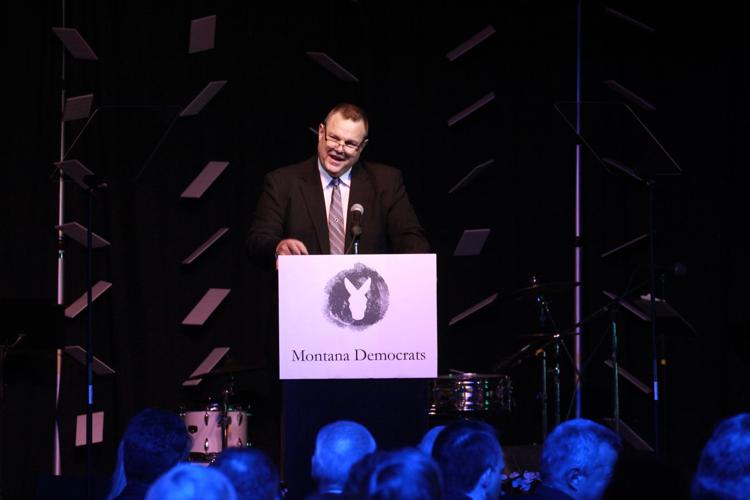 The event is the main Democratic gathering and fundraiser each year and was broadcast to the party's central committees around the state, executive director Nancy Keenan said.
Biden said the nation has been as — or more — divided before, such as during the Vietnam area. But the country's politics have never been more polarized.
"So what's wrong?'' he said. "Our politics is broken. Because of gerrymandering and unlimited money in campaigns."
In a wide-ranging speech, Biden touched on issues he's championed throughout his career, such as the stability of the middle class, legislation like the Affordable Care Act, veterans issues and preserving social safety net programs like Medicare, Medicaid and Social Security. In touching on each issue, Biden told the crowd that Tester was the candidate who would stand up for those issues.
"That's something Jon gets," Biden said. "Jon knows that being middle class is not a number… Middle class is not a number, it's a value set."
Biden asked Democrats what they stood for and if they knew "just how much is at stake."
"Our power is diminishing because of this naked and phony nationalism and this populism designed to clear space for selfish people to be able to operate. So folks, I think it's important to send Jon back, I think it's important we win back the House of Representatives, because standing up for the middle class, dealing them back into the promise, is the challenge of our time.
"We are up to the challenge," he said.
Montana Gov. Steve Bullock told the crowd Democrats have a "heck of a lot to celebrate," but said Republicans in the state Legislature are "acting more and more like Republicans in D.C." He called on voters to flip the GOP-dominated body and show up for Tester in November. He also told attendees it was important to vote out U.S. Rep. Greg Gianforte.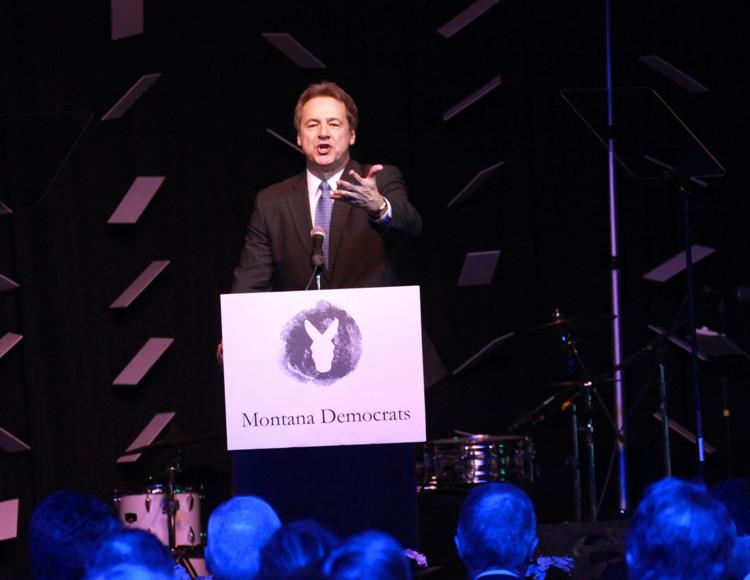 The five Democratic candidates running against Gianforte — Grant Kier, John Heenan, Kathleen Williams, Lynda Moss and Jared Pettinato — all spoke briefly during the event's long agenda, telling voters why they'd be the best to defeat Gianforte, the incumbent Republican, after the Democratic primary. 
Tester told the story of how his family came to Montana and his grandparents homesteaded in Big Sandy. He is highlighting his farming roots as the Republicans running in the Senate primary for the chance to unseat him are painting him as being out of touch with Montanans.
"They're going to try to make me into something I'm not because they can't beat Jon Tester, the farmer from Big Sandy," he said.
He recounted his last year in Washington, D.C., garnering applause from the crowd when discussing funding for community health centers, defeating the Republican effort to repeal and replace the Affordable Care Act and grilling the head of Indian Health Services.
Bullock worked to paint Democratic initiatives such Medicaid expansion, public preschool funding, equal pay for women and access to public lands, as being good for all Montanans.
"We need to remind Montanans in every corner of this 147,000-square-mile state that it's Democrats that deliver on the issues important to them," Bullock said. "We have 241 days until the election, not that anyone's counting. So make those days count."
Many of the speakers implored attendees to campaign hard and vote.
"Talk to your neighbors, not just on Facebook or Twitter," Bullock said. "Try something really wacky. Talk to them in person."
While all of the speakers focused on momentum in the party, it was impossible for them to not talk about Trump.
"We try to teach our kids to be honest and respectful of others, but we're becoming so desensitized that we expect less of our president than we do of our preschoolers," Bullock said. "We deserve better."
Keenan also touched briefly on national politics, saying the event wasn't to reflect on struggle but to focus on hope.
"These are interesting times," Keenan said. "We're all feeling it. Some days it's exhaustion, some days it's disbelief and some days it's laughable, but every day has its consequences. But tonight we are here to celebrate hope."
Montana Democrats listened to statewide leaders and candidates in Helena Saturday for the Mansfield Metcalf Dinner, with former Vice President…