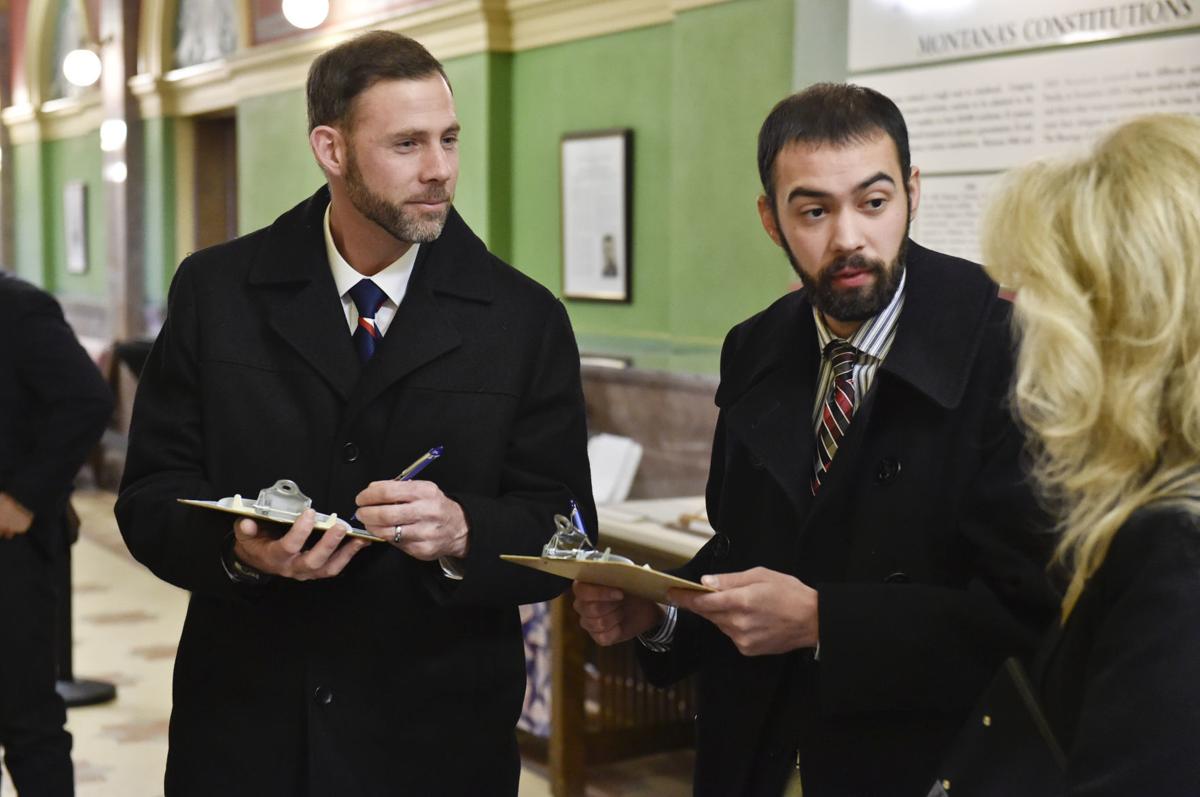 There were more than a few surprises on the last day to file to get on the ballot in Montana, from familiar faces in familiar races to Green Party candidates entering high-profile contests just days after the party became certified to run office-seekers.
While the main headline of the day was Democratic Gov. Steve Bullock finally jumping into the U.S. Senate race, ending the will-he, won't-he speculation, other filings Monday made significant political splashes.
Last Friday the secretary of state OK'd candidates to file as Green Party members and run for office, and by Monday Green candidates filed in the U.S. Senate, U.S. House and governor's race, as well as the state attorney general contest.
Green Party candidates can be seen as siphoning votes away from Democrats, while Libertarians, who were already on the ballot in Montana, can pull votes from Republicans. Earlier this year signature-gatherers submitted petitions with signatures from enough Montana voters to qualify the Green Party for the ballot. Whoever paid to do that work must register with the Commissioner of Political Practices and report any spending on the effort. Only one organization has registered to do so, the Club for Growth Action political action committee. That organization, however, told Lee Newspapers and the commissioner it would not be submitting signatures. It remains unclear who did.
In the U.S. Senate race, Wendie Fredrickson of Helena and Dennis Daneke of Lolo filed as a Green Party candidates before the deadline. Daneke said Monday he'd be able to discuss his candidacy in more depth later in the week. Fredrickson said she was running for Senate because she is "calling out" Bullock's performance in office.
"The people of Montana deserve better than Steve Bullock," said Fredrickson, who left her job with the state Department of Public Health and Human Services in 2014, saying she was bullied by state officials.
Libertarian U.S. Senate candidate Eric Fulton ended his campaign Monday just before the deadline. He could not be reached for comment immediately. 
The Montana Green Party in a Facebook message earlier this month made clear it was not behind the effort to get on the ballot and did not plan to run any candidates this cycle.
All the other Democrats except John Mues, a Navy veteran and engineer who works in the energy field and lives in Loma, have quit the Senate race and endorsed Bullock.
The Republican U.S. Senate primary also got a bit of a shakeup, as John Driscoll, a longtime former Democratic state Public Service Commissioner, filed Monday as a Republican in that race.
This is the third time Driscoll, who also served in the state House where he was speaker, has made a last-minute entrance into a congressional race. He also filed to run for U.S. House up against the filing deadline in 2008 and 2014, though both those times he ran as a Democrat. In 2008 he won the primary, and ended up losing the general election to former U.S. Rep. Denny Rehberg, a Republican. He lost to Democrat John Lewis in 2014 primary.
In a statement Monday, Driscoll said Montana Republicans should vote for a candidate who would have called witnesses in President Donald Trump's impeachment trial, something Daines voted against.
In that statement, Driscoll said "three men dominate today's Montana Republican Party." He criticized Daines, along with state Auditor Matt Rosendale, who is running for U.S. House this year, and U.S. Rep. Greg Gianforte, who is running for governor, for their backing of Trump.
"With this effort to be elected, I hope to help create the conditions for Republicans, working together, to be rid of the three wise guys," Driscoll said.
Governor race
Two more Green candidates, governor hopeful Robert Barb and running mate Joshua Thomas, who listed a Billings address with the secretary of state, filed Monday. Their campaign did not return a phone message or email seeking comment.
Democratic Gov. Steve Bullock is termed out from running again.
U.S. House
The U.S. House race also saw a Green Party candidate file Monday: John Gibney of Hamilton. Gibney's phone would not accept calls Monday. 
The other candidates in the House race are Democrats Kathleen Williams, a former state lawmaker from Bozeman; and state Rep. Tom Winter of Missoula, as well as Republicans state Auditor Matt Rosendale, Helena rancher Joe Dooling, John Evankovich of Butte, former state GOP chair Debra Lamm of Livingston, Mark McGinley of Dillon, and Secretary of State Corey Stapleton.
Officeholder U.S. Rep. Greg Gianforte, a Republican, is leaving the seat to run for governor.
Secretary of state
Also Monday, Republican Public Service Commission Chairman Brad Johnson filed to run for secretary of state, a job he previously held from 2005-2009, before he lost the spot to Democrat Linda McCulloch in the 2008 election. He ran again against McCulloch in 2012 and lost.
"(Secretary of state) is an office that I've always had a great deal of respect for and interest in," Johnson said Monday. "With the challenges I see on the horizon in terms of especially the area of election administration as we move into this decade and that being an open seat, the timing was right for me to go ahead and thrown my hat in the ring." Secretary of State Corey Stapleton is running for U.S. House and not seeking reelection.
Another Republican, Kurt Johnson of Missoula, also filed to run Monday.
Four other Republicans are running for the job: deputy Secretary of State Christi Jacobsen, state Rep. Forrest Mandeville of Columbus, state Senate President Scott Sales of Bozeman, and clerk of the state Supreme Court Bowen Greenwood. Only one Democrat has filed to run, state Sen. Bryce Bennett of Missoula.
Other races
In other races, Roy Davis, a Green Party candidate from Helena, filed Monday for the attorney general contest. He joined already announced candidates Jon Bennion, deputy attorney general; and Austin Knudsen, former state Speaker of the House from Culbertson; on the Republican side. Democrats running are Bullock's chief legal counsel Raph Graybill and Missoula state Rep. Kimberly Dudik.
In the state auditor race, Democrat Mike Winsor announced, running against Missoula state Rep. Shane Morigeau in that primary. On the Republican side, Troy Downing of Big Sky, Nelly Nicol of Billings, who works in the insurance industry; and Scott Tuxbury, of Helena, are running, in addition to Libertarian Roger Roots.
There will be no primary contest in the Superintendent of Public Instruction race, where incumbent Republican Elsie Arntzen will run in the fall against Helena teacher and Democrat Melissa Romano and Libertarian Kevin Leatherbarrow, of Great Falls.