Public hunter groups and outfitters announced a consensus package of bills for the 68th Legislature on Tuesday, including legislation reforming some nonresident and landowner preference licensing, increasing penalties for trespassing and hunter harassment, and expanding education and Block Management.
More than 100 camouflage-clad hunters gathered for "Elk Camp at the Capitol" Tuesday as speakers pushed a message of collaboration despite often sizable differences in policy. They heard about a legislative package coming from a coalition of hunting and access groups and others deemed the Montana Citizens' Elk Management Coalition and the Montana Outfitters and Guides Association.
Speakers included former Montana Fish and Wildlife Commissioner Patrick Byorth, Montana Outfitters and Guides Association President Dusty Crary, legislators and Gov. Greg Gianforte.
"I'm preaching to the choir here, but hunting, fishing, outdoor recreation is not something we do, it's who we are," Gianforte told the crowd. "It's part of our identity as Montanans and we need to work together, everybody's voice needs to be heard so we can come up with joint solutions."
Efforts to find more common ground on topics such as elk management, hunter access and funding come after a particularly trying stretch from the 2021 Legislature and changes to hunting regulations. Advocates often clashed with lawmakers, the administration, Montana Fish, Wildlife & Parks and the Montana Fish and Wildlife Commission over contentious legislation, hunting regulations and licensing at a time where concerns continue to rise over landownership changes and public access challenges.
Byorth recently completed his term on the commission, serving as the lone holdover appointee from former Democratic Gov. Steve Bullock. He took a historic look at wildlife management in Montana and the West, mentioning efforts to conserve and replenish wildlife and habitat pushed by hunters that continues today. Montanans must continue to have their voices heard, he said.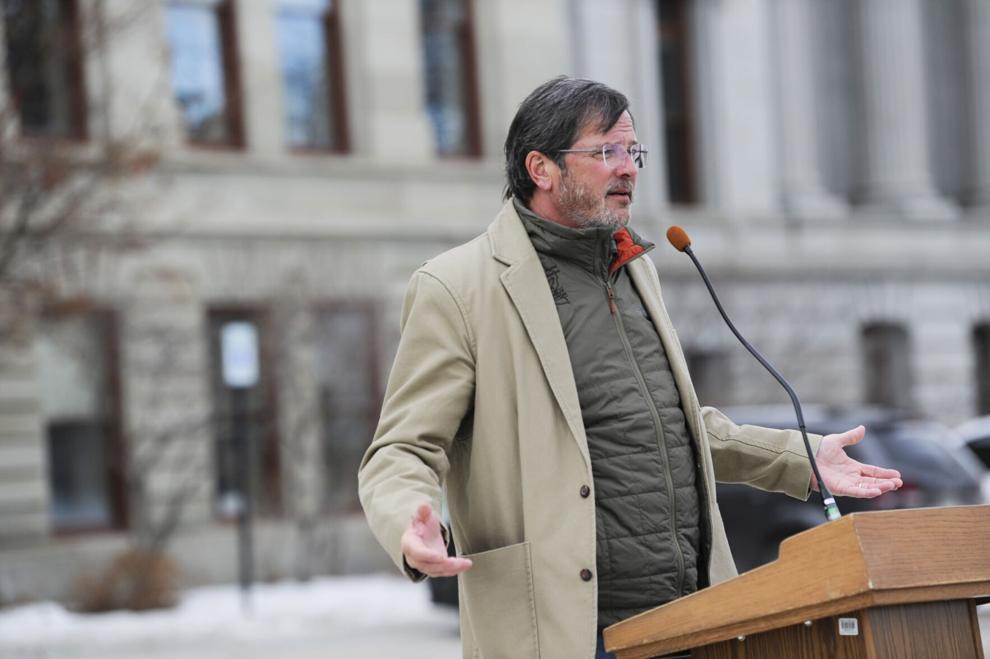 "So now I ask where do we want to go from here, where do Montanans want to take our wildlife?" he said. "We don't want to sell it to the highest bidder, we've been down that road."
Crary, while acknowledging that politics are inherent to issues at the Legislature, also struck a tone of collaboration.
"I think it's extremely important that we have all of us talking here today instead of just ourselves talking amongst ourselves like too many times we do," he said.
The bill package includes:
A proposal to establish a nonresident landowner preference pool, which would make up to 15% of nonresident licenses available for nonresident landowners owning at least 2,500 acres. One license could be available for each 2,500 acres up to 10,000 acres for owners, direct lineal family or full-time employees. Hunting would be restricted to a landowners' deeded or leased land. The bill would also provide an extra bonus point for special permits for landowners enrolled in an access program.
A second bill would double the minimum acreage to qualify for landowner preference to 640 acres for deer and 1,280 acres for elk and limited to private land within the hunting district.
A third bill would reform the 454 programs that provide special permits to landowners for allowing public access to three hunters. The change would require landowners to offer a "like" hunting opportunity to at least one hunter, meaning if a landowner receives a special bull elk permit a public hunter must be allowed to hunt the same. The bill also encourages more negotiation for additional public hunting of cow elk.
A fourth bill would limit purchase of additional antlerless deer licenses for nonresidents who draw a hunting license with the goal of reducing crowding.
Bills would also seek to increase fines for trespassing, with fines of $250 to $500 for a first offense and potential revocation of hunting and fishing licenses. Hunter harassment laws would be expanded to include intentionally blocking access where legal to the public. And a list of hunters convicted of hunting without landowner permission would be made available in order for landowners to consider disallowing access.
On the topic of education, one bill would mandate an in-person field day for hunter education and another bill would create a study bill for lawmakers to consider enhanced hunter education programs.
Finally, the groups back a bill to double the payment cap under the Block Management program for landowners who allow public hunting access.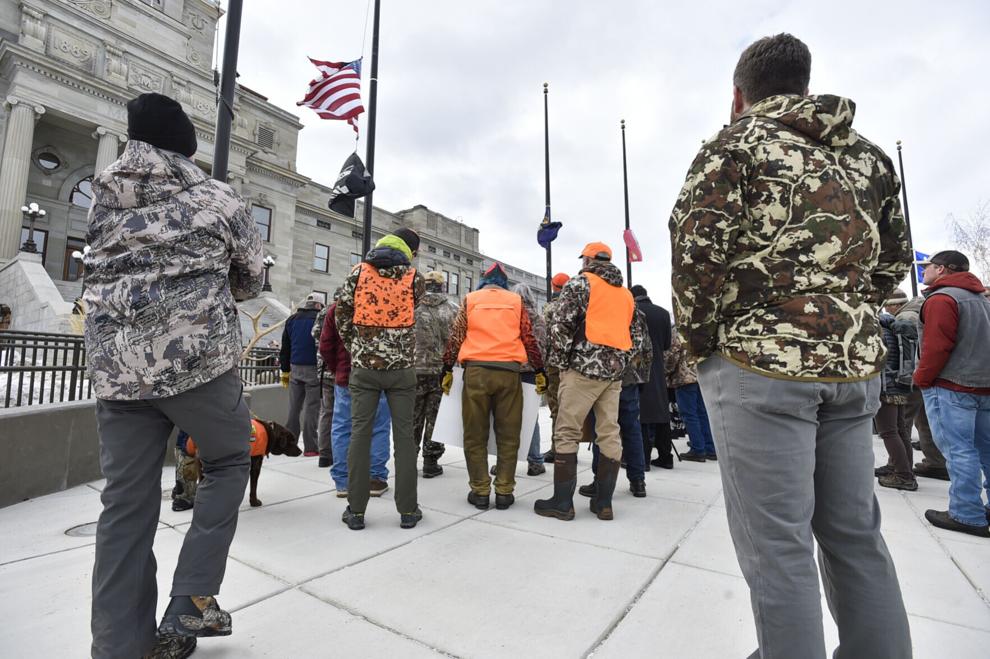 Sen. Jeff Welborn, R-Dillon, was among those who pushed for opposing parties to sit down following the fallout of the 2021 session.
That session included pushback to late changes to a bill that provided one-time licenses for nonresidents who had booked with an outfitter and an advantage in the license draw for nonresidents booking with an outfitter. Another bill that stalled in committee would have provided landowners licenses to distribute.
Welborn was pleased to see the turnout on Tuesday and touted an effort to set aside $200 million of the current budget surplus into a trust to fund conservation work, saying he believes it will get a fair hearing.
"Conservation in my mind means taking care of what we already have as much as getting new management areas or things like that, we've got to take care of what we've got," he said. "... I think there's some opportunities that we have that we haven't had for a long time for some different ways to fund that."
Rep. Tom France, D-Missoula, threw his support around consensus for several bills, but also highlighted some opposition to other issues. He criticized Gianforte for moving funding from taxes on marijuana for the Habitat Montana program to other priorities. The program takes a portion of sales of hunting licenses for FWP to purchase land, conservation easements, and most recently, termed conservation leases.
"I think that's going to be one of the places where Democrats and I hope many Republicans are saying, 'That was the wrong choice, governor,'" he said.
Gianforte has said he believes the Habitat Montana program is adequately funded.
While the idea of collaboration generally saw support, not everyone in attendance Tuesday was pleased with Gianforte's appearance.
Ryan Busse, a former firearm industry executive and author of the book "Gunfight: My Battle Against the Industry that Radicalized America" pointed to past disagreements among hunting advocates with the administration and said he and some others were frustrated with the appearance. He believes policies have pushed "privatization" of wildlife, taken the gas pedal off Habitat Montana, and disfavored a science-based approach to wildlife management.
"There is a lot of deep-seated frustration and anger in what the administration has already done," Busse said. "… I suspect that's what we're going to see moving forward. I hope we're wrong but we're judging Gov. Gianforte by his past actions."