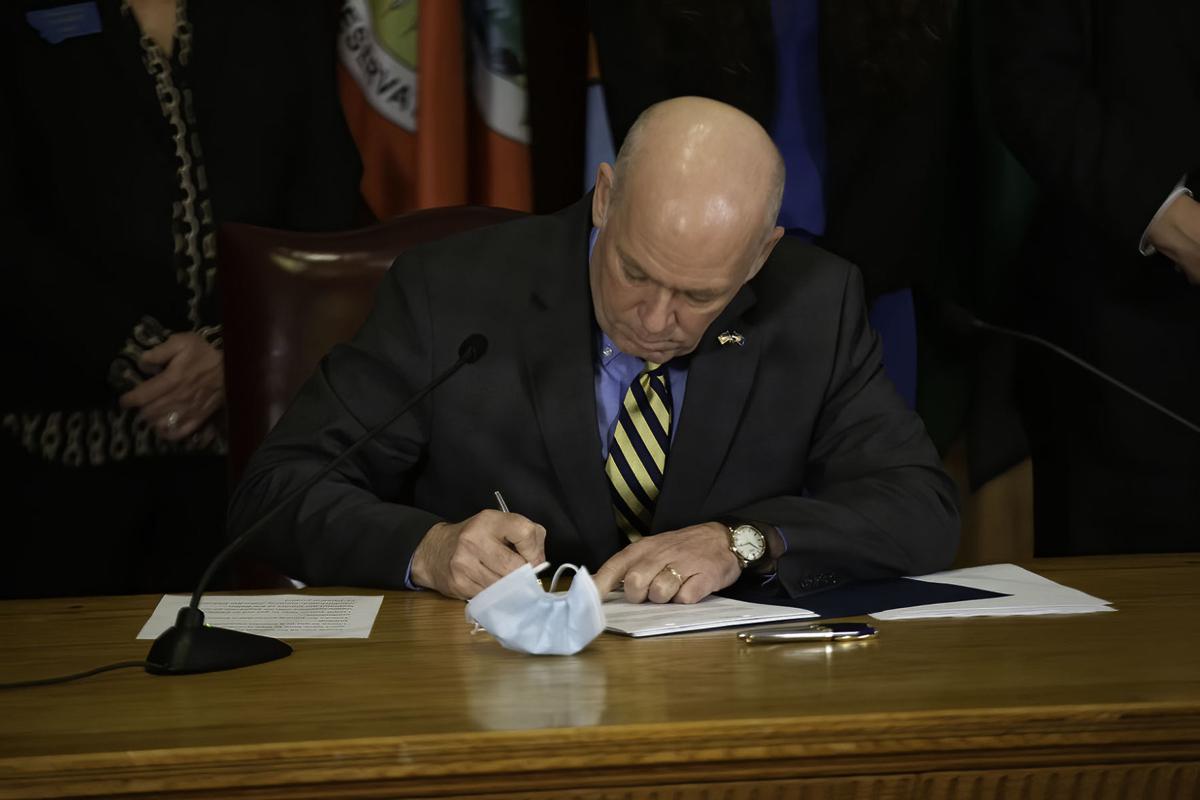 Under a draft policy to implement a new law broadly expanding where firearms are allowed, students on Montana's college campuses who meet safety certifications would be able to carry concealed firearms without a permit.
The Montana Board of Regents will host a listening session Wednesday to hear comments on their draft policy implementing House Bill 102, which Republican Gov. Greg Gianforte signed into law in February.
The bill allows Montanans to carry concealed firearms in most places in the state without a permit, and — most relevant to the Montana University System — removes the Board of Regents' ability to enforce restrictions for guns carried on campuses.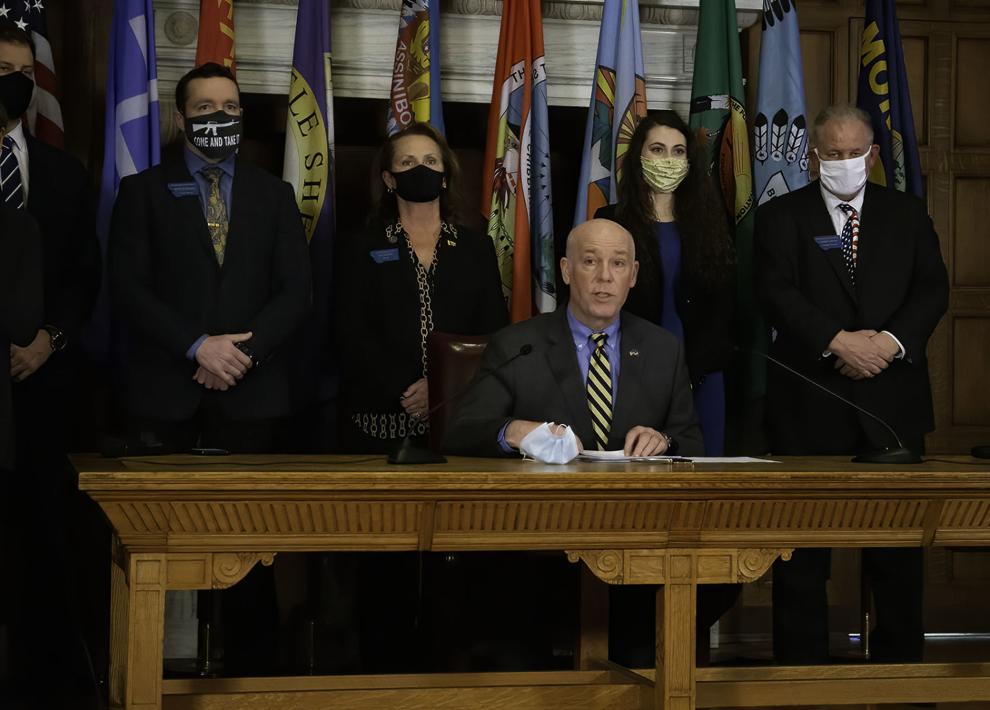 Existing policy banned firearms on campus except for trained law enforcement personnel and other security. Republicans who supported the bill said it would protect Second Amendment rights. Bill sponsor Rep. Seth Berglee, R-Joliet, argued it would make campuses safer by allowing people to defend themselves.
Democrats and others opposed to the bill, which include the Office of the Commissioner of Higher Education, said introducing firearms to campus made for dangerous situations with the risk of accidental discharge and untrained people handling weapons. Other concerns include that introducing firearms onto campuses where students already face stressors could increase suicide completions.
Opponents also raised concerns about the constitutionality of the bill, citing a provision in Montana's Constitution saying the Board of Regents "shall have full power, responsibility, and authority to supervise, coordinate, manage and control the Montana university system." The bill was accompanied by a legal note flagging that concern.
The law was effective immediately across the state after Gianforte signed it, except for college campuses, where it takes effect June 1. The Board of Regents is expected to vote on a final policy during its May 26-27 meeting, though at least one of the opponents to the legislation hopes regents will instead pursue litigation.
Amanda Curtis, president of the Montana Federation of Public Employees, said the state's largest union that represents public employees is urging regents to retain the existing policy and go to court to challenge the constitutionality of the law.
"We strongly feel that the board needs to litigate the infringement on its constitutional authority that will go into effect June 1 under HB 102," Curtis said. "By adopting a different policy than they currently have, they are weakening their chance at winning a lawsuit because we're concerned that you really shouldn't recognize the validity of a bill or an act of the Legislature while at the same time litigating."
Attorney Jim Goetz, who has already filed two lawsuits challenging the constitutionality of other bills from the recent legislative session signed by Gianforte, said Monday he's "looking into" the possibility of a lawsuit over the constitutionality of HB 102.
Curtis said lawyers have generally advised that a lawsuit would have to come from the regents, as they'd be the ones to have standing and not a student, employees or others affected by the law.
In response to emailed questions, Regent Brianne Rogers said that as chair of the Academic, Research, and Student Affairs Committee that will take comment Wednesday, she is "looking forward to reviewing the draft policy on Wednesday and committee members will bring forward questions to refine the policy as part of the committee process."
Draft policy
Helen Thigpen, deputy legal counsel for the Office of the Commissioner of Higher Education, said Monday the draft policy was a product of gathering other policies from other states that have implemented laws to allow firearms on campuses, though Thigpen noted each state has different framework.
"We did look at best practices from those other states and learned how they are implementing those policies and started working on this draft," Thigpen said.
The Commissioner of Higher Education's goal is safety, Thigpen said.
"Our top priority is the safety of students and staff and those who visit the campuses," Thigpen said. "We are aware of the concerns that have been raised and we're working through this process within the framework of HB 102 to provide a recommendation to the board for consideration."
Under the draft policy, anyone age 18 and older can carry a gun on campus and in campus housing if they've met minimum safety measures and training.
Following the Montana Operations Manual, which contains the policies, procedures and standards applicable to the operation of state government, a person can't carry a concealed firearm without a valid permit or open carry a firearm in a state building in areas where classes are taught, according to the draft recommendations.
The safety requirements laid out in the draft policy include holding a valid concealed weapons permit issued by the state or another state that has reciprocity with Montana.
If someone doesn't have a permit, they must provide certification of having completed a firearms safety or training course conducted by Fish, Wildlife & Parks or similar agency in another state, a national firearms association, a law enforcement agency, institution of higher education or another organization with instructors certified by the national firearms association.
Another alternative to a permit would be completion of a safety or training course offered by an approved law enforcement agency or evidence of military service where a person was found qualified to use firearms, including handguns.
People who live in campus housing must also complete a campus life safety course offered by the Montana University System.
Anyone who has a history of adjudicated university system discipline stemming from violence or substance use may be denied certification to carry a firearm.
Firearms must be kept in a locking device when not in a person's possession. Removing a firearm from a holster and pointing it at someone or using it is not allowed unless done in self-defense. Firearms must be carried in a case or holster.
Students who live in on-campus housing must notify their campus if they intend to store a firearm in their housing unit. And students must also expressly consent to having a roommate that intends to possess a firearm and will be notified if they are assigned a roommate who is certified to carry a gun.
The policy also lays out places firearms aren't allowed, which are included in a provision of HB 102, like any event where alcohol is served or with controlled access and armed security.
The draft policy also lets campuses restrict possession of firearms in places like child care centers, activities serving K-12 groups, health care facilities, high-hazard research areas where negligent discharge would create risk of catastrophic harm, like MRI research facilities and animal care facilities, as well as research areas where subjects are high-risk, such as those diagnosed with psychological disorders or post-traumatic stress disorder, or where the integrity of research could be compromised.
Campuses can also establish secure hearing rooms to conduct disciplinary proceedings.
Thigpen said the Office of the Commissioner of Higher Education has already received hundreds of comments about HB 102 and how it will be implemented, and anticipates much more in Wednesday's hearing.
"I would say they're from all facets of Montana," Thigpen said. "Many of them are from students, faculty, staff, parents of students, members of the public that are interested in what goes on on the campuses."
Curtis said members have sent more than 700 messages.
"Some of those might be pro-gun, but I would imagine the vast majority of those are urging them not to adopt a different policy or to litigate this infringement," Curtis said. I am reasonably hopeful the regents are going to do the right thing and at least ask the court to settle the question once and for all."
The intent of the draft policy was to set forth recommendations for the Board of Regents for a system-wide approach to implementing HB 102, Thigpen said.
"What we really tried to do was align the policy with HB 102 in a manner that recognizes the unique nature of the campus environment where you have hundreds if not thousands of students interacting and learning. It's also a workplace for faculty and staff," Thigpen said. "We tried to flesh out a policy that we think could work on a system-wide basis."
There's $1 million in the state budget to help the university system implement HB 102, but it comes with a contingency that it's only available if the Board of Regents doesn't bring litigation against the law.
"From our perspective, we wanted to make sure that we provide the regents with a recommendation for how House Bill 102 could be implemented given that the law does take effect June 1," Thigpen said. "I don't think the adoption of a policy in any way concedes the constitutionality question of HB 102. I think the board has every avenue and option still open and available to it for consideration."
While the bill didn't have a fiscal note, Thigpen said it's expected there will be costs to implement it.
Curtis said that the state budget, which could affect the operations of the state's university system, is still unsigned, leaving possible concerns over fear of retaliation of the regents bringing a lawsuit.
"If we allow them this infringement on the Board of Regents' authority, where will they stop? What bills will they bring next time?" Curtis said.