The Montana Department of Natural Resources and Conservation has set a goal to more than double the number of acres it touches under its forestry program this year.
Republican Gov. Greg Gianforte and DNRC Director Amanda Kaster made the announcement during a tour of a timber sale near Helena this week. The goal calls for "treatment," a forestry term referring to logging, thinning and prescribed burning, on 25,000 acres this year compared to the 11,000 acres DNRC completed last year.
Projects will come through a combination of state land timber sales, cross-boundary work that includes private lands, grants to private landowners and cooperative agreements with federal agencies under a program called "Good Neighbor Authority" or GNA.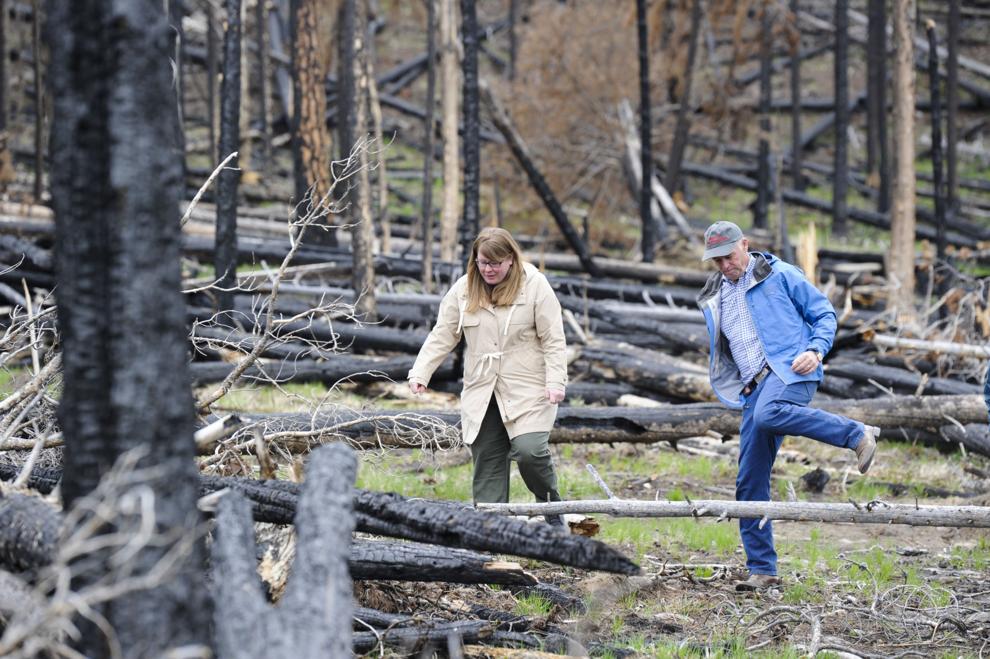 "I was pleased when I was in Congress we were able to expand the scope of the Good Neighbor Authority," Gianforte said. "That's why we've set this goal of doubling the number of acres treated. We need to use all the tools in the box to bring health back to our forests, to protect our communities from wildfires and to create jobs in our communities."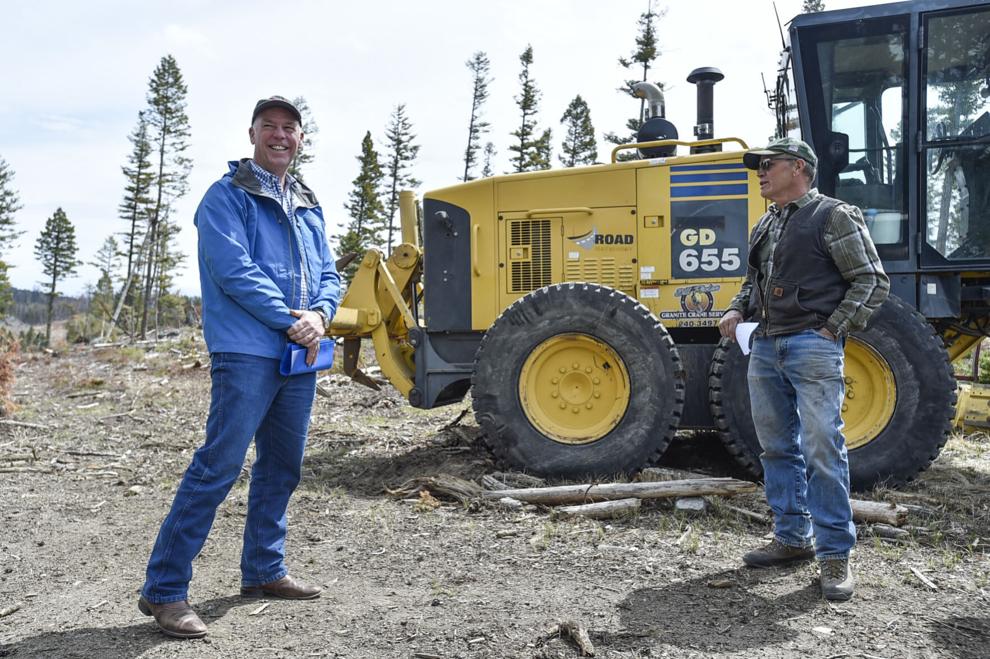 The governor praised cooperation between the state and the federal Forest Service and Bureau of Land Management and expects that to continue under the Biden administration. The tour included representatives of Lewis and Clark County and the City of Helena as well. 
"I'm encouraged. Today we had Forest Service and (the Department of the) Interior here. The local folks have been great to work with and we hope to do more," he said.
With about 4 million forested acres identified by the state of Montana as warranting attention, even doubling the state's capacity only scratches the surface, Gianforte said, but the first step is building capacity.
The Brooklyn Bridge Timber Sale is located south of Helena near Unionville in the Helena-Lewis and Clark National Forest. Roughly 120 acres of the 640-acre sale burned last June during the fast-moving Lump Gulch fire.
Brooklyn Bridge is part of the Ten Mile-South Helena Project, a major Forest Service project aimed at mitigating wildfire impacts south and west of Helena. It includes multiple timber sales, thinning and burning across a more than 60,000-acre area of the forest. The Brooklyn Bridge portion is, in part, about creating a fire break where authorities say it would be safe to insert firefighters in a landscape heavily impacted by dead trees and downfall.
Under GNA, the Forest Service performed environmental planning and laid out Brooklyn Bridge. DNRC then took over advertising and administering the timber sale, which includes burning slash piles and post project surveys.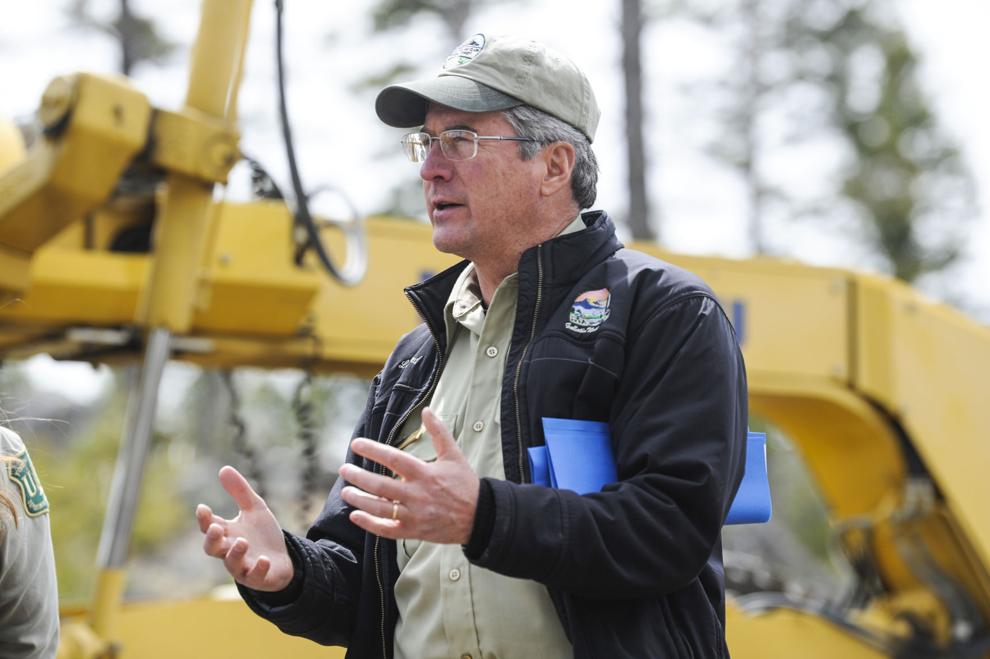 "This partnership is critical for improving forest conditions and improving the odds of our fire responders," Bill Avey, Helena-Lewis and Clark Forest supervisor, said. "… Like so many other fire behaviors we see across the West, it does lay that fire down and give us an opportunity to respond in a way with tactics and strategies you can't use if that work hasn't been done."
DNRC and the Helena-Lewis and Clark completed some of the first GNA projects when the program began in 2014. Now the state has projects with all seven national forests in Montana.
Marks Lumber in Clancy successfully bid on the sale. Steve Marks recalled riding his horse into the area before bidding, remarking about the amount of deadfall that made assessing the value of timber a challenge.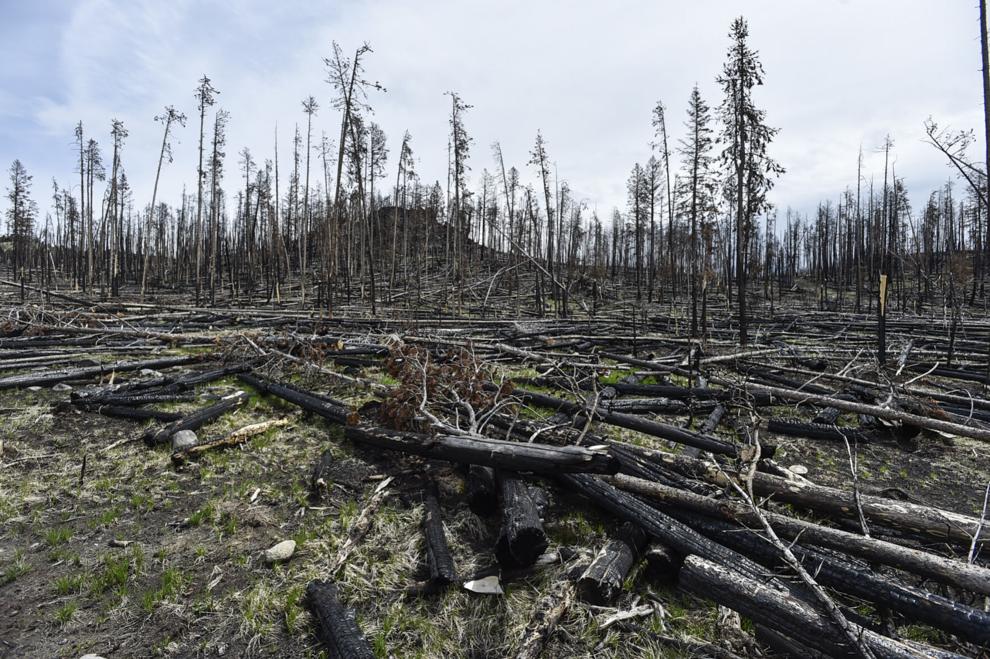 "It was difficult to bid because every time we came in here after a wind more trees were down," he said.
Marks said he was able to make the sale profitable by diversifying the wood products produced, from lumber to firewood.
The fire left about 120 acres of timber unsaleable, said Greg Archie, GNA bureau chief with DNRC. Still, with about 370 acres remaining, he expected crews to begin in June as conditions dried up and work until March.
"I think it's been going well," he said. "Relationships have been good, crews been good, we're happy to be getting that work done."
The increase in DNRC's acreage this year is largely a product of priority funding in the recently released Montana Forest Action Plan, the state's roadmap for its forestry division.
"Our GNA program continues to grow and add new projects and the current 14 are an increase from last year," Archie said. "We will continue to add new projects as the program develops. The substantial increase this year in acres is largely due to the funding of priority projects through the Montana Forest Action Plan; however, all of our programs are committed to an increase in acres treated."
The GNA program currently has 10 staffers working on it funded through a mix of federal, state, private and revenues.
Brooklyn Bridge is profitable for DNRC forester Gary Ellingson, but the margin is very tight. The overall GNA program is funded in part through revenues from the timber sales, so that means trying to balance out less lucrative projects such as this one with others offering more timber value. The costs to do pure fuels reduction work without the timber value could be as high as $1,000 per acre, he said.