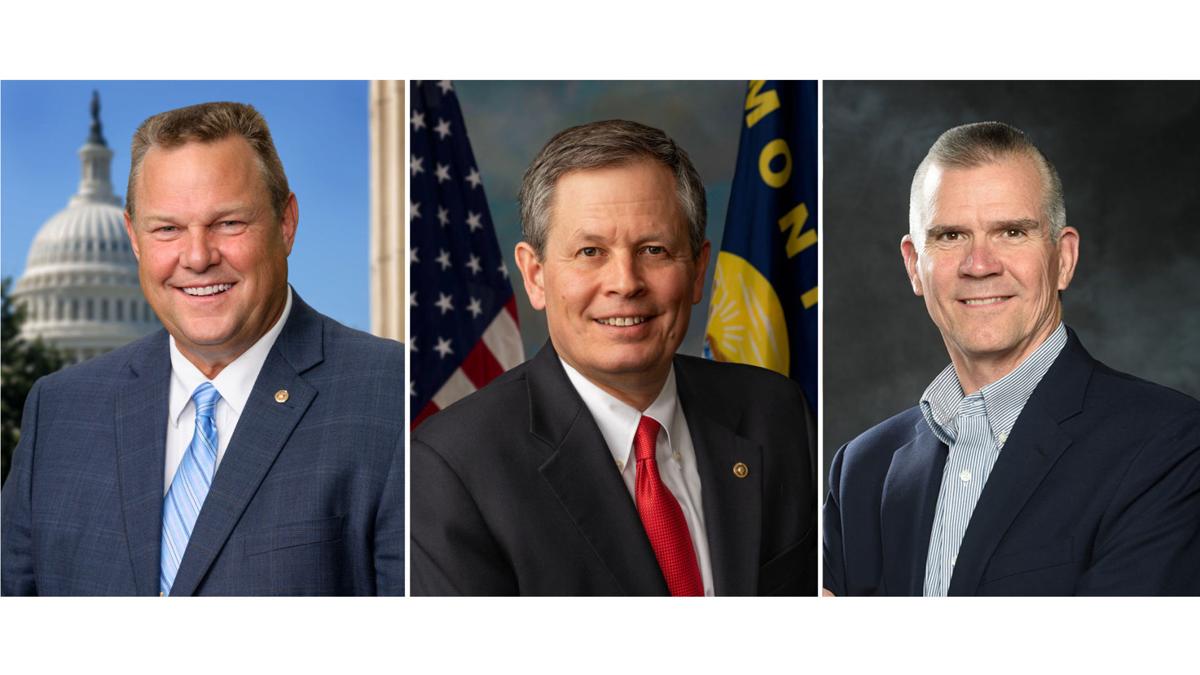 Montana's congressional delegation, divided on accepting the election results of all the states just two weeks ago, congratulated President Joe Biden on Wednesday after attending his inauguration.
U.S. Rep. Matt Rosendale, who had refused the certify the results of two swing states lost by Donald Trump, said in a press release that he would be praying for Biden and Vice President Kamala Harris.
"I was honored to attend the Inauguration today and represent the great state of Montana," said Rosendale. "The inauguration is one of our most sacred institutions of the United States government, and it has been an event that has happened every four years since our constitutional government began. I will continue to hold President Biden and Vice President Harris in my thoughts and prayers as they begin to lead our nation."
Republicans Rosendale and U.S. Sen. Steve Daines were part of a "sedition caucus" that had joined former President Donald Trump in suggesting the 2020 election was fraudulent. Those claims, disproven by swing state ballot recounts and dozens of failed lawsuits filed by Trump and his allies, fomented a "stop the steal" movement that boiled over Jan. 6 when Trump supporters assaulted Congress in a riot that left at least five people dead. Rosendale opposed Trump's second impeachment. 
Political division was still on display as people responded on social media to a Rosendale post on Twitter in which he said he was honored to represent Montana at Biden's inauguration. A few posters accused Rosendale of accepting a stolen election, while others suggested he was complicit in the riot.
Trump won 57% of the vote in Montana as Republicans swept every statewide contest. The only Republican presidential candidate to win a larger share of the Montana vote than Trump in the last 30 years was President George W. Bush.
Daines, in a tweet before the inauguration, asked that Biden lead the nation with strength and dignity. He congratulated Biden in a press release after the ceremony.
"Congratulations to President Joe Biden and Vice President Kamala Harris. I look forward to working with the Biden administration when we can find common ground for the good of Montanans, but I will also vigorously work against their agenda when I think it will harm our great state," Daines said.
Daines had intended to reject the outcome of the Arizona election, joining a handful of lawmakers calling for an audit of the election. After rioters breached the Senate, disrupting the certification of the Electoral College results for several hours, Daines reconsidered, joining the Senate majority in approving the results without objection.
Similar to their reaction to Rosendale's tweet, people responded to the Twitter post by either chiding Daines for suggesting the election was fraudulent, or not doing enough to flip the outcome and hand Trump a second term.
Tester, in a press release, reiterated his comments from Tuesday about the importance of the peaceful transfer of power.
"The peaceful transfer of power is the hallmark of our democracy, and it was a privilege to represent Montana at the inauguration of President Biden and Vice President Harris. Now it's time for Congress to come together and get things done for folks in Montana and across rural America," Tester said. "I will work closely with the new Administration — and I will hold them accountable — to make sure we quickly get this pandemic under control so we can reopen our economy and get Montanans back to work."
Biden also intends to rejoin the 2015 Paris Agreement on climate change, a move that calls for a reduction in carbon dioxide emissions like those from coal-fired power plants. Republicans have campaigned on keeping coal power online in Montana, particularly at Colstrip, where two units have been shut down, but two remain. They campaigned against Biden in 2020 for being bad for coal.
The president was the vice president to Barack Obama in 2015, when Mercury and Air Toxics Standards forced the owners of the J.E. Corette Power Plant in Billings to upgrade pollution equipment or close. Owner PPL Montana chose the latter.
The coal-fired Lewis and Clark Generating Station is scheduled to close in March. Owner Montana Dakota Utilities is turning to natural gas and renewable energy power.
Tuesday, Tester met with Biden's Interior secretary nominee Democratic U.S. Rep. Deb Haaland, a Pueblo Indian from New Mexico. Interior encompasses bureaus of Land Management, Reclamation, Indian Affairs, National Parks Service, Fish and Wildlife, Geological Survey and Surface Mining, to name a few. It has an outsized presence in Western states like Montana where the federal government is a major landowner.
"Congresswoman Haaland and I had a productive conversation today about her commitment to protecting Montana's public lands and the jobs they create, and meeting federal responsibilities to Tribal nations," Tester said in a press release after the meeting. "If Congresswoman Haaland is confirmed, I will work closely with her to tackle the many challenges we face, including improving how we prepare for and fight wildfires, ensuring that Tribes, folks on the ground, and local governments have a say in land management, and making sure the Land and Water Conservation Fund works for Montana."
As a candidate, Biden said he would shut down oil and gas permitting on public lands and waters, which would be another friction with Montana's pro-fossil fuel Republicans. Tuesday, ahead of the inauguration, the Bureau of Land Management Montana/Dakotas State Office announced it was taking public comments through Feb. 4 for a June oil and gas lease sale.