Montana U.S. Sen. Steve Daines told lawmakers in Helena on Friday to put party politics aside when considering legislation, emphasized the need to pass funding for border security and said it was critical to address the epidemic of missing and murdered Native women in Montana.
"Securing our borders is a fundamental goal … and I pray it is bipartisan," Daines said in an address to the 100 members of the state House. U.S. Sen. Jon Tester spoke to legislators last month and U.S. Rep. Greg Gianforte will speak on Monday. 
Funding for a border wall was the trigger of a 35-day partial federal government shutdown that ended a week ago. President Donald Trump has refused any budget deal that doesn't include $5.7 billion for wall along the southern border. Stopgap funding re-opened the government until Feb. 15 and Trump has said there's a "good chance" he'd declare a national emergency to obtain funding for the wall.
In December Daines called for using a "nuclear option" by changing the U.S. Senate rules to require only 51 votes to pass funding for the wall. At the Capitol Friday, Daines said Montana needs increased border security because it is facing a methamphetamine epidemic and cited a recent report of four overdose deaths in the state tied to fentanyl.
The seizure of 254 pounds of fentanyl at the border between the United States and Mexico in Arizona on Wednesday pushes the need for border security, Daines said. Those critical of calls to build a wall along the southern border point out the fentanyl was seized at a border crossing, not at a location proposed for a wall.
The economy was also a focus of Daines' speech, both its successes and where he sees the need for improvement. The Republican tax cuts passed in 2017 have benefited Montanans to the tune of about $1,000 more annually in their paychecks, Daines said, and told lawmakers not to add any more taxes following on the heels of cuts at the federal level.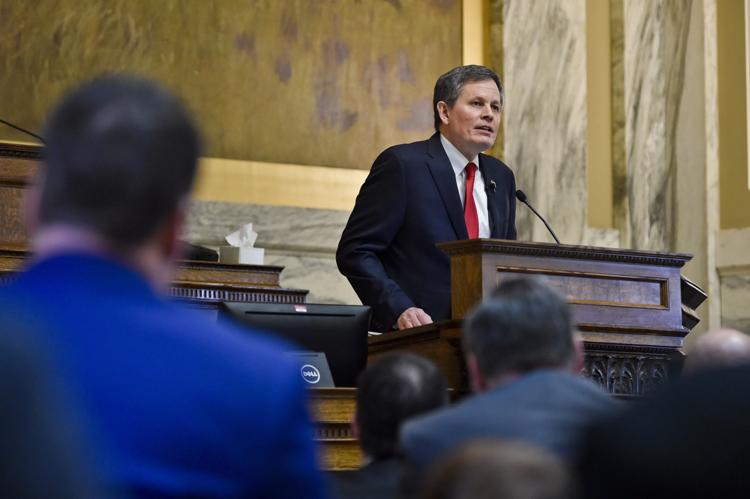 As Montana lawmakers debate how to continue a Medicaid expansion program in the state and whether it should include any sort of work and volunteer requirements, Daines said he wants to see government programs aimed at getting people into jobs.
"We need to work to bring able-bodied folks back into this workforce," Daines said. "We need to reform these important government assistance programs. They should be a springboard to independence, not a sinkhole of dependency."
Daines also called for building the Keystone XL Pipeline, saying it would bring hundreds of millions of tax revenue into the state, money lawmakers could use when setting the state's biannual budget.
He also talked about the importance of the judiciary, saying "activist judges with politically motivated agendas" have held up timber sales that he argued would create jobs and reduce the risk of wildfire.
Daines highlighted legislation at the federal level he supports to help address the issue of missing and murdered Native women in Montana. Two weeks ago Daines called for the Senate Indian Affairs Committee to travel to Montana for a hearing on the issue.
Montana legislators this week heard a bill called Hanna's Act, the main legislation in a package of five bills related to missing and murdered Native women. The bill is named for Hanna Harris, a Lame Deer woman who was missing for several days before being found killed on the Northern Cheyenne reservation.
"We must do better for the families," Daines said. "We must work together, coordinate between federal agencies, state and local government."
Daines also told House members he was bringing Jodi Moore, the wife of Broadwater County sheriff's deputy Mason Moore, killed in the line of duty in 2017, to the State of the Union in Washington, D.C., on Tuesday.
Earlier in the week the House passed a bill to name a portion of Highway 287 in honor of Moore.