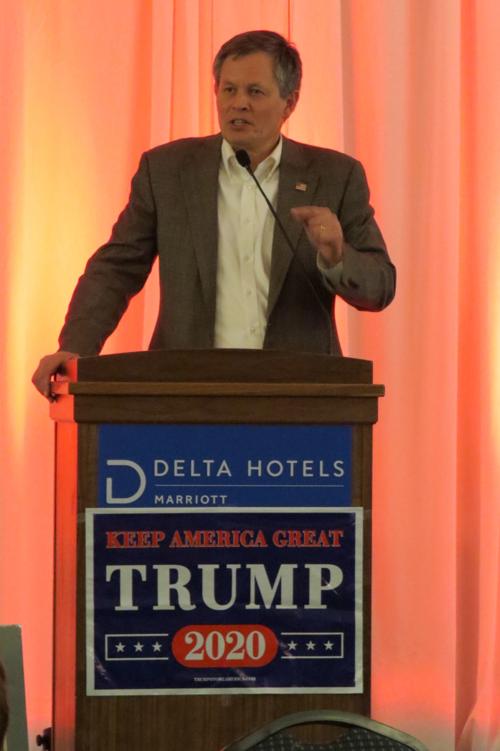 Sen. Steve Daines told fellow Republicans in Helena on Saturday the party's majority in the U.S. Senate is "the firewall for freedom," challenging his potential 2020 Democratic opponent to "bring it on."
Daines was the keynote speaker for the annual Lewis and Clark County Republican Central Committee Lincoln Reagan Dinner. Standing at the podium adorned with a "Trump 2020" sign, Daines praised the work of the president and Montana Republicans on policies promoting limited government and border security.
"What we have in this state right now is we have a meth crisis going on," he told the crowd.
Daines spoke about his recent visit to the southern border and a late-night outing with U.S. Border Patrol. He described witnessing an arrest and seeing agents struggle against a sophisticated network of cartel-run drug operations.
While Trump's recent national security declaration is facing votes in Congress and court challenges, Daines blasted Democrats, saying that walls work.
"Ladies and gentlemen, the president is exactly right when he declares we have an emergency on our hands," he said.
Daines touched on a number of other policies, including abortion and taxes, and addressed the new makeup of Congress with Democrats taking control of the U.S. House last year. He derided as "Venezuelan socialism" proposals such as the Green New Deal and said Medicare for all would create a massive entitlement that would eliminate the private insurance market as it is known today.
Daines said his own re-election could decide the makeup of the Senate, saying bluntly "whoever wants to challenge me, bring it on."
The senator was not the only elected official to address the crowd, with Montana Senate President Scott Sales, Rep. Becky Beard and Secretary of State Corey Stapleton also taking the stage. Letters were read on behalf of Attorney General Tim Fox and Superintendent of Public Instruction Elsie Arntzen.
Sales said the current legislative session has moved along well and he believes Republicans will stand together against tax increases. While Republicans are often open minded when it comes to policies, the fracturing of his party when voting with Democrats "makes it very difficult for us," he said, emphasizing the importance of sticking together on important votes.
Beard, speaking on behalf of House Speaker Greg Hertz, said her caucus is committed to keeping pushes for tax increases to just a "dull roar." She praised Hertz for diffusing tension over many of the more emotionally charged bills that have been debated this session.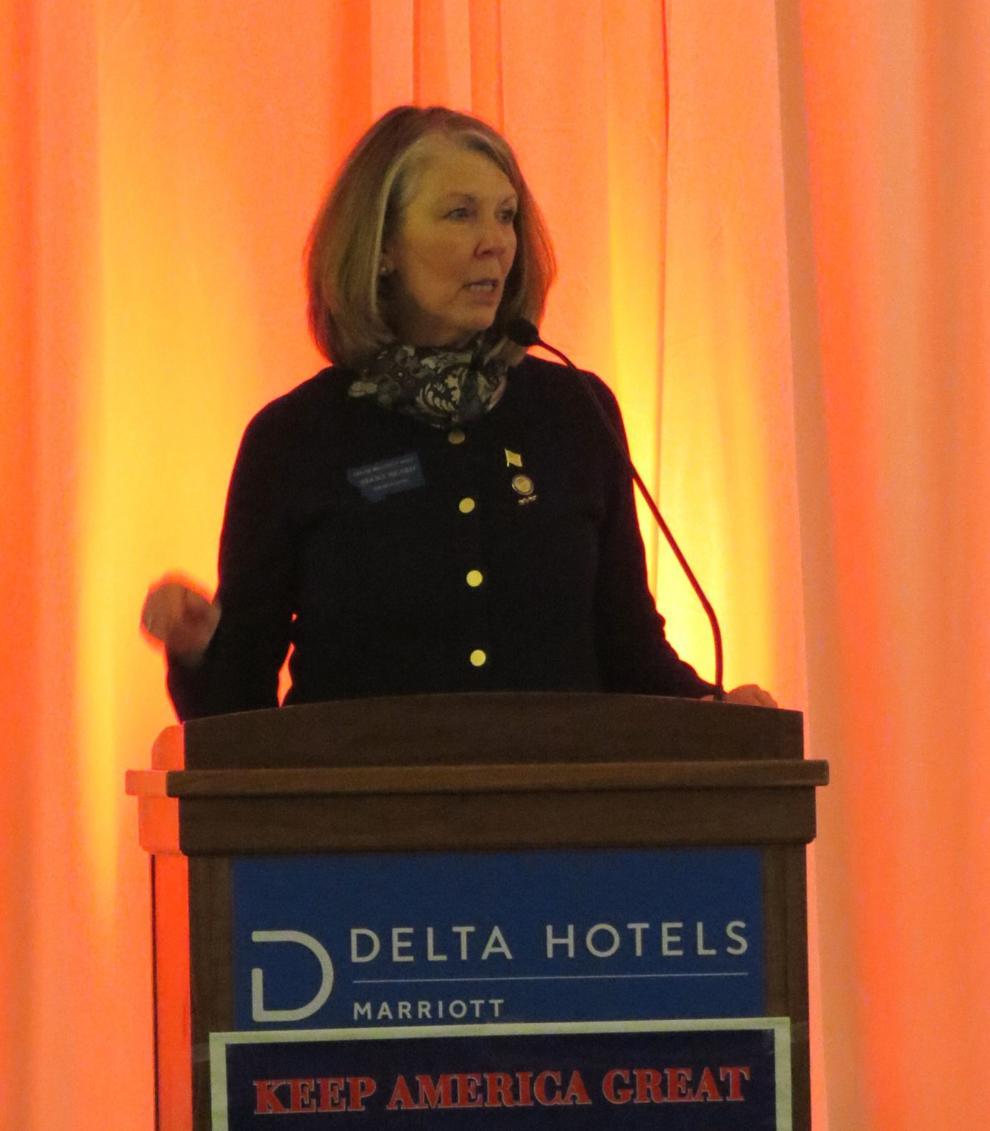 Stapleton, who was the first major GOP candidate to announce a run for governor in a field that also includes Fox, said the party needs a unifying candidate.
"We have to bring it back to the party of strength, ideas and compassion," he said.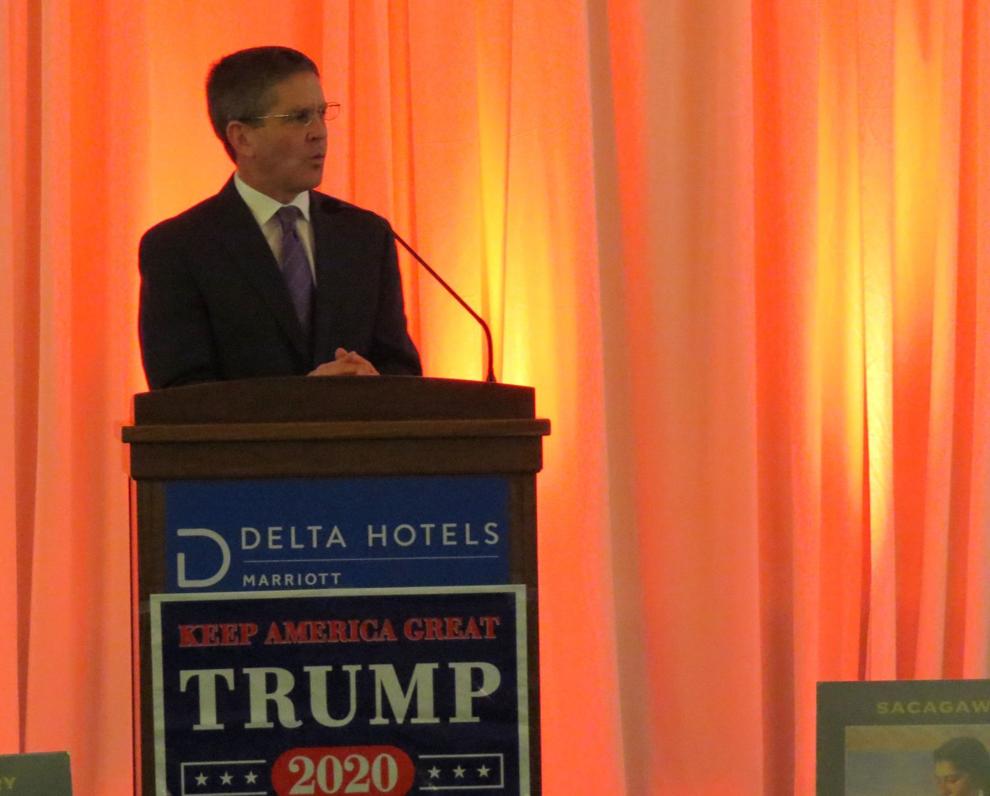 Stapleton talked about spending cuts he's made at the secretary of state's office and felt the same could be done across state government, saying he believes $100 million could be cut. He said Republicans should nominate someone with "fire in their belly" as the GOP looks to take back the governor's seat for the first time in 16 years.
"The Republican Party controls its own destiny, and I will lead with the Legislature," he said.
Debra Lamm, chairwoman of the Montana GOP, closed the evening saying while she believes the country is at a tipping point, and Republicans in the country and in Montana have developed the ground game necessary to succeed in 2020.
Reporter Tom Kuglin can be reached at 447-4076 @IR_TomKuglin