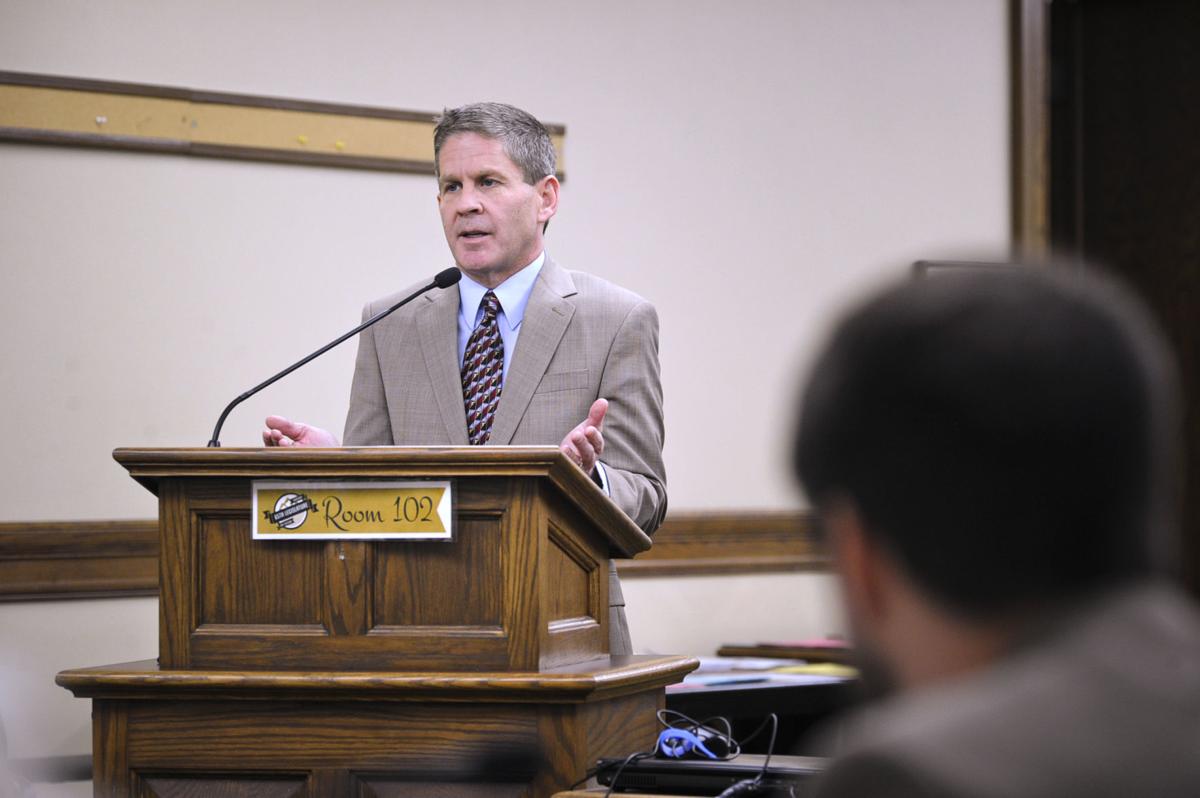 Montana Secretary of State Corey Stapleton, a Republican, announced his bid for governor in 2020, saying he wants to bring an end to four consecutive terms of Democrats running the state.
"The Democrats have controlled the governor's office for a long time now. I think it's a great time to have some conservative leadership," Stapleton said in an interview with Lee Newspapers on Wednesday. " … It would be a great time to have a person that would have the wisdom but also the restraint to work with the Republican Party in the Legislature and do some major changes."
Stapleton is the first well-known Republican to jump into the race. Republican Attorney General Tim Fox has also said he's considering running but has not made a formal announcement. Two other candidates, Gary Perry of Manhattan, and Peter Ziehli of Kalispell, both Republicans, have filed the paperwork to run. Democratic Gov. Steve Bullock is termed out from running again; no Democrats have announced a campaign or filed to run.
Stapleton's bid was first announced on Facebook, then through an email sent out by an employee at the Secretary of State's Office, using a state email address and on Secretary of State letterhead.
Montana law states that "a public officer or public employee may not use public time, facilities, equipment, supplies, personnel, or funds to solicit support for or opposition to any political committee, the nomination or election of any person to public office, or the passage of a ballot issue."
Stapleton said Wednesday he did not have concerns with sending the announcement from a state email address.
"No — absolutely not. It's not campaigning," Stapleton said in a text message.
Stapleton said he first released the news on his campaign Facebook page and would not be using government email for his campaign beyond the initial announcement. He also said other state officials use their state Twitter accounts for personal and political messaging. The state Commissioner of Political Practices said Wednesday morning it had not received a complaint about the email.
The 51-year-old Stapleton said in an emailed statement that he wants to be governor to "lead the conversation on how we steer towards a Montana that has stronger families and higher wages, lower taxes and smaller government and how we can lead the nation in having greater freedoms for all of us. I'll work with anyone and everyone to help get us there."
Stapleton was elected secretary of state in 2016, a campaign that he loaned $100,000 and is still owed about $88,000. He previously served in the state Senate.
Though Stapleton's time in the Secretary of State's office has been marked by several high-profile controversies, he has defended his actions and points to what he says are efficiencies he's found to better serve business customers, including moving all business filings online.
"In 2017 we made the decision to go digital. There was some resistance and nobody in the country had done it fully but we did and a lot of other states look at us," Stapleton said. "We're now reaping the benefit of incredibly satisfied customers. We just don't get the complaints; we used to get dozens of them."
Last year, the Secretary of State's office sent out a voter guide to 470,000 voters statewide with an error. Stapleton awarded a $265,000 contract to fix the problem to a friend's print shop in Billings, saying it was the only business that could get the project done on time and the office was threatened with lawsuits over the mistake. 
"I'm not going to say I wouldn't make a mistake" if elected governor, Stapleton said Wednesday. "If I'm the governor of Montana I'd probably make one mistake a month. I've never been in an organization that doesn't make mistakes. … If you're trying to please everyone, you should not run for governor. If you're trying to make the world better, you should not run for office.
"The day you announce you're immediately attacked. … I stepped up and owned it. I could have taken a different tack on [the voter guide correction contract] and blamed people. I could have sat back and let what would be, be. I absolutely could have done that but it would not have been the best for the voters. Take that particular case, what you call a misstep, I guess I would throw back at you and say what part of that was my misstep?"
In the first election overseen by his office, the May 2017 special election to fill Montana's U.S. House seat, Stapleton appeared before a state legislative committee and called 363 ballots with mismatched signatures "illegal," a term to which some lawmakers and elections officials objected. Stapleton said he has since improved his relationship with election workers and taken on other efforts, including the 2017 Mail Ballot Improvement Project to review what led to mismatched signatures and reduce them in future elections.
His office also partnered with the National Guard to audit the security of elections offices and plans to spend part of a $3 million federal grant to update the state voter registration system. That's not been universally popular with election workers, who want more of the money to go toward new voting machines.
"The mail ballot improvement project of 2017 yield several really positive outcomes," Stapleton said. "It reduced the number of ballots that came back that hadn't been signed on the ballot envelopes and reduced the number of mismatched signatures. I think for the last year my relationship with the clerks has been great. I think the difference in the relationship between our administration and the previous one, that's a healthy difference. … They're all elected officials, just like the Legislature and the governor don't have to get along."
He was also criticized for hiring outside legal counsel instead of using an attorney provided by the state Attorney General's office in a case against the Montana Green Party. The Secretary of State's Office was represented in the case by Emily Jones, who is married to former state Republican Party Executive Director Jake Eaton.
"The Secretary of State's criticism is especially mystifying since he is currently using our attorneys for other litigation," Fox said. "Ultimately, he made a political decision to needlessly spend $60,000 on outside counsel and lost the case."
Stapleton said he doesn't agree with the budget priorities of Bullock, saying instead of increasing taxes to support spending, he thinks state government spending can be cut.
"You can do what we've done in our agency by breaking down the silos," Stapleton said. "I could show you in a five-year plan how to save $150 million in spending … doing nothing other than re-engineering job descriptions breaking down silos, taking advantage of the natural attrition of the baby boomers."
Stapleton said in his office, he's gone from 58 full-time equivalent positions to 39 and only eliminated one job.
"We could do that all across state government, we could save over $100 million," Stapleton said. "I would like to do that on a bigger scale, what we've shown we can do here at the office of the Secretary of State."
Stapleton said he also wants to see a "different type of leadership" on the state Land Board.
"Until we have a Republican governor that can set the agenda that is natural resource development, coal, oil, timber, leasing, agriculture, and yes easements and yes cabin sites, I don't think a lot's going to change there," Stapleton said.
Stapleton and his wife, Terry, have four children. He spent 11 years in the Navy as a surface warfare officer and has a bachelor of science in general engineering from the Naval Academy, a master's in political science from Temple University and a master's in financial services from The American College in Pennsylvania. 
Get Election 2020 & Politics updates in your inbox!
Keep up on the latest in national and local politics as Election 2020 comes into focus.