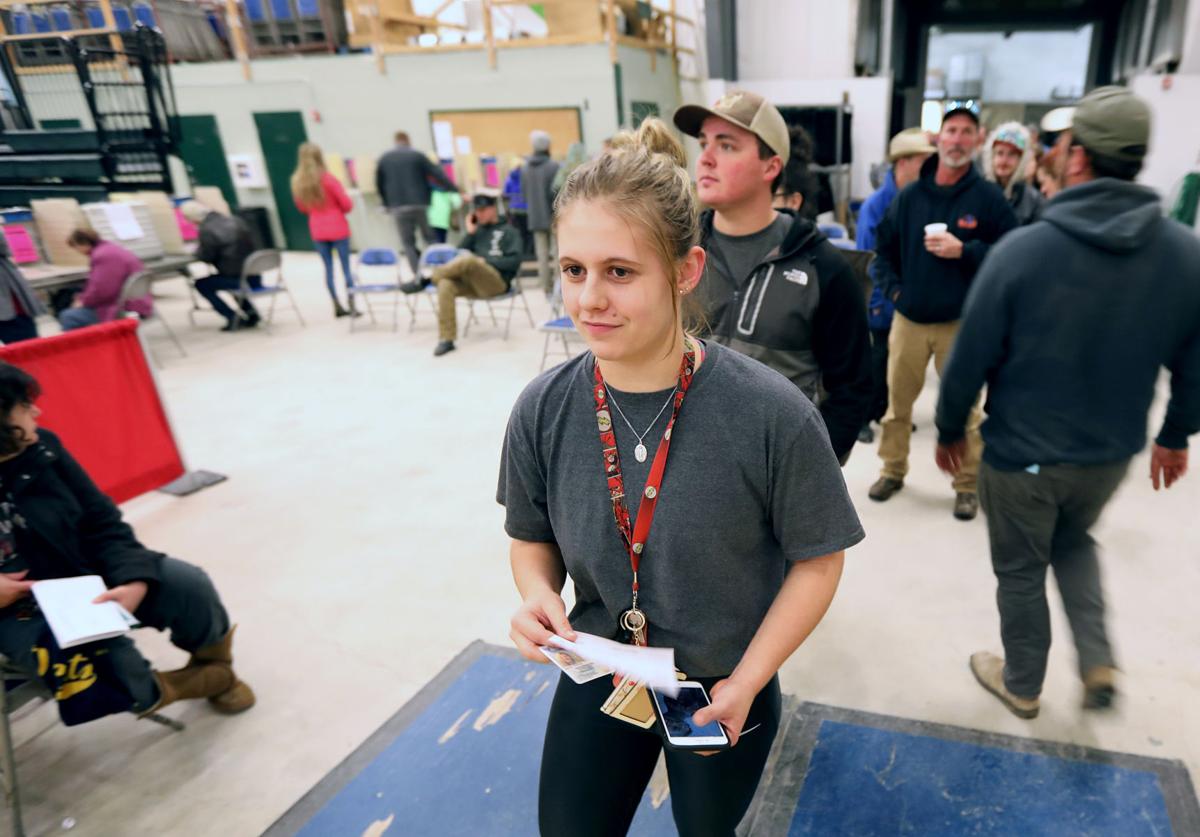 This winter, with support from GOP lawmakers, the Legislature passed House Bill 176, which ended same-day voter registration. Backers of the bill said it would allow elections administrators and workers time on Election Day to focus on voters and pointed to long registration lines in recent years. Opponents said it would cut off access to voting for Montanans unable to register outside of Election Day.
"House Bill 176 should never have been passed or signed into law. It's an unconstitutional slap in the face to more than 70,000 Montanans of every political stripe who have used Election Day registration," said Amanda Curtis, the president of the Montana Federation of Public Employees, one of the groups that filed the lawsuit in Cascade County District Court on Wednesday.
The plaintiffs include the Montana Federation of Public Employees, the state's largest unions with more than 21,000 members; Montana AFL-CIO; the Montana Association of Centers for Independent Living, a partnership of the state's four centers for independent living that work with people with disabilities; and several union members who have used same-day registration to vote including state employees and teachers whose work schedule did not allow them time to register during work hours.
The Secretary of State's office on Wednesday disputed the basis of the lawsuit.
"The most recent partisan lawsuit filed against the Secretary of State is completely baseless, especially considering when the Constitution was signed, the voter registration deadline was 30 days before an election; but the smoke and mirrors attempt to portray House Bill 176 as some kind of constitutional crime — HB 176 is squarely constitutional," a spokesperson said in an email.
The lawsuit filed Wednesday argues that ending same-day registration limits the number of people who can vote in Montana and has an outsized effect on those with disabilities.
"House Bill 176 creates additional hardships for someone with a disability who may struggle every day just to get out of bed," said Montana Independent Living Project Advocacy Coordinator Joel Peden at a press conference Wednesday. "The ability to go where you want when you want to, is one of the many struggles we face. To be able to eliminate one extra trip in our lives can make a huge difference, which is why it's important that we have the ability for same-day registration and voting to occur at the same time."
More than 9,000 people registered on Election Day in both the 2020 primary and general elections, according to the lawsuit, which goes on to say 11% of ballots processed on Election Day last November were from those who also registered to vote that day.
The lawsuit makes several arguments in support of same-day registration, citing its use by people who have recently moved, or needed to correct errors with their registration or didn't realize they had been inactivated from voter rolls until they showed up to vote on Election Day.
"Montana voters who use election day registration are not lazy. They are not civically disengaged. They did not fail to plan," the lawsuit reads.
Theresa Froehlich, of Helena, said that having to live temporarily in Butte meant she had to use same-day registration to update her registration and vote on Election Day in 2020.
"There is no way I could have voted if HB 176 were the law of the land," Froehlich said at the press conference.
The lawsuit also points out Election Day in many countries is the only day elections offices are open outside of regular business hours.
"For Montanans who work during regular business hours, election day may be the only opportunity to update their voter registration in person," the lawsuit reads.
For people with disabilities, same-day registration made access to voting easier, the lawsuit claims. Vision issues make registering by mail impossible for some with disabilities, according to the lawsuit.
"Many Montanans in the disability community cannot register by mail and must travel to a county elections office to register to vote. By reducing the number of trips necessary to register — and by preserving the option of fixing registration issues and voting in the same day — Election Day registration ensures the constitutional right to suffrage for Montanans who are members of the disability community," the lawsuit reads.
The lawsuit also points to a 2014 ballot initiative voters rejected by a margin of 57% to 43% to end same-day registration. The state enacted same-day registration in 2005 and it had been in effect since the 2006 elections.