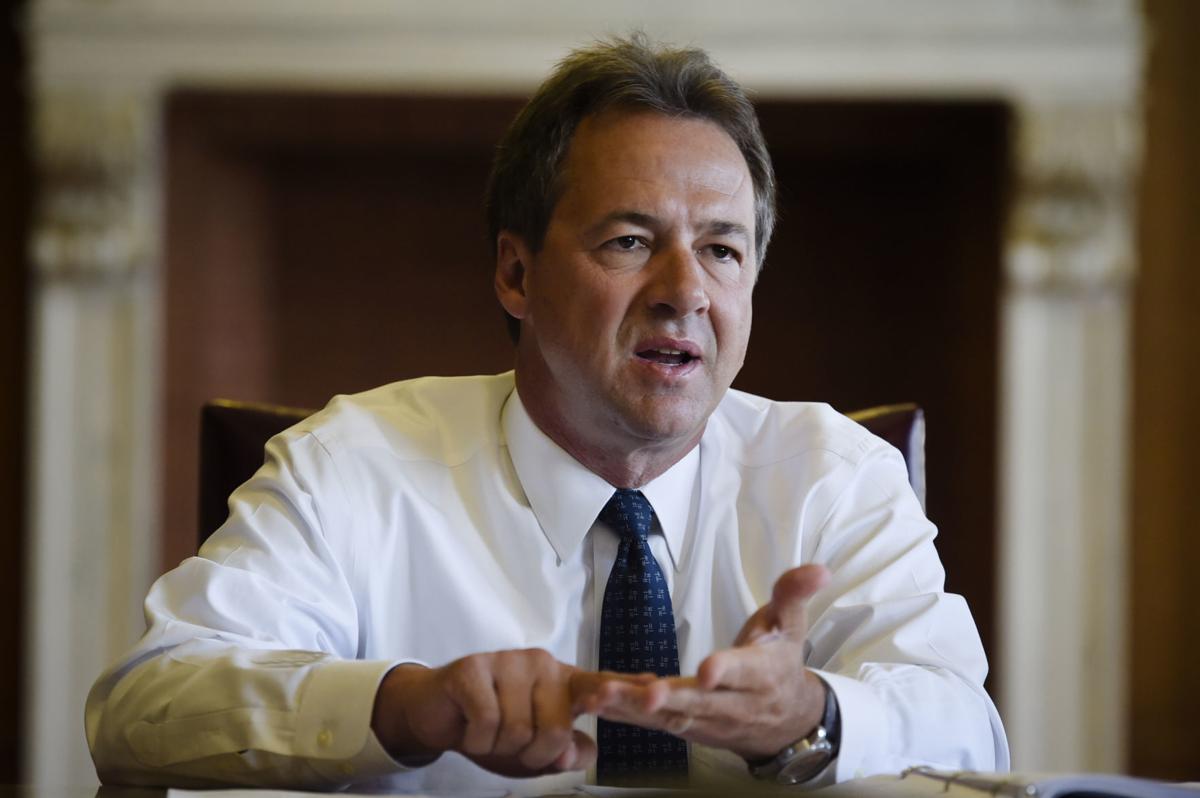 Montana Gov. Steve Bullock said he'll restore the reimbursement rate for Medicaid providers as part of a plan to backfill state budget cuts with $45 million in excess state revenue.
Bullock also said Wednesday he accepted a deal with private prison company CoreCivic to extend its contract for two more years to manage the Crossroads Correctional Facility in Shelby. The deal will provide an additional $34 million and could help the state pay for this year's fire season and backfill other cuts.
At the end of the fiscal year on June 30, revenues came in high enough to offset some of the cuts that were made during a special session last November to patch a $227 million hole in the state budget. The majority of the $45 million will go to the Department of Public Health and Human Services because the agency was most affected by the cuts, although other agencies could get some money back, too. 
Bullock will restore the Medicaid provider rate reductions immediately. The 2.99 percent cut by the department in January lowered the average reimbursement rate to $181.57 per patient, per day.
Medical facilities previously said they were struggling to continue providing services, and in response, nursing homes and assisted living facilities filed a lawsuit against the state to block the cuts. The Montana Health Care Association and six other companies filed the lawsuit.
"We're very happy that they recognized the importance of the provider rate," Rose Hughes, executive director of the Montana Health Care Association, said.
Hughes said she hasn't been contacted by the governor's office or DPHHS, but said she believes the lawsuit will go forward despite the restored reimbursement rates. The lawsuit asks for facilities to be reimbursed for what they've lost due to reduced rates, which is at least $3 million just for nursing homes, Hughes said. The lawsuit also claims the state health department violated state law when it made the cuts and didn't properly allow for public participation.
"Those are things we don't want to see happen again," Hughes said.
The state will also work to reinstate targeted case management programs to provide mental health services. Providers and Montanans will have a chance to voice their priorities to Budget Director Dan Villa and Department of Public Health and Human Services Director Sheila Hogan at 10:30 a.m. Aug. 1 at the Great Northern Hotel in Helena.
While the governor's office has already identified the health department cuts that will be backfilled, officials have until Sept. 1 to finalize the dollar amount. 
"The budget is back on track, and we're in a much better position to take on the challenges of what this fire season could be," Bullock said.
However, Bullock said he believes some areas of state government were irreparably damaged by making the cuts in the first place. 
"All I can do is the best I can with the dollars we get," he said. "This affords an opportunity going forward to mitigate some of the problems that we've had."
When announcing the plan to restore cuts, the governor attributed the state budget woes to a bad revenue estimate adopted by Republicans, the worst fire season in the state's history and a refusal from Republicans to consider revenue from sources such as a tax hike on tobacco. 
Republicans disagree on where the blame lies. Sen. Fred Thomas, the Republican majority leader from Stevensville, applauded the deal with CoreCivic, but said the delay is what hurt Montanans.
"This should have been done six to eight months ago and those monies should have been used to remove those budget cuts that have been harmful to low-income and disabled seniors," he said. "The negotiations with CoreCivic should have been consummated months ago and would make most of these cuts he's made needless."
Thomas said Republicans laid out a deal during the special session to make cuts and transfers and accept revenue from a deal to extend the contract 10 years beyond its expiration in 2019 at a higher daily rate per inmate. In exchange, CoreCivic would pay the state $34 million. The $34 million is the amount Montana has paid into a fee account that could have been used if the state wanted to buy the prison. Democrats called the move an attempt to tie the governor's hands, while Republicans said they were presenting options instead of raising taxes.
The money from CoreCivic wasn't necessarily required to balance the budget, but Republicans put forward a bill that calls for the first $15 million from the deal to fight fires and the rest to be used at the governor's discretion to backfill cuts.
"We laid out an easy track for him to fix these bad cuts that he did. He did not choose to do that," Thomas said. "The good news is that his cuts will be removed as well as that revenues have rebounded in Montana, and we'll be looking at a better beginning point for the next budget session."
Bullock said the deal he agreed to, which was his final offer to CoreCivic, is  better for Montanans. The contract is only extended for two years, with an eventual hope that criminal justice reforms will help the state avoid relying on the 540-bed private facility in Shelby. CoreCivic has also agreed to allow the state to provide human rights training to employees and inmates twice a year. The company will also fund three positions that will be filled by the state Department of Corrections to provide substance use treatment and vocational education.
The governor said he still doesn't think it's in the state's interest to rely on a private prison in the long term. He said the deal also doesn't bind future governors or legislatures.
The ACLU of Montana said the contract extension means Montanans will continue to pay into an industry that disregards constitutional rights.
"It is extremely disappointing that CoreCivic's contract will be extended. It is even more disheartening that Gov. Bullock extended the contract just long enough to absolve himself of any responsibility to decide what will happen the next time the contract is about to expire," SK Rossi, ACLU of Montana's director of advocacy and policy, said in a statement. "CoreCivic has been sued for their abuse of prisoners. The ACLU of Montana continues to receive complaints about the facility on a weekly basis."
Rossi said providing human rights training is a good idea, but it won't address all of the dangerous conditions at the prison.
CoreCivic has been sued across the country, not just for human rights violations but for subjecting inmates to violence and creating a dangerous environment for staff and inmates due to understaffing, Rossi said.
"It's essentially a Band-Aid on a bullet wound," Rossi said.
When Bullock was asked whether CoreCivic was willing to sign a two-year contract in hopes of getting a Republican governor in 2020 who will extend it further with a possible rate increase, Bullock said he didn't know what CoreCivic's motivations were.
"I know we ensured at least that we get $34 million back that ought to be our money," he said.
Bullock said he wants to wait to have a better idea of how Montana's fire season will go before he spends any of the money from CoreCivic.
"We will pay our fire bills and just as happened last year, decisions weren't made based on budget. It was made on protecting firefighters and protecting property," he said.