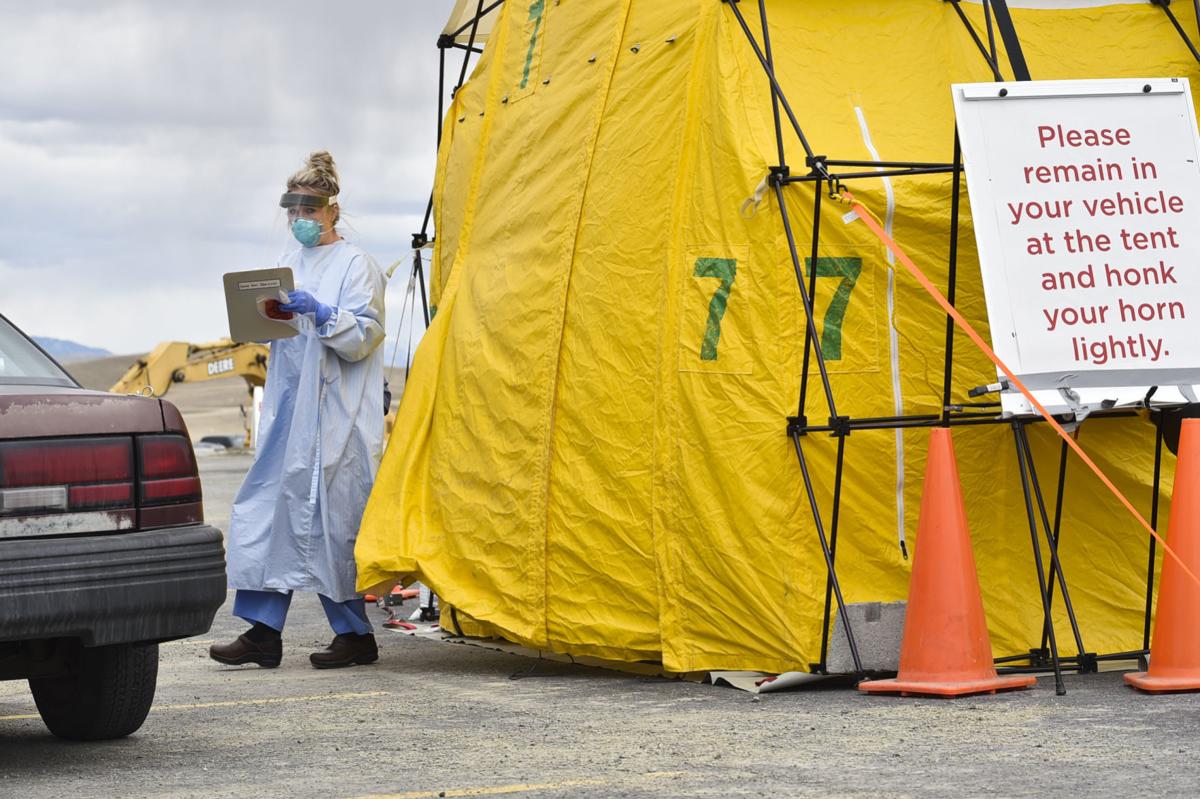 Governors in a call with President Donald Trump on Monday raised concerns about having sufficient testing capacity to track the spread of the coronavirus in their states, with Montana Gov. Steve Bullock pressing on maintaining sufficient supplies here.
"We are trying to do contact tracing, but literally we are one day away if we don't get test kits from the CDC, that we wouldn't be able to do testing in Montana," Bullock said in a recording of the call provided to national media outlets including CBS News and the New York Times.
The testing number does not capture tests doctors and hospitals have sent to private labs. Across the state, providers have raised concerns about testing capacity, as nationally the pandemic has left hospitals and doctors all hoping to get the necessary swabs, solution to preserve the swabs and vials used to transport tests to laboratories.
The state lab receives what are called test kits from the federal Centers for Disease Control and Prevention. One kit allows the lab to process swabs collected from 300 people.
The governor's office said Monday night so far the state lab has been able to process all the tests it receives with a quick turnaround and has not run out of testing kits; however it comes close to capacity on high-volume days. The CDC has supplied it with enough capacity to process 600 tests a day Monday through Saturday.
" … On days you are testing nearly 500 people (that) can cut it close if the national supply chain falls through for even one day," a spokeswoman for Bullock said in an email Monday night. "We have received some additional test kits as a buffer, but concerns remain the same with other testing supplies such as swabs and reagents."
The state has been running roughly 450 tests a day recently, though has reached over 500.
Bullock told Trump and Dr. Anthony Fauci, director of the National Institute of Allergy and Infectious Diseases, that private markets are telling him national requests for supplies are preempting state orders.
"While we're trying to do all the contact tracking, we don't have adequate tests to necessarily do it. We don't have the PPE (personal protective equipment) along the way and we're not finding markets to be able to do that along the way. So we do have to rely on national chains of distribution or we're not going to get it," Bullock said. 
Trump said in response that he "hasn't heard about testing in weeks."
"We've tested more now than any nation in the world. We've got these great tests and we'll come out with another one tomorrow that's, you know, almost instantaneous testing. But I haven't heard anything about testing being a problem," Trump said.
The governor's spokeswoman said Bullock "continues to look for every avenue available for testing supplies, whether through the private market or with the federal government, and would like to further testing capacity in order to contact and trace."
In an email last week, Bullock's office said he'd worked to secure 4,000 testing swabs from the U.S. Department of Health and Human Services. He had also requested additional testing swabs through FEMA and supplies for reagents for testing from the University of Montana and Montana State University.
Bullock last week in a call with Montana reporters said he was working to expand testing capacity in Montana but had seen orders canceled, like one of 2,000 swabs that was called off because the supplier said the federal government needed the resources.
Bullock also said last week he was on a call with Trump and Vice President Mike Pence on March 26 where governors voiced frustration.
"Many of us have expressed concerns about ensuring that we get the supplies that we need," Bullock said last Thursday, adding that while the state lab still had the capacity to quickly process tests, he worried about what that could look like in the future and has been pushing the CDC to make sure Montana has capacity.
" … It is a concern for me, for health care practitioners and for governors in every state in the country," Bullock said last week.
On March 24, the state Department of Public Health and Human Services sent a letter to health care providers about testing capacity.
"Currently, the Montana Public Health Laboratory has test kits, and more are arriving from the CDC," the letter said. "… The (state lab) has not met capacity and has been able to run every test we have received each day. However, with increasing testing we suspect capacity will be met."
The letter laid out three tiers for prioritizing testing it will use when capacity is met. High-priority tests are for hospitalized patients who have:
signs and symptoms compatible with COVID-19, 
symptomatic high-risk individuals such as those 65 or older and with chronic medical conditions and/or are immuno-suppressed,
health care workers who have signs and symptoms compatible with COVID-19
first responders, such as law enforcement, EMS and child protection specialists, who have signs and symptoms compatible with COVID-19
This category will be tested "as quickly as possible in order to inform decisions related to patient care and infection control," the letter says.
Priority two, or moderate priority tests, are for people who within 14 days of developing symptoms had close contact with suspected or confirmed COVID-19 patients, or a travel history from affected areas. It also includes people with respiratory illness who have been ruled out from having the flu or something similar.
The third level, or low-priority cases, are tests for those who are asymptomatic and have confirmed contact with a known COVID-19 cases. These people do not need testing, the letter says. If these people develop symptoms, they should be tested.
Low-priority situations also include tests for asymptomatic people who traveled from an area of known community spread, which includes Gallatin, Yellowstone, Missoula and Lewis and Clark counties in Montana. If these people develop symptoms, they should be tested.
Providers were told that for testing that will not change clinical care, tests can be sent to private labs. There is no known treatment for COVID-19, so generally testing does not change care for patients, state medical director Greg Holzman said recently. However, it is important for health care providers to know if they need to use personal protective equipment or not, as supplies are limited.
Concerned about COVID-19?
Sign up now to get the most recent coronavirus headlines and other important local and national news sent to your email inbox daily.