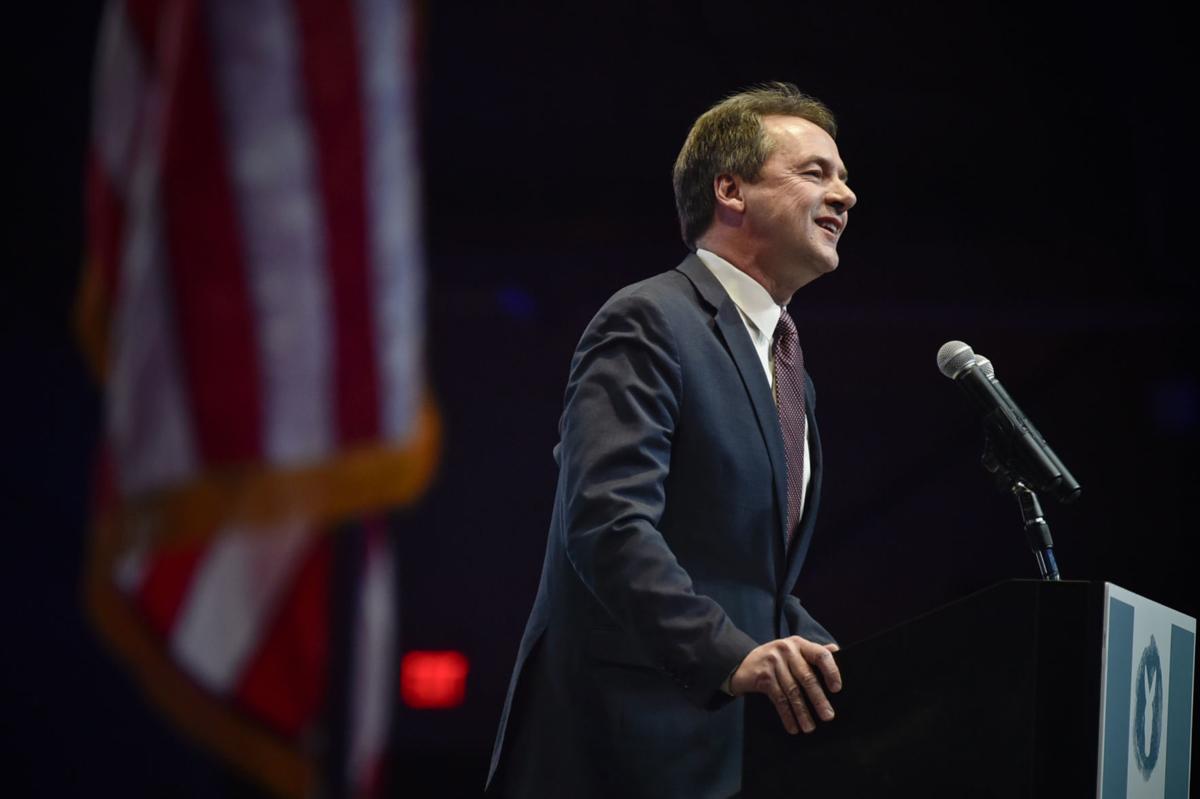 Montana Gov. Steve Bullock is considering a U.S. Senate bid after unequivocally stating he wouldn't run, according to a source familiar with his thinking.
The Associated Press also stated in a story the governor, "a Democratic favorite," might reverse course.
"Democrat Steve Bullock, the Montana governor who has insisted he won't run for the Senate, is poised to do just that, according to two people familiar with his plans," the story said. 
On Wednesday the governor was in California attending a "Shoot with the Stars Under the Big Sky Reception" in Burbank. An official schedule provided by his staff also said he would participate in meetings with film industry producers and companies while in Los Angeles.
After his bid for president ended in December, Bullock again swore off, as he had many times before, the suggestion that he'd seek the Senate seat, even though many had encouraged him to as Democrats hope to take back the Senate in this fall's election.
"I've said it before, I've said it during, I said it when I got out (of the presidential race)," Bullock repeated, sitting down with reporters at the Capitol on Dec. 4. "I'm not running for Senate."
After that meeting, a spokeswoman for the governor said, "The governor has spoken with Sen. Schumer just like he's spoken with many others. Nothing has changed."
State Sen. Jon Sesso, a Democrat from Butte who was minority leader in the Senate last session, said Wednesday the decision to run for Senate is one Bullock has been weighing with his family and that the family's input and agreement is critical for the governor. Bullock has a wife and three school-aged children.
"I'm not going to push a guy to a point where, as I told him, 'I'm sure as hell not going to get in between you and your family,'" Sesso said. "The big dogs that have asked him and put their two cents' worth in to persuade him, I think they take a second chair to what his family says."
There's been no lack of prompting for Bullock to run for Senate, Sesso acknowledged.
"I think everybody and their brother has asked him to run, either during his presidential campaign or after," Sesso said. "I don't think anybody has not asked him."
Sesso said that's included him, pointing out the governor is a "proven winner in our state," but that he's been respectful of family obligations.
"We've all asked, we've all said 'Hey you'll do great, and I'll help you in any way I can.' But so far he's sort of resisted to the notion to the extent that he and his family are thinking about it," Sesso said. "He's got a few days left."
Lee Banville, a political analyst and professor at the University of Montana, said while it's close to the March 9 filing deadline, it's not like Bullock would be starting a bid from scratch.
"He's run three statewide campaigns, so he knows the drill and has a network of people he can call upon to start fundraising quickly," Banville said. "My guess is if he's been encouraged or cajoled into running, that national Democrats have probably pledged a lot of financial support to help him get the campaign."
Bullock would need to articulate to voters why he changed his mind. But while the political bubble in Montana has closely watched his every word about the Senate race, most people are more worried about day-to-day concerns and not thinking much about Steve Bullock, Banville said.
"Was he going to step away from the presidential race and just run out his time as governor and not do anything after? Most people I think don't know or don't care," Banville said.
While an average voter might not have been tuned in, Republicans would try to make them aware of how things played out if Bullock does join the race, Banville said.
"He is going to be hit by Republicans for several things, including 'You flip-flopped on this,'" Banville said. "He needs a good story for why he did, because he did change his mind."
If that message seems genuine and Bullock hasn't been planning the change for months, Banville said he thinks people will accept it.
"He may have a good reason. He may say 'Look, I think X issue or Y issue is so important, and I feel like Sen. Daines is so wrong on it that I was convinced by Montanans and Democrats to step forward, and I will do so,'" Banville said.
Republicans have already started that messaging, including the National Republican Senatorial Committee.
"Succumbing to overtures from national Democrats like Chuck Schumer and Barack Obama, Steve Bullock is giving a foolish Senate run another look," committee spokesperson Nathan Brand said in a statement Wednesday. 
Montana Republican Party Chairman Don Kaltschmidt also released a statement Wednesday criticizing a possible Bullock run.
"Gov. Bullock isn't actually interested nor would he find it compelling or enjoy being a U.S. Senator — he said so himself, he simply couldn't resist the pressure from Barack Obama and Chuck Schumer," Kaltschmidt said in the statement.
Daines is also getting support on Twitter from President Donald Trump, who tweeted Wednesday: "The great people of Montana can have no better VOICE than Senator @SteveDaines. He is doing an incredible job! Whoever the Democrat nominee may be, please understand that I will be working hard with Steve all the way, & last night I was 20 for 20 (per @GOPLeader). WE NEED STEVE!"
Bullock would walk into the race with statewide name recognition far eclipsing those already running, and it's likely other Democratic candidates will rally around a veteran candidate, Banville said. The other contenders are Bozeman resident Cora Neumann, who has worked in the public lands and public health fields; Helena Mayor Wilmot Collins; John Mues, a Navy veteran and engineer who works in the energy field and lives in Loma; scientist Mike Knoles, of Bozeman; and Josh Seckinger, a fly-fishing guide who also lives in Bozeman.
Daines has already amassed a war chest of more than $5 million, and he and Republicans have been preparing for a possible Bullock entrance to the race. Neumann had raised the most by far on the Democratic side, at $439,000 over her first quarter, but that still trails Daines dramatically.
Bullock's now-defunct presidential campaign left $122,761 in the bank, though he would likely ramp up fundraising quickly if he runs for Senate.
Outside money would also flood the state, Banville said, likely having a trickle-down effect to other races down the ballot.
"It gets people fired up. It gets a lot of money spent in the state on advertising and on get-out-the-vote campaigns," Banville said. "It brings in some of the national money that will trickle down and help other Democrats. It could have a pretty profound effect on the fall campaign if he does enter."
While Daines has been viewed as a strong candidate, Banville said there are also untested questions.
"He hasn't faced a super strong Democratic contender," Banville said. "That could be interesting. I'm not saying he's in trouble, but it's a thing we haven't really seen."
In 2014, Daines beat Amanda Curtis, a former state representative from Butte and school teacher. She entered the race after former U.S. Sen. John Walsh, who held the seat for just under a year after Bullock appointed him to it and dropped out following a plagiarism scandal.
For Sesso, it's a wait-and-see game that has an expiration date of Monday.
"It's a personal decision," Sesso said. "I have the deepest respect for him, and I hope to hell he does it, but that's going to be a decision he and his family have to make first, and I'll be all over it if he decides to go for it."