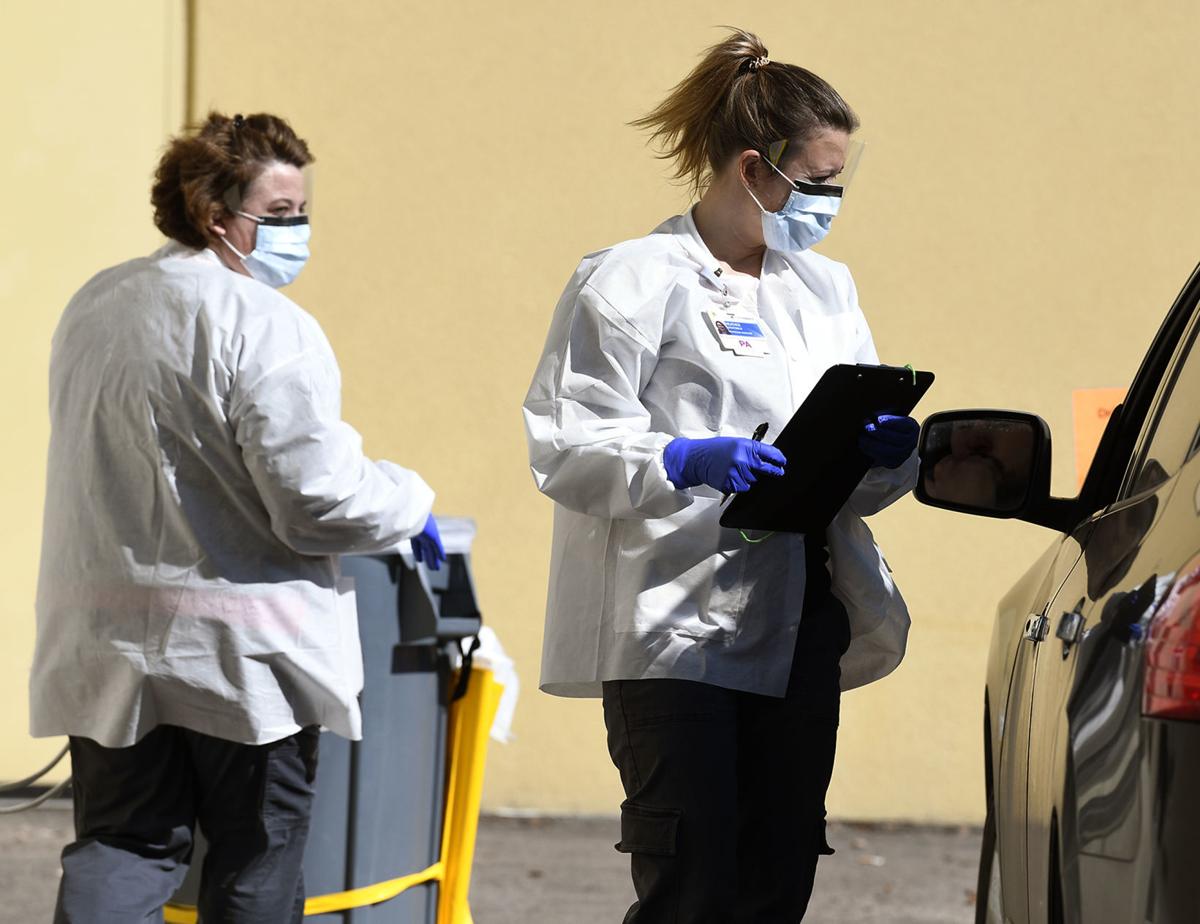 While acknowledging that testing capacity for COVID-19 in Montana is not unlimited, Gov. Steve Bullock said Friday there's been sufficient inventory of critical materials to test everyone in the state who should be tested.
"So far the supply constraints haven't reduced our ability to conduct tests anywhere in Montana," Bullock said in a call with reporters. "Who's getting tested in Montana is consistent with what the CDC guidelines are for testing. … In some respects (I) would love to get anybody with even a fever tested, just because it would make things much easier. But that's not happening anywhere in the country."
By late Friday afternoon, the state Public Health Laboratory in Helena had processed samples from just over 6,000 Montanans, with 262 tests coming back positive. That number does not include tests sent to private laboratories. Five people in the state have died from the coronavirus, and 24 have been hospitalized.
Bullock has discussed struggles to get enough supplies like nasal swabs for local hospitals, drive-thru and parking lot testing sites and other health care providers to collect samples from patients. There have also been challenges, he said, to obtain things like reagents for the state lab to analyze those swabs.
In a phone call this week several governors, including Bullock, told President Donald Trump they were operating on thin margins that could not sustain a spike in testing. On Friday Bullock said that issue has been alleviated, and Montana now gets more than double the tests it was getting from the CDC at a time.
"We're working every day on supply chains," Bullock said. "Between a week ago where we could only get a maximum of 600 tests per day, we've actually been able to increase that (to 1,500). We're continuing to work on getting the swabs."
Bullock also told reporters Friday that the U.S. Department of Health and Human Services will soon ship 10 Abbott testing devices to Montana. Those machines can perform rapid, 15-minute tests for COVID-19. Fast results can help health care providers know if they need to wear personal protective equipment, supplies of which are also limited, when caring for patients.
About 10% of the positive COVID-19 tests in Montana have been for heath care workers, Bullock said Friday.
Across the state, Bullock said everyone who is symptomatic who has either come into contact with a confirmed case of COVID-19 or traveled out of state to a place with known cases is strongly encouraged to get tested.
"I don't care if you live in Gallatin County or Garfield (County) … because it's also a part of ensuring that we can do what we can … to make sure from an epidemiological perspective .… anybody that could be actually positive at this point is being tested," Bullock said.
While the state reports twice a day on the number of confirmed cases by county, it does not provide information about how many tests have been done in each of those counties. Some counties provide that information in daily updates to Facebook pages or in press releases. Others will tell reporters when asked, while some will not, or say they don't have that information.
Asked how the state has a handle on whether enough tests are being done across if it doesn't track that it by county, Bullock said the number of tests run in each county doesn't necessarily inform the epidemiological work that goes into tracking the virus in Montana or ensuring counties are prepared.
The state does a daily survey, in partnership with the Montana Hospital Association, of local hospitals and providers to see what their needs and capacity are, Bullock said.
The 6,057 total of tests run at the state lab does not capture anything sent to private labs. That figure has been difficult to nail down. Bullock said Friday the "vast majority of the tests are actually processed at the state lab," but did not have a breakdown of the data behind that.
Some counties provided information for their areas to Lee Newspapers on Friday, showing stark differences by region.
Yellowstone County, with 38 cases, has sent 1,220 tests in total, with 345 going to the state lab and 875 sent to outside labs. Of the 170 tests of residents of Butte-Silver Bow County, which has 11 cases, only 14 had gone to private labs.
Other counties, like Gallatin, a hot spot in the state with 101 known cases, said they've sent about 900 tests to the state lab, but did not have information about tests sent to private facilities. The same was true in Missoula County, with 17 cases, which said it had sent 501 tests to the state lab but estimated that figure would be much higher if private tests were included.
Hill County, on the Hi-Line, has held steady at one reported case of COVID-19 since March 25. By last week, about 20 people had been tested there. The health department there said testing supplies were sufficient and everyone who should be tested was being tested.
Lincoln County, which had the state's first death from COIVD-19, had tested 234 people by Friday, according to a post on their Facebook page. Of that, 162 tests had come back negative, six positive and results were pending for 66. Two people had recovered and one was still hospitalized.
In Big Horn County, which has not reported a case, 45 residents had been tested and 41 tests had came back negative, while four are pending. The county health officer said there were enough supplies to test those who should be.
Some counties did not have testing numbers Friday but said they would work to share them, such a Lewis and Clark County, which has 13 cases. Others, such as Roosevelt County, which has one positive case, told a reporter they would not provide testing numbers to the media.
The number of people who have gotten better after falling ill has also been difficult to determine. Bullock said Tuesday 32 had recovered in Montana, but that getting an accurate number was challenging.
Matt Kelley, the health officer in Gallatin County, said recovery is difficult to report for many reasons.
"That's the biggest challenge is who you define as recovered," Kelley said. "We certainly are seeing people get better. We are certainly seeing people improve. But putting numbers to those at this point in time is very difficult. … Continuing to try to do that in a way that's accurate and meaningful is going to be very difficult."
— Lee Newspapers' Patrick Reilly, Nolan Lister and Kristine de Leon contributed to this story.
Concerned about COVID-19?
Sign up now to get the most recent coronavirus headlines and other important local and national news sent to your email inbox daily.