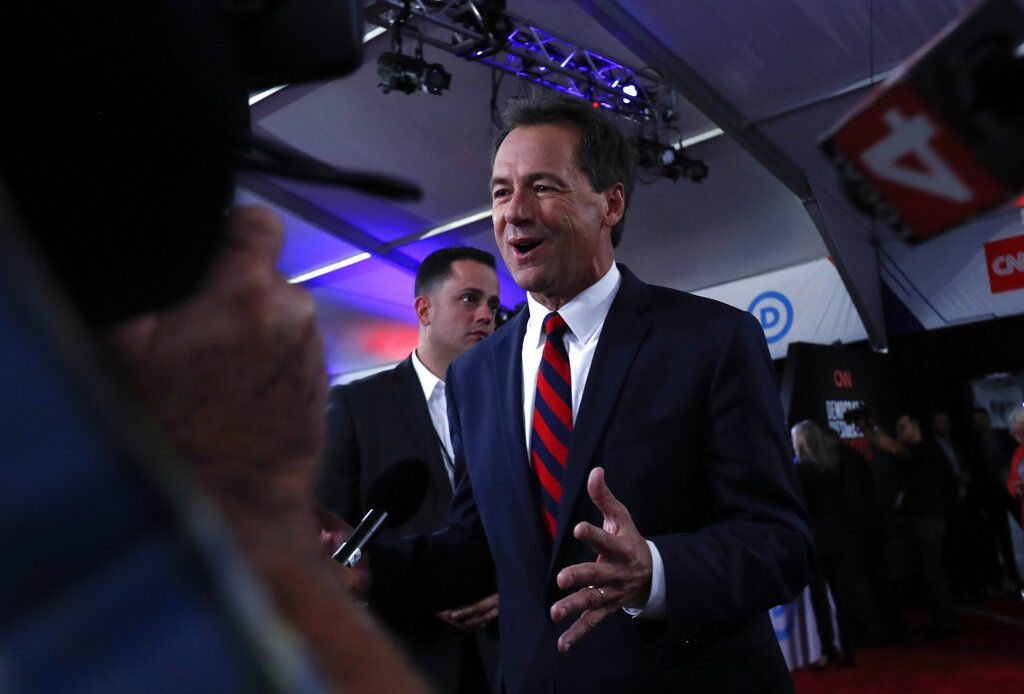 "I think the first 90 minutes were pretty decent for Gov. Bullock," said David Parker, a political scientist at Montana State University on Wednesday. "He got his message out in the introduction statement. He had a good exchange on health care and some of his accomplishments, most specifically on dark money."
Bullock participated in the first night of the second round of the Democratic National Committee's debates Tuesday, which highlighted the liberal-moderate divide in the party. Bullock tried to stake himself out as a progressive, calling some of the ideas of farther-left candidates like Medicare for All "wish-list economics." Bullock missed the first debates in June because he did not meet the polling or donor threshold.
As some of the front-runner candidates like U.S. Sens. Bernie Sanders and Elizabeth Warren discussed the influence that groups like multinational corporations and the NRA have on U.S. politics, Bullock was able to show he has a clear plan to address the problem, and cited his background of getting dark money out of Montana elections, Parker said.
"That's huge to his story," Parker said. "He needed basically to show up so people could say, 'There's this governor of Montana who's got some accomplishments.' I don't think he did enough to say he's a big winner." 
Bullock lost steam toward the end of the debate, which stretched nearly three hours, Parker said, particularly in a late exchange on nuclear proliferation, where he squared off against Warren and gave what could be considered a hawkish answer.
"He kind of stumbled a bit on his closing statement," Parker added.
And while he emerged above the other governor on the stage, former Colorado Gov. John Hickenlooper, and outperformed U.S. Sen. Amy Klobuchar, of Minnesota, he didn't rise above another candidate ahead of him in the polls, fundraising and public awareness — Pete Buttigieg, the major of South Bend, Indiana.
"Buttigieg continues to impress. He's smooth, he's got good answers," Parker said. "A lot of the performance I would have liked to see from Gov. Bullock, Mayor Pete put in that performance. The irony is Steve Bullock has more to say about solid, serious accomplishments than a mayor of a city of 100,000."
Buttigieg raised $24.8 million in the second quarter of this year, compared to the $2 million Bullock pulled in over half the fundraising period. Though polls show Buttigieg at between 3-5%, that's still ahead of Bullock, who ranges from 0-1%.
Buttigieg is "this really bright, shining, veteran mayor from a Midwestern city who just seems to be exceeding everyone's expectations. If I were a Democrat and I were a moderate, I would really be impressed with Buttigieg versus Bullock," Parker said. "His (Bullock's) competition for where he's trying to be is Buttigieg, and he didn't eclipse him."
Jeremy Johnson, a professor of political science at Carroll College, agreed Bullock excelled above some of the other candidates of a similar moderate mold.
"The debate will be remembered most for the centrist Democratic candidates critiquing and challenging Warren and Sanders on policy. The immediate response from many pundits is that Bullock's performance at the debate was stronger than many of the other candidates, including Amy Klobuchar and Beto O'Rourke who both blended in at times and failed to make a distinctive impression to help propel their candidacies forwards," Johnson said Wednesday.
The threshold for making the next round of debates will be higher, both in terms of polling numbers and individual donor counts needed to qualify. Johnson said while political watchers might think Bullock had a decent night, voters and donors will have the final say in what's next for the campaign.
"What matters are not the views of pundits but the views of Democratic primary voters. It is difficult to project what sort of debate performance will help improve poll numbers in the days and weeks to come, which is what is most important for the candidates. We shall see."
Among national media outlets, the Washington Post was one few counting winners and losers to put Bullock on the bottom.
The New York Times' opinion section assembled a panel of 13 for its opinion coverage of the debate. The group was fairly split on Bullock, putting him at the middle of the pack and ranking him with an average rating of 4.9 out of 10.
Their remarks ranged from Jamelle Bouie, who have him a score of 3 — "I don't understand why he's still running" — to others critical of his answer on nuclear weapons. Notably, Bozeman native and author Sarah Vowell gave him 9 points, saying, "While confirming his commitment to achieving carbon neutrality by 2040, Governor Bullock pointed out that 'in the transition to this clean energy economy' it is unacceptable to demonize the 'folks that have spent their whole life powering our country.' What's the point in being a Democrat without a democratic spirit?"
"If moderates were looking for someone other than former Vice President Joe Biden to support in this primary, Bullock offered himself as a viable alternative," Cillizza wrote.
"I used to be afraid of Joe Biden. Joe Biden does not frighten me, Steve Bullock frightens me," Urban said.
Get Government & Politics updates in your inbox!
Stay up-to-date on the latest in local and national government and political topics with our newsletter.