SIOUX CITY, Iowa — In a low-ceilinged and even lower-lit bar and pizza joint on a humid early summer night, the governor of Montana last week introduced himself to some of the Iowans who will play a part in deciding what the rest of his life looks like.
Standing in front of checkerboard blue-and-white "Bullock 2020" signs taped to a sneeze guard and backlit by a neon beer sign, Democratic presidential hopeful Steve Bullock engaged in the most direct sell of retail politics.
This is the environment, the small-scale meet-and-greet, where the head of a state with just over a million residents has always done his best. On this particular Monday night, 40 people came out to drink an after-work beer, eat an order of breadsticks and hear Bullock tell them why he's the one out of two dozen options to pick in Iowa's presidential caucuses a mere 238 days away.
"Not that anyone's counting," Bullock quipped to the room.
That one-liner was one of several from a pitch Bullock had already delivered twice that day and would make one more time before calling it a night. Such is the pace a candidate who entered the race last (for now) and missed qualifying for the party's first debates needs to keep if he's going to emerge from the crowded field seeking the nomination.
Bullock isn't leaving it up to Iowans to suss out his strengths as a candidate. He gets to the main point fast and frequently in his stump speech: He won reelection by 4 points in a state Republican President Donald Trump took by 20, and navigated a state Legislature that's "more Republican than yours," he told the Iowans.
On his third trip to the state as a candidate, Bullock was strategic in the locations he barnstormed — hitting GOP strongholds and counties that turned red in 2016 after reliably supporting former President Barack Obama in his first two elections.
That pendulum can swing back, Bullock argues.
"It can be done. I believe it because I've seen it been done," he said. The message worked, on at least some of his audience.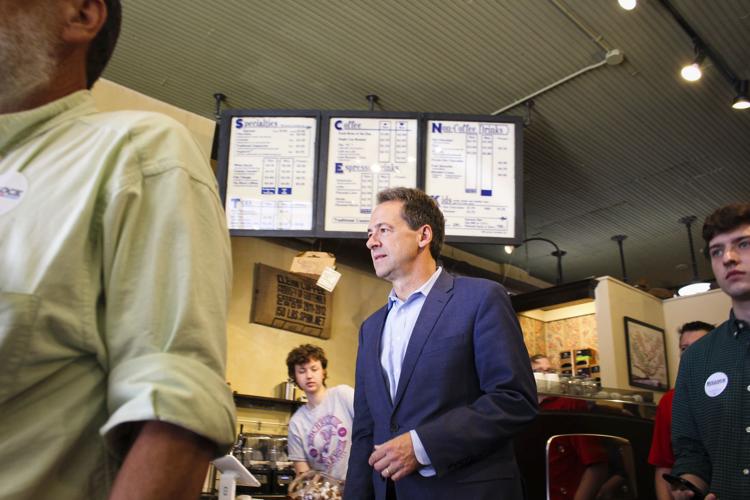 "I am a Steve Bullock fan. I like the fact that he was elected in a red state," said Kathleen Gannon, who saw Bullock at a shotgun coffee shop on the main drag in the small town of Jefferson, where Bullock started last Monday.
Tim Bottaro is a Democratic operative in Woodbury County, where Bullock ended that day after four campaign stops. Bottaro has been doing the Iowa caucus dance since he was 17 and ran Obama's campaigns in Sioux City and western Iowa. He said Democrats in his neck of the woods want to hear about a path to victory in places where Trump has done well.
"I think Bullock should really hammer home the issue of how a Democrat wins in a state like Montana and what do you do and how do you do it without selling your soul on some of the big issues to Democrats? How do you walk that line?" Bottaro said.
Bullock over and over offered up his answer to that question as he marched through Iowa coffee shops and cafes.
"Your county is not unlike counties that I have to travel in Montana when I run for reelection," Bullock told Democrats in one solidly GOP region. "It's interesting when you go to a county and it's like, 'You can't win this county.' I don't need you to win this county. I need you to get every single vote out, and I need you to talk to your friends and neighbors. That's how I win in Montana. I can't just go to pockets of blue. There's not enough of them."
The nuances of Montana politics don't get full exploration from national press that frames a rural state through stereotypes. In a New York Times story on Thursday, Bullock's scuffed-up cowboy boots made the lead photo, the assumed image of a Western state writ large even though the governor's hometown of Helena sometimes looks like it might solely fund the Patagonia and Chaco companies.
There's no question Montana is bright red at the presidential level. The last time a Democrat took the state was in 1992, when Ross Perot peeled off enough votes from former President George H.W. Bush that former President Bill Clinton slid in for a 2-point victory.
It gets less easy to paint in broad strokes for races below that, however.
"When it comes to electing people statewide to the governor's office or even to represent the state at the federal level, it's a lot more driven by the person and less by the party," said Lee Banville, a political analyst and professor at the University of Montana.
A Democrat has held the governor's office for what will be 16 straight years by the time Bullock departs. U.S. Sen. Jon Tester, a Democrat, won election to his third term last year. But in 2016, in addition to the Trump victory, Republicans swept all the statewide offices except governor, and the last time the GOP didn't hold the majority in the state Legislature was a decade ago.
So primed is Bullock to talk about state-level politics that a question about why he'll miss the first Democratic National Committee debates this month turns into an answer about how Montana's Legislature is 60% Republican.
But like so many things in a national campaign, the state-level subtleties get lost. For the last several legislative sessions, GOP infighting in Montana hamstrung the party and created space for a group of Republicans called the Solutions Caucus to find a better partner in Bullock than members of their own party.
"My Legislature is actually more Republican than yours," Bullock told Democrats in Sioux City. "(But) even in this divided time we've been able to get things done."
In an interview on the way to a campaign event last week, Bullock said in his view he didn't so much step into a statehouse primed to facilitate working across the aisle as much as he crafted the setting.
"I would like to think that I built an environment where there are at least some Republicans, and I don't consider these folks moderate, I consider these folks business-based Republicans, that they knew I would work with them to try to find a solution," Bullock said. "And (they'd) trust that I'd work with them, I wouldn't try to burn them down every day, that I'd try to get something beyond partisan wins."
Montana State Rep. Nancy Ballance, a Republican from Hamilton and leader in the Solutions Caucus, said her group was able to find common ground with the governor.
"You get to a position of trust with someone where you may not agree and philosophically you may not agree, but you know if they say they're going to do something that they won't go back on their word," Ballance said. "I think that's worth an awful lot. To the extent that we had a partner who will work with us on some things, that we can trust, I think that's important. That's the way we learned to work with one another. I think that's what the people of Montana expect of us."
But not all Montana Republicans agree with how Bullock assesses his relationship with their party in the Legislature.
"I'd give him a D on working with us," said Senate Majority Leader Fred Thomas, a Republican from Stevensville. "You can't just talk to (members of the Solutions Caucus) and think you've talked to the Legislature."
But Iowans haven't heard of Ballance, Thomas or the Solutions Caucus, and they likely never will. What they'll take away from Montana's Legislature are things like some Republicans joining with Democrats to pass and then continue Medicaid expansion.
Bullock told each group of Iowans he met with last week the same story about going up to Choteau, a Republican stronghold, in 2015 to attend a meeting about the viability of the local hospital. He attributed his visit to giving the local GOP legislator enough cover to help pass Medicaid expansion that year.
"How I win and how I govern are much the same," Bullock said. "I don't have the luxury in my state of just talking to people that would come out to a Democratic thing on a Monday night."
Get Government & Politics updates in your inbox!
Stay up-to-date on the latest in local and national government and political topics with our newsletter.