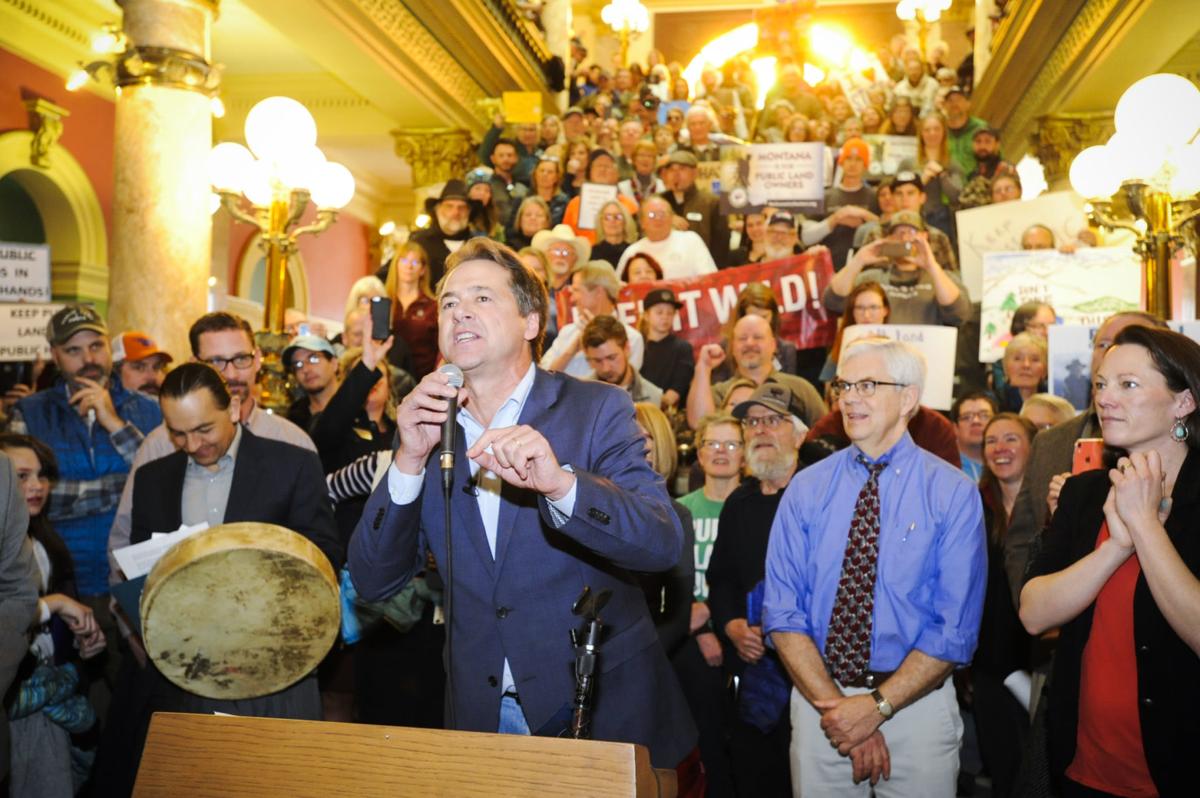 In releasing his second detailed policy plan in his bid for his party's nomination for president, Montana Gov. Steve Bullock again focused on an issue close to home — the management of public lands.
Bullock is a two-term Democrat from the intermountain West, and the lone governor left in the large field of Democrats running for president. Though he's far behind leading candidates in polling, registering around 0-1%, and has missed all but one of the Democratic National Committee debates, he is still aggressively campaigning, especially in Iowa, which holds the nation's first caucus next February.
The first policy plan Bullock announced, addressing the problems that face rural America, played up his credentials to help a state like Iowa. Like rural issues, public lands is a topic Bullock can speak on with expertise given his experience as attorney general and then governor in a state with more than 30 million acres of state and federal lands, or about 30% of the area of Montana. There are a total of nine National Park areas, including Glacier and Yellowstone.
Public lands haven't been at the forefront of the several presidential debates held so far, with issues like health care, climate change, immigration and gun policy taking up all the air in the room. A poll from FiveThirtyEight/Ipsos earlier this month asking Democrats about the issue most important to them didn't even mention public lands, though about 3.5% of voters did say "something else" was a top issue.
But Bullock said Friday in a call with reporters that he thinks its a critical subject for presidential candidates to be talking about.
"Our shared stewardship of our public lands is one of the country's great equalizers," Bullock said. " ... They really do represent a fundamental part of what it means to be an American."
One of the most aggressive parts of Bullock's proposal is to have net-zero emissions on public lands across the country by 2030, in just over a decade.
"We can't wait for the next 20-30 years to address climate," Bullock said. 
But because there are already existing oil and gas leases, Bullock said he would explore using federal lands for carbon capture.
"That's the better way to actually get there, to make sure we're meeting the goals of (the Paris Climate Accords) and even beyond and we're using our federal lands as part of the ability to get there," Bullock said.
Lee Banville, a professor and political analyst at the University of Montana, said Friday that Bullock's plan is a way for the governor to set himself apart from a crowded primary field.
"He's once again trying to highlight the fact that the current Democratic field are big-city, coastal Democrats and when they think about public lands, they probably think of national parks or they think of it in a very East Coast way," Banville said. "He's an outlier in that he understands lands in a way that only somebody who is from the intermountain West can really talk about."
Bullock also often plays up that as a governor, he's had to focus more on crafting policy that can actually get passed through a Republican Legislature, and public lands issues can let him highlight that, Banville said.
Get Government & Politics updates in your inbox!
Stay up-to-date on the latest in local and national government and political topics with our newsletter.