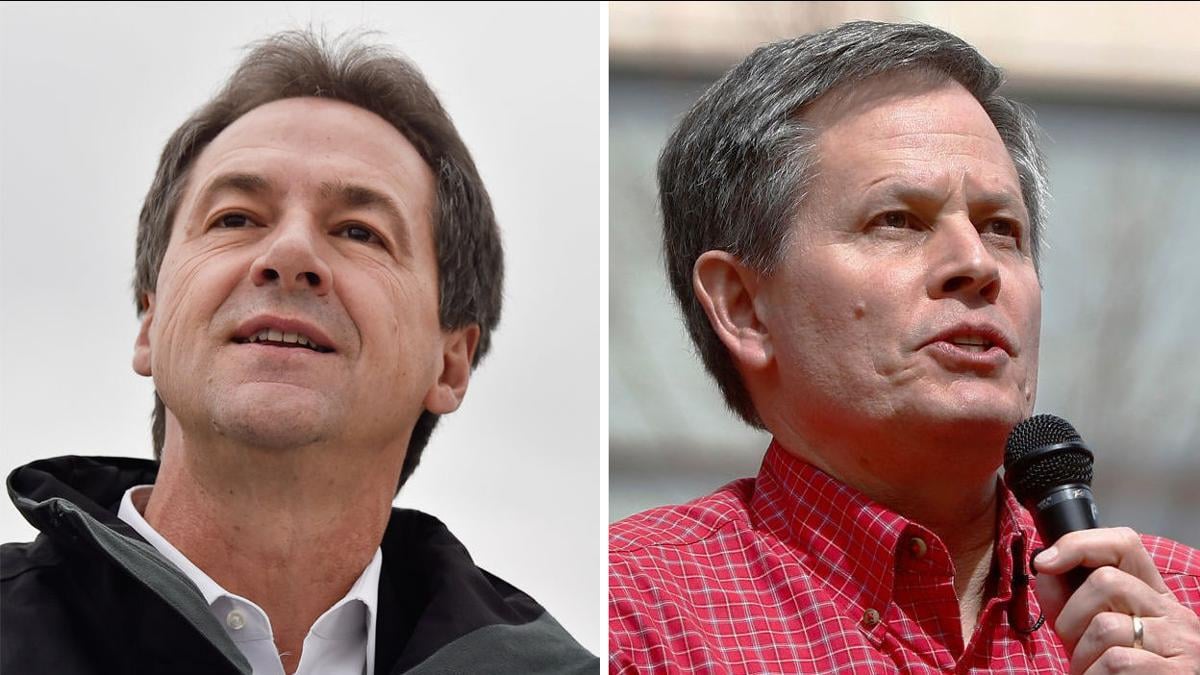 The novel coronavirus permeated much of the first debate between incumbent Republican Sen. Steve Daines and Democratic Gov. Steve Bullock in this fall's U.S. Senate race.
In the forum held remotely, the candidates both pointed at their responses to the pandemic while chipping away at what they called the other's shortcomings.
Daines also repeatedly tried to paint Bullock as in cahoots with Democratic leadership in Congress, lawmakers who are often vilified by Republicans. Bullock responded by saying it's his name on the ballot next to Daines'.
"Sen. Daines has to run against me and not Nancy Pelosi or anyone else," Bullock said
Daines is seeking re-election to his second term in the U.S. Senate. Before that he was in the U.S. House for a term.  He previously worked at Procter & Gamble in the U.S. and abroad and RightNow Technologies in Bozeman.
Bullock is a two-term governor and former state attorney general. He was in the Democratic presidential race for about four months. He'd sworn off a Senate run, saying his experience was as an executive, but in March he joined the race, citing a desire to make Washington, D.C., work more like Montana.
As governor, Bullock has been front and center in the state's pandemic response. Nearly 4,900 have been sicked and 75 Montanans have died from the virus.
In the debate, Bullock said his directive closing schools in March and a stay-at-home order through April were aggressive actions that kept Montanans safe.
Daines said he's led on Congressional efforts, like the Paycheck Protection Program and development of treatments and work toward a vaccine.
"This is an issue that should not be politicized," Daines said. "This is coming together. This is not a Republican or Democrat issue."
But it became one as moderators pressed about the stalled-out debate over continuing unemployment benefits and Republican President Donald Trump's handling of the pandemic.
While the Democratic-controlled House in May passed a $3.4 trillion package meant to be the next round of coronavirus aid, the measure stalled in the Senate, where Daines said Republicans objected to provisions in the bill.
Daines said the legislation wasn't as focused on virus response as it should be and the proposal on unemployment insurance would have incentives for people to stay home by paying them more than their jobs did. The federal $600 weekly payment expired at the of July.
Bullock criticized Daines for supporting an amendment that failed on the Coronavirus Aid, Relief, and Economic Security (CARES) Act that would have limited the $600 payment for some. Bullock said Daines later tried to take credit for the federal boost to what states pay. Daines said his support of the amendment was focused on trying to make sure the bill didn't encourage people to stay home from work.
Another provision of the CARES Act sent $1.25 billion to states to use in responding to the health and economic fallout from the virus. Montana Republican lawmakers have increasingly criticized Bullock for what they say is a slow disbursement of the funds.
"That money needs to be deployed to our communities, to our counties, to every corner of our state," Daines said. "I'm not sure if (Bullock) thinks there's an advantage to hoarding it. He needs to get it out quickly."
While Bullock has allocated $820 million, Republicans repeatedly pointed out that by June only a fraction of the money had gone out the door. Funds must be spent by the end of the year.
"(Daines) fails to understand that at the end of the day, we have five more months," Bullock said. "This pandemic is not going away, and we want to make sure we use that money wisely. We've already allocated $800 million of it, and we need to hold back some to see what happens going forward."
More than $121 million has been awarded through grants administered by the state Department of Commerce to businesses and nonprofits, but that amount does not include things like $75 million toward K-12 schools or up to $20 million for the higher education system, for example.
Daines was also asked to rate Trump's leadership in responding to the virus, which as been a flash point nationally. The website 538, which compiles polling data, found that about 58% of Americans disapprove of how Trump has handled the pandemic. The president downplayed the virus early on, comparing it to the flu and saying by Easter the country would open back up.
Daines has been one of Trump's most staunch supporters and that did not change in his answer during the debate.
"President Trump has led boldly. He's brought together the great scientists across our government, people that are working right now with the private sector. It takes innovation to break through and stop COVID-19. It's going to take a vaccine. It's going to take these therapeutic drugs. So I'm grateful for his leadership in this very difficult time," Daines said.
Bullock said the Trump administration treated the virus as a political issue, not a public health challenge, and that hurt the country.
"The lack of a national test strategy, the fact that I was literally on the phone trying to get (personal protective equipment) for our hospitals along the way, I think we haven't gotten the federal support or all of the federal leadership that would have made it better," Bullock said.
The candidates also traded jabs on China, repeating much of what's been said in television ads that criticize Daines for being too cozy with and then changing course to be critical of China and Democrats for not taking a hard line on the country's role in the spread of the coronavirus.
In another hot-button issue, the candidates were asked about the national movement calling for policing reforms. The issue has gained traction in places around Montana too, as cities have examined their policing budgets and proposals for accountability.
Bullock said he did not support efforts to "defund the police," adding that during his tenure he's increased funding for law enforcement. Still, the governor said now is the time to look for ways to bring about meaningful change.
"I don't support defunding the police but I do agree we all, Democrats and Republicans, must do better. There are steps that we can take, things like everyone wearing body cameras, working on no-knock warrants. ... This ought to be the moment that we actually make meaningful change," Bullock said.
Daines said "we need to defend the police, not defund them." The senator pointed to a failed budget proposal in Helena that would have cut local law enforcement's budget.
"In Gov. Bullock's hometown in Helena, they were looking to defund the police. I stood up vocally. It's time to stand up," Daines said.
Bullock shot back, saying as attorney general, he was the chief law enforcement officer in the state.
"You can't turn me into somebody that I'm not. You have to run against me, not somebody out of state," Bullock said.