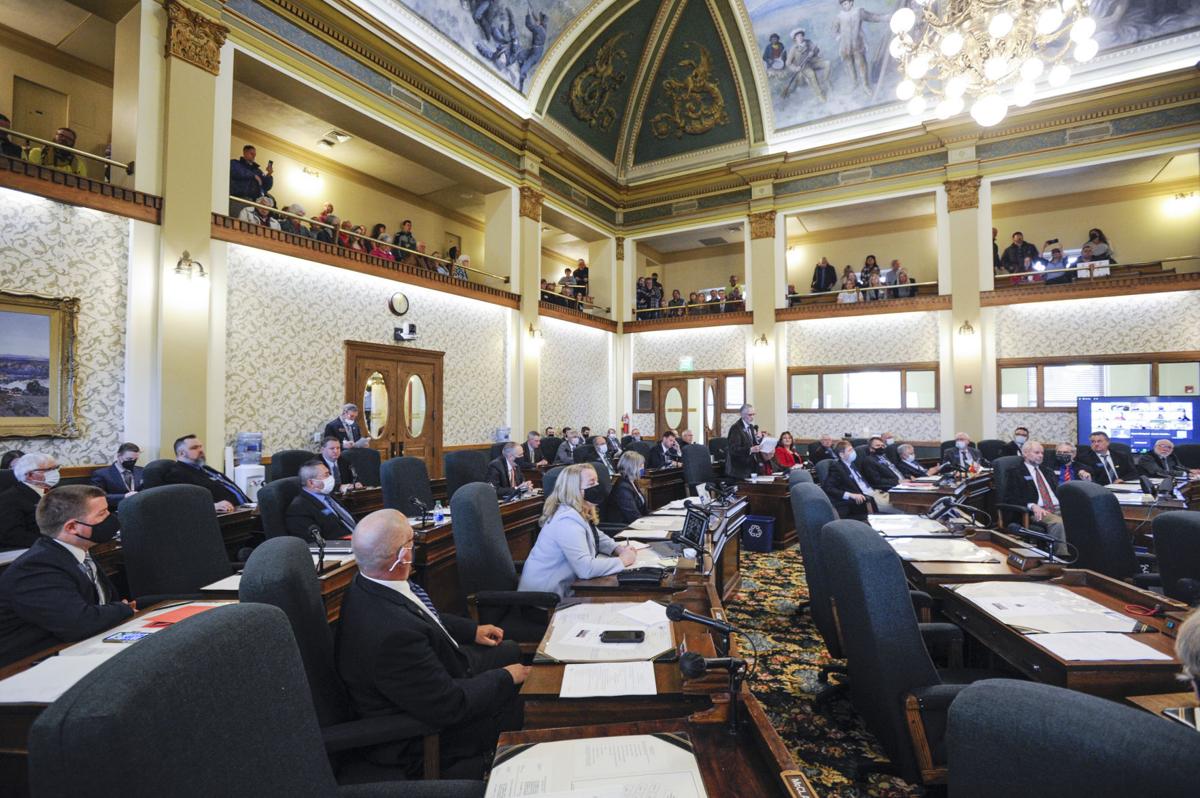 Majority Republican lawmakers Thursday again resisted efforts from minority Democrats to restore or add funding to the $12 billion state budget as the legislation cleared the Senate largely unchanged.
The budget cleared the Senate on a 33-17 vote.
Democrats, who hold 19 seats in the 50-person chamber, tried unsuccessfully to bring amendments that also failed to get put on the bill in the House. That included $1 million for suicide prevention, funding to shorten a waiting list for services for people with developmental disabilities and money to incentivize participation in a quality improvement program for daycares.
In response to Democratic efforts, GOP legislators argued money the minority tried to include would go toward programs without a proven track record or for services that didn't have the workforce to provide them.
The next stop for the budget, which is House Bill 2, is back in the House to address Senate amendments. It's expected the budget will then move to a free conference committee, where House and Senate lawmakers will hammer out the final version. The budget passed the House on a party-line vote with GOP support in March.
"This is a good budget. This budget represents a budget that did hold the line," said Sen. Ryan Osmundson, a Republican from Buffalo who chairs the Senate Finance and Claims Committee. " … This budget funds the services that (Montanans) expect, the services that they have come to want, and it does so inside of inflation. Inflation's over 4%; we're under that. So frankly, this is a very conservative budget."
Sen. Janet Ellis, the Helena Democrat who vice chairs the Senate Finance and Claims Committee and voted against the budget Thursday, said the proposal needs to be reflective of the state's values.
"We want a budget that Montanans can be proud of and that keeps our state working the way it should for its citizens. This budget isn't perfect, but it is headed in the right direction," Ellis said.
Most of the discussion Thursday came on the state Department of Public Health and Human Services' budget, which makes up $6 billion of the $12 billion biennial budget's spending through a mix of federal, state and special revenue dollars.
Democrats brought two amendments that both died on 20-30 votes to increase services to those who are elderly or disabled. One would have increased the number of slots for home-based services for seniors, at a cost of $1.9 million in general fund dollars and $3.6 million in federal money. The other would have added 100 slots for home- or community-based services for those who are developmentally disabled, whittling away at a waitlist of 2,300 people. The cost for that would have been $3.9 million in general fund dollars and $7.3 million in federal funding.
"As a government, as a (legislative) body, we actually have a responsibility to take care of those who can't take care of themselves; 2,300 people in our state are languishing without adequate service and … this amendment simply asks that we help 100," said Sen. Tom Jacobson, D-Great Falls.
But Sen. Bob Keenan, R-Bigfork and chair of the subcommittee on the health department's budget, said there wasn't a sufficient workforce to provide services, so any funding approved would sit unused.
"This is a nice amendment, but there's no guarantee that anything was going to happen as a result of it," Keenan said.
Sen. Shane Morigeau, a Missoula Democrat, again tried to bring an amendment to put $1 million toward suicide prevention efforts in the state. Keenan resisted the proposal, arguing millions have already been spent on suicide prevention efforts but there wasn't good information on what programs have been successful.
"We've tried to get a handle on this," Keenan said. "Throwing more money out for suicide prevention feels good, but what are we getting for the money? It's a very difficult issue."
Democratic Sen. Edie McClafferty, of Butte, countered that if even one life was saved, the cost is worth it.
"We may not have numbers in black and white, but we have people walking around in our communities, having family meals, going to school, because there was an intervention for them," McClafferty said.
As Democrats fought against Republicans' rejection of their proposed spending, they often compared the costs of their amendments to the budget hits from tax reduction legislation carried by the GOP at the request of Republican Gov. Greg Gianforte.
"In this session, we have prioritized millions of dollars in tax cuts. We've made the choice that there is money in the budget for these tax cuts. Our state budget has the money to invest in our children as well, and make sure that they have at least one hot meal a day," McClafferty said in support of a failed amendment to waive co-payments for reduced and free school meals.
Republicans have said tax reductions will draw high-paying jobs to the state. The most recent version of Gianforte's original proposal to drop the state's top income tax rate has a fiscal note estimating it would lower the state's general fund revenues by about $80 million. There's another bill that could advance in its place that makes dramatic changes to the state's income tax system and also lowers the top rate; it would have a roughly $41 million hit to the general fund by the 2025 fiscal year.
One Republican lawmaker, Sen. Brad Molnar of Laurel, tried to bring an amendment to end the state's Medicaid expansion program, which covers more than 96,800 adults, or more than 9% of the state's population. That failed on a 20-30 vote.
This session the state budget has another major component — the $2.7 billion coming to the state from the federal American Rescue Plan Act passed by Congress in March. House Bill 632 is the legislation that contains the $2.1 million share of that funding the Legislature has authority over. That bill has cleared the House and is expected to be voted on in a Senate committee Friday.