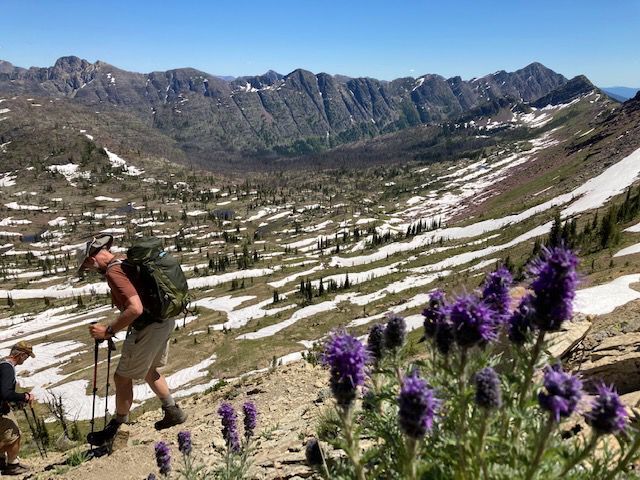 A change of political power in Washington, D.C., has Montana Sen. Jon Tester hopeful of better chances for his Blackfoot-Clearwater Stewardship Act.
On Thursday, the Democratic senator re-introduced the bill to give federal wilderness status to 79,000 acres around Seeley Lake. It would also allow new snowmobiling access to about 2,000 acres and mountain-biking trails on about 3,800 acres north of Ovando.
Most of the acreage lies on the fringe of the existing Bob Marshall and Mission Mountains wilderness areas.
"This is not something Washington, D.C. is recommending — it's something the people of Seeley Lake have gotten together on," Tester said in an interview on Thursday. "Compromise is not easy, but when you have people with a common goal in mind, you get things like the Blackfoot-Clearwater Stewardship Act."
Tester was able to get the bill to a Senate Energy and Natural Resources Committee hearing last September, but it never made it past Chairwoman Lisa Murkowski, R-Alaska. It was also opposed by U.S. Forest Service officials, who said the expanded recreation areas might add too much analysis workload to the agency.
"I'm expecting them to change that attitude," Tester said of the Forest Service objections. "A lot of politics went on in the agency. I don't have to play politics on this bill."
Tester said he also has a much better relationship with Sen. Joe Manchin, D-West Virginia, who now chairs the committee. Nevertheless, he predicted his bill would most likely move only if attached to a larger piece of legislation, such as an omnibus lands bill.
Fellow Montana Sen. Steve Daines, a Republican, said he is appreciative of all the work put in on the bill. But he added "we don't yet have the necessary consensus."
The Blackfoot-Clearwater Stewardship Act grew out of one of Tester's first legislative efforts, the Forest Jobs and Recreation Act of 2009. That three-part bill featured a mix of new wilderness and expanded logging activity in the Blackfoot-Clearwater, Yaak and Beaverhead-Deerlodge National Forest regions of Montana. Programs to expand logging access in the Blackfoot-Clearwater area were approved through other legislation.
The original bill was "too heavy a lift," but the Blackfoot-Clearwater portion continued to have wide support, Tester said. That included recent statewide polling which showed almost three-quarters of respondents approved of the legislation.
"With increased forest restoration activities through implementation of the Southwestern Crown of the Continent Collaborative, our communities have been able to create and maintain 138 jobs at Pyramid Mountain Lumber and many other businesses, injecting $33 million into the local economy," Pyramid Mountain Lumber resource manager and Blackfoot-Clearwater Stewardship Act steering committee member Gordy Sanders said in an email.