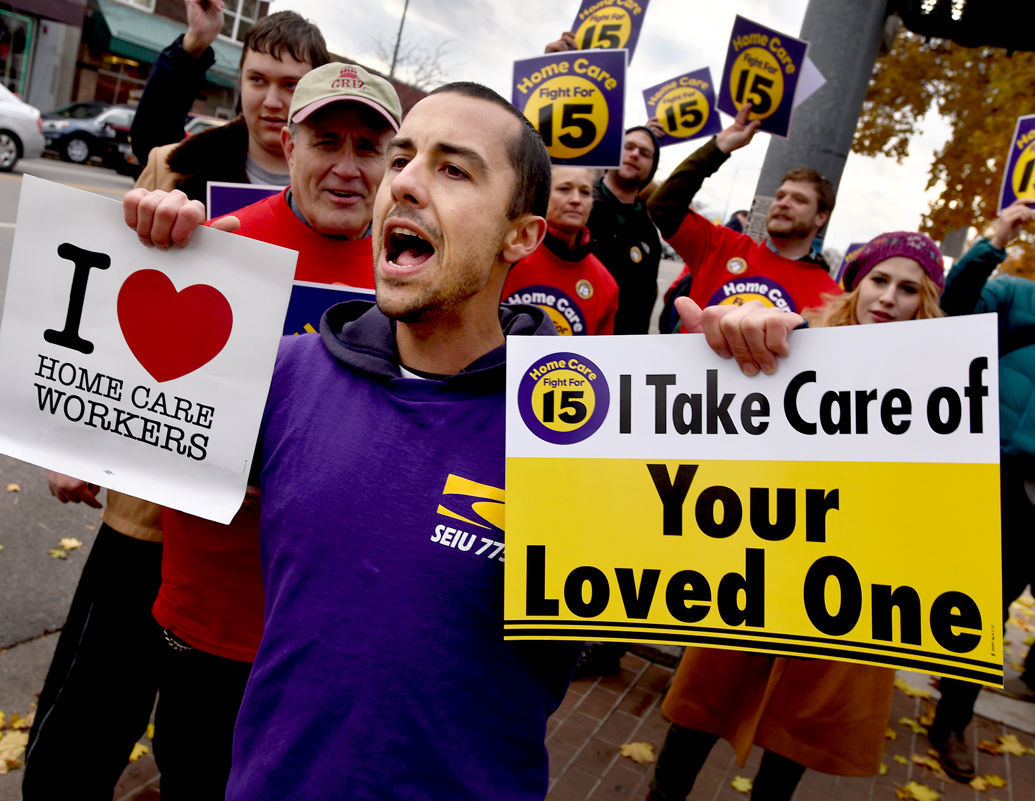 A lawmaker says raising the state minimum wage to $15 an hour over the next 18 months would give Montanans a wage that dignifies hard work.
House Bill 345, carried by Rep. Mary Ann Dunwell, D-Helena, calls for an increase from $8.50 an hour to $12 an hour effective July 1, and to $15 an hour on July 1, 2020. Dunwell told the House Business and Labor Committee on Wednesday she hopes the bill would extend the "economic miracle" mentioned by President Trump in Tuesday's State of the Union Address to those who have not felt it.
"To work is dignifying, we all know that. And Montanans work hard," Dunwell said. "We've got a great work ethic."
Montana AFL-CIO, the state Federation of Public Employees and the state Department of Labor and Industry threw their support behind Dunwell's bill.
Chief legal counsel Judy Bovington of the Department of Labor and Industry spoke Wednesday on behalf of Gov. Steve Bullock's administration. Bovington told the committee the state minimum wage would not reach $12 for another 15 years with the annual inflation adjustment approved by ballot initiative in 2006.
"While the American Dream does mean, in part, that people of all stripes and colors have equal opportunities, it should also mean that people who work hard every day and work full-time should be able to take care of their family," Bovington said.
Opposition came from the Helena Area and Montana chambers of commerce, as well as the Montana Retail Association. Opponents said the bill would keep young workers from obtaining entry-level jobs and weigh heavily on Montana's small-town retailers and restaurants.
President Brad Griffin of the state Retail Association told the committee he also spoke for the Montana Restaurant Association in opposition to the bill. Griffin told the committee that "many, if not most" of Montana's minimum-wage earners work in full-service restaurants and can receive $20 to $30 an hour with tips, but are still considered minimum-wage earners. A wage of $30 an hour would result in an annual salary of about $62,400 for a full-time job.
According to the federal Department of Labor, Montana is one of seven states requiring employers to pay minimum wage before tips. 
"Montana isn't Seattle, we're not Los Angeles, we're not New York City," Griffin said.
The committee expressed some concern in the hearing on the use of anecdotes to argue both sides of the issue. Notably, when pressed by Rep. Chris Pope, D-Bozeman, Griffin said his statement that most minimum-wage earners were tipped restaurant workers was "more anecdotal."
Rep. Sharon Stewart-Peregoy, D-Crow Agency, requested economic data from the state's largest union group, the state Department of Labor and Industry and the state Chamber of Commerce for further discussion.
"In this day and age, statistics, informed decision-making is important," Stewart-Peregoy said.
Get Government & Politics updates in your inbox!
Stay up-to-date on the latest in local and national government and political topics with our newsletter.