A bill introduced in a House committee Wednesday would trim the cannabis industry in Montana to just 100 business licenses, far short of the 355 current medical marijuana providers, as a preemptive attempt to corral the upcoming recreational market passed resoundingly by voters in November.
House Bill 568 would limit dispensaries to one per 1,000 county residents with a cap of 10 dispensaries per county. Rep. Lola Sheldon-Galloway, a Republican from Great Falls, said she was carrying the bill on behalf of the Cascade County Substance Abuse Alliance, which aimed to make a dent in marijuana use among middle and high school students. 
The Cascade County Substance Abuse Alliance did not testify remotely or in person in support of the bill in Wednesday's committee hearing. Nor did anyone else. 
But members of the medical marijuana industry from across the state lined up to oppose the bill in the House Business and Labor Committee. Opponents raised issue with the state taking away years of sweat equity into their business. Glenn Broughton, owner of Starbudz in Missoula and two other dispensaries, said he recently invested in an $800,000 property that could be swept away, along with his home tied to the loan, if his license isn't included in the 100 granted if the proposal were to pass.
"Right now I've never been so scared in my life of what's going to happen to me with a pen stroke," Broughton said.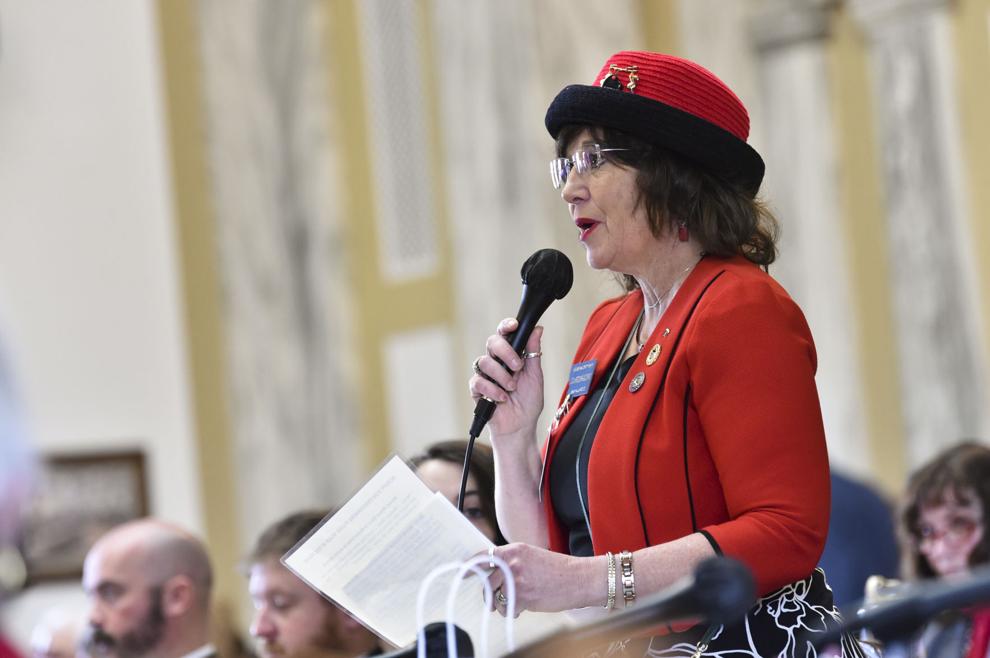 Kate Cholewa, government affairs representative from the Montana Cannabis Industry Association, did the math for the committee: with one dispensary per 10,000 residents, the total 1 million residents in Montana would only permit 100 licenses under the proposed arrangement. 
"So who gets these licenses and who decides who gets these licenses?" Cholewa pondered for the committee. "This is just an invitation for problems and corruption."
Sheldon-Galloway's bill would also prohibit cannabis businesses from operating within 1,000 feet of places of worship, schools, day care centers, parks and other recreational areas, twice the distance currently allowed of medical marijuana providers. Paulson Palmer, who owns a dispensary in Libby, said that kind of barrier would put him out of business. He also wondered, of the three dispensaries in Libby, which two would be shut down or forced to relocate with the cap on providers per population.
"This is a scary situation for us," he said.
Montana Cannabis Guild President J.D. "Pepper" Petersen, whose campaign ended marijuana prohibition with Initiative 190, said the bill would undercut the tax revenues medical marijuana already brings in. Medical sales were $135 million in 2020, Petersen said, and recreational sales could reach three to five times that.
"Please don't cripple this program before it comes off," Petersen told the committee. "I know the governor is counting on this money in his budget, so we'd like to continue in the spirit of 190 when it was passed and not create some Frankenstein monster system."
Sheldon-Galloway told the committee Wednesday her bill was intended to constrict the number of recreational marijuana businesses, but the bill doesn't make a distinction between the medical and upcoming recreational markets. 
"The intention of my bill was just for recreational marijuana sales, not for medical marijuana sales," Sheldon-Galloway said. "The wording on here came from the drafter and I guess I don't know enough about the industry to know that maybe that effected medical marijuana. Someone would have to clarify that for me.
"The people of Montana have asked us to have recreational marijuana in our state. My bill is just asking for some sideboards on that," she said earlier in the hearing.
The committee did not vote on the bill Wednesday.