In an unsuccessful attempt to secure Montana's first fully Republican congressional delegation in over a century, President Donald Trump made history in the lead-up to last month's House and Senate elections by visiting the state more frequently than any other sitting president.
The President spoke at four Montana rallies, drawing thousands of attendees in Great Falls, Billings, Missoula and Bozeman between July and November. Trump's final appearance bested Harry Truman's mark of three visits to the Last Best Place between 1948 and 1952.
Vice President Mike Pence visited the state three times, giving his final speech at Glacier Park International Airport in Kalispell the day before the election. Donald Trump Jr. spoke in Billings and Bozeman before embarking on the two-day, eight-stop Montana Victory Tour, which brought him through East Helena on Oct. 26.
Out-of-state Republicans would follow in their support: Sen. Cory Gardner of Colorado spoke in three cities Oct. 23, while Sen. Lindsay Graham of South Carolina appeared at a Halloween night rally at the state GOP office in Bozeman.
Democratic former state lawmaker Kathleen Williams was challenging incumbent Republican Rep. Greg Gianforte for Montana's lone House seat, which has been GOP property since 1997. By Election Day, Gianforte had not yet reached a year and a half in the House since defeating musician and former Montana Arts Council member Rob Quist in the 2017 special election.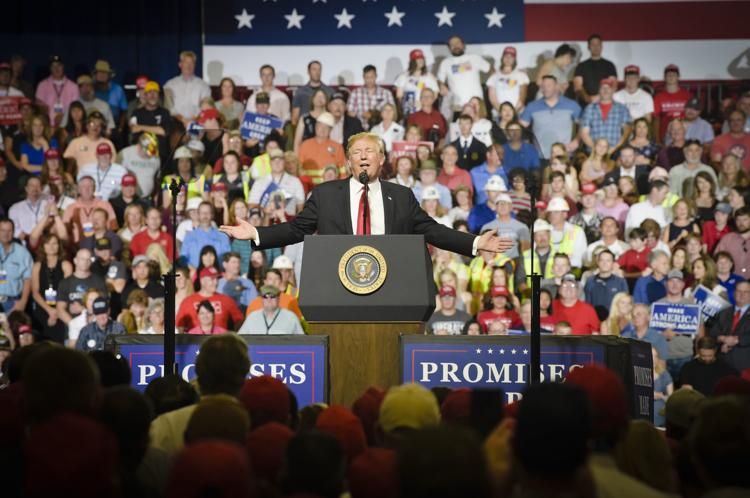 On his Oct. 18 visit to Missoula, Trump favorably referenced Gianforte's infamous assault on reporter Ben Jacobs of The Guardian the day before the 2017 special election.
"Greg is smart. And by the way, never wrestle him," Trump said. "You understand? Never. Any guy that can do a body slam, he's my kinda (guy)." Trump then mimed a body slam.
In the Senate, Republican state auditor Matt Rosendale sought to replace two-term Democrat Sen. Jon Tester. Trump minced no words in his disdain for the incumbent, noting Tester's opposition to the March nomination of White House doctor Ronny Jackson to lead the Department of Veterans Affairs.
Tester surfaced allegations of unprofessional conduct against Jackson in April, which led to the withdrawal of Jackson's nomination and prompted Trump to tweet that Tester should resign.
"(Tester) might be a nice guy, except he tried to destroy Admiral Ronny Jackson, who was the most clean-cut, wonderful person you've ever met," Trump said Nov. 3 in Bozeman. "He tried to destroy him. And I've never forgotten. And it's honestly one of the reasons I've been here so much."
Despite his withdrawal, Jackson denied the allegations. 
Trump was not the only person to grab headlines at the rallies, however.
Billings high school student Tyler Linfesty gained social media fame at Trump's Sept. 6 rally, when the 17-year-old was removed from the gallery behind the podium at Rimrock Auto Arena. Linfesty, who became widely known as "Plaid Shirt Guy," could be seen just above the President's right shoulder on the rally's television broadcast and made what the Billings Gazette described as "puzzled facial expressions" throughout the first 50 minutes of Trump's speech.
On the right side of his titular shirt, Linfesty wore a sticker adorned with a red rose, a symbol of the Democratic Socialists of America.
"Each time I see one of these rallies, you know, I see people behind Donald Trump clapping and cheering and being super enthusiastic," Linfesty said in a CNN interview the next day. "And I've always wondered myself, you know, 'Are those people really being genuine?' So when I got back there I knew that I was gonna be genuine. I was gonna give my actual reaction to the things he said."
To that end, Linfesty clapped when Trump spoke against NAFTA and claimed the 2016 Democratic presidential primary was tilted against Sen. Bernie Sanders, but shook his head at several statements and visibly said "Have you?" when Trump claimed to have gained "a lot of support."
Rosendale held a 4,000-vote lead as Nov. 6 became Nov. 7, but ultimately conceded after late results from Missoula and Gallatin counties gave the incumbent an insurmountable lead. Tester carried only 13 of 56 counties but prevailed on wide margins of victory in urban areas: 37 percentage points in Missoula County and 45 in Butte-Silver Bow.
Gianforte's hold saved little face as the Democrats gained 40 seats to take control of the House for the 116th Congress. The blue gain could still climb to 41 seats as Republican Mark Harris's victory in North Carolina's 9th district is yet to be certified amid allegations of fraud.
Similar to Gianforte, Tester's victory only halted the Democrats' bleeding in the Senate as the GOP flipped seats in Indiana, Florida, Missouri and North Dakota to retain control.
CORRECTION: A previous version of this story did not clarify the state in which Mark Harris ran for a House seat.