The Legislature on Wednesday passed a bill that takes special aim at environmental groups and other charitable organizations that have federal 501(c)3 nonprofit status.
Lawmakers also cleared a bill that removed a provision amended into it late in the process that would have had the Department of Justice investigate nonprofits that work on environmental issues.
On Tuesday, Republicans had altered a provision in Senate Bill 278 that would penalize nonprofit groups that file lawsuits related to government actions, exempting two categories of nonprofit organizations that are more commonly associated with political campaigns and lobbying.
Senate Bill 278 states that nonprofits involved in lawsuits over government actions — other than those directly related to their property or contracts — cannot consider those legal expenses tax-exempt. The amendment, brought by Sen. Steve Fitzpatrick, R-Great Falls, removes 501(c)4 organizations from that requirement. Those nonprofits are allowed to engage in more lobbying and political campaign work than 501(c)3 organizations, which would still face penalties under SB 278. They also don't have to disclose their donors.
The change also stripped from the bill a category of tax-exempt group known as 527 organizations, which are specifically organized to campaign for the election, nomination or defeat of a candidate for public office.
"My concern is that we are targeting those entities that are traditionally nonprofits and don't engage in government-type advocacy," Rep. Robert Farris-Olsen, D-Helena, argued during the free conference committee hearing where the changes were approved. "I just worry that we're treating those organizations unfairly when we know that those groups that are 501(c)4's engage in this kind of activity, and we're not requiring the same from them."
A 501(c)3 that falls under the requirements in the bill would also have to disclose to the Attorney General, within 30 days of filing a lawsuit, a list of their donors who have given more than $50.
Arguing for the bill on the Senate floor Wednesday, Sen. Greg Hertz, R-Polson, made clear who the targets of the measure are.
"For decades, we've had nonprofit environmental groups, they're making nothing, they sell nothing," Hertz said. "They disrupt and sometimes they destroy industry segments all across the state — agriculture, livestock, fish and wildlife, mining and timber. They cause significant damage and harm to many parts of the state, especially in rural Montana."
He added, "They're destroying our tax-paying jobs in the state, this is only fair."
Sen. Carlie Boland, a Democrat from Great Falls, objected to Hertz's characterizations. She was also sharply critical of the way the bill was amended, late in the session and without public comment at meetings.
Boland also questioned the amendment removing 501(c)4 nonprofits from the requirements in the bill. 
"This is targeting the 501(c)3 nonprofits who do not engage in advocacy and exempts 501(c)4s, who we know engage in these types of activities," Boland said.
For lawsuits over medical malpractice resulting in someone's death, the bill would deduct "consumption" from damages awarded for lost future earnings. That means that the estimated amount of money that person spent on rent, food and other basic necessities would not be included in the money paid out to the plaintiffs.
It would also make gun manufacturers immune to lawsuits other than those related to defects. The measure would also prohibit people injured while committing a felony from filing personal injury lawsuits for those injuries.
But the majority of Wednesday's debates on the bill centered on its punitive measures for nonprofits.
Hertz ended the debate by saying generations of his family had worked at a sawmill in Pablo that is now shut down.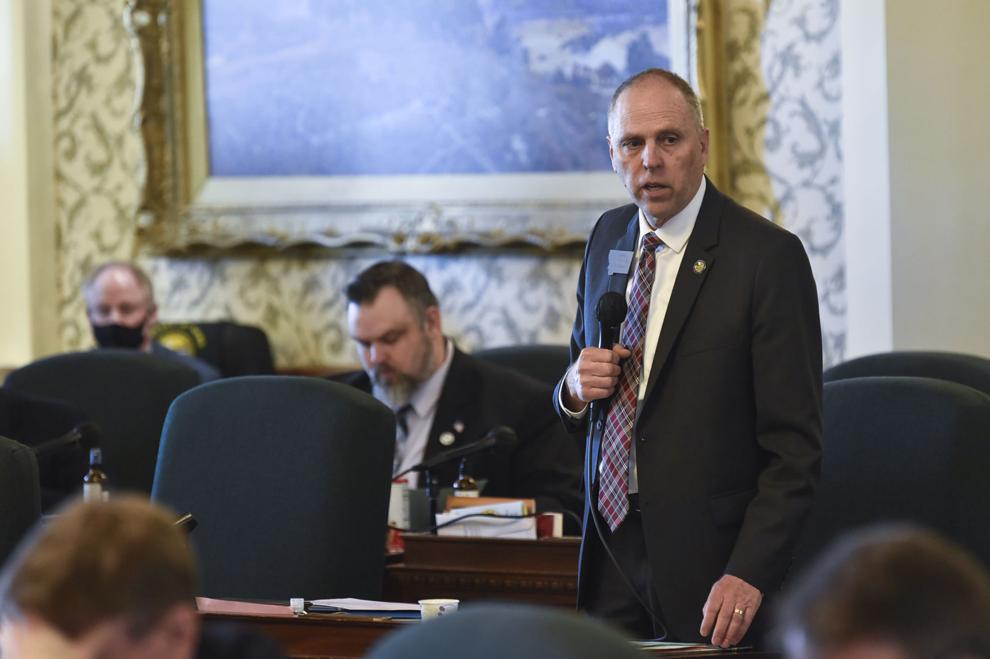 "I'm tired of this. It's time to draw a line in the sawdust, in the coal dust, in the dust in our fields, in the mine dust," Hertz said. "This is putting these nonprofits on notice that we're tired, we're pushing back. We're tired of destroying our economy."
SB 278 passed on mostly party-line votes in both chambers Wednesday, as legislative leaders used procedural maneuvers to quickly churn through bills in the waning days of the session. It will now head to Republican Gov. Greg Gianforte for his approval or veto.
On an amendment from Rep. Bill Mercer, R-Billings, lawmakers Tuesday stripped a provision from House Bill 693, a companion bill to the state's budget, that would have given the attorney general a broad mandate to investigate the composition of nonprofit groups, including how they're funded, how they engage on legislation and other political matters and how groups are involved in permitting or licensing efforts. The amendment was put on by Colstrip Republican Sen. Duane Ankney earlier in the in the week.
Mercer, who carried the bill, made his objection more on how the amendment was added late than the content of proposal.
"This particular provision is something that wasn't discussed and wasn't something where we — not only did we not hear public comment — but I know we never entertained the idea" when the bill went through debate in hearings with public comment, Mercer said.
"The reality is that it just didn't have any opportunity to hear from people who would be affected by it, members of the public, and I just think we need to strike it for process reasons without even getting into a discussion about substance."