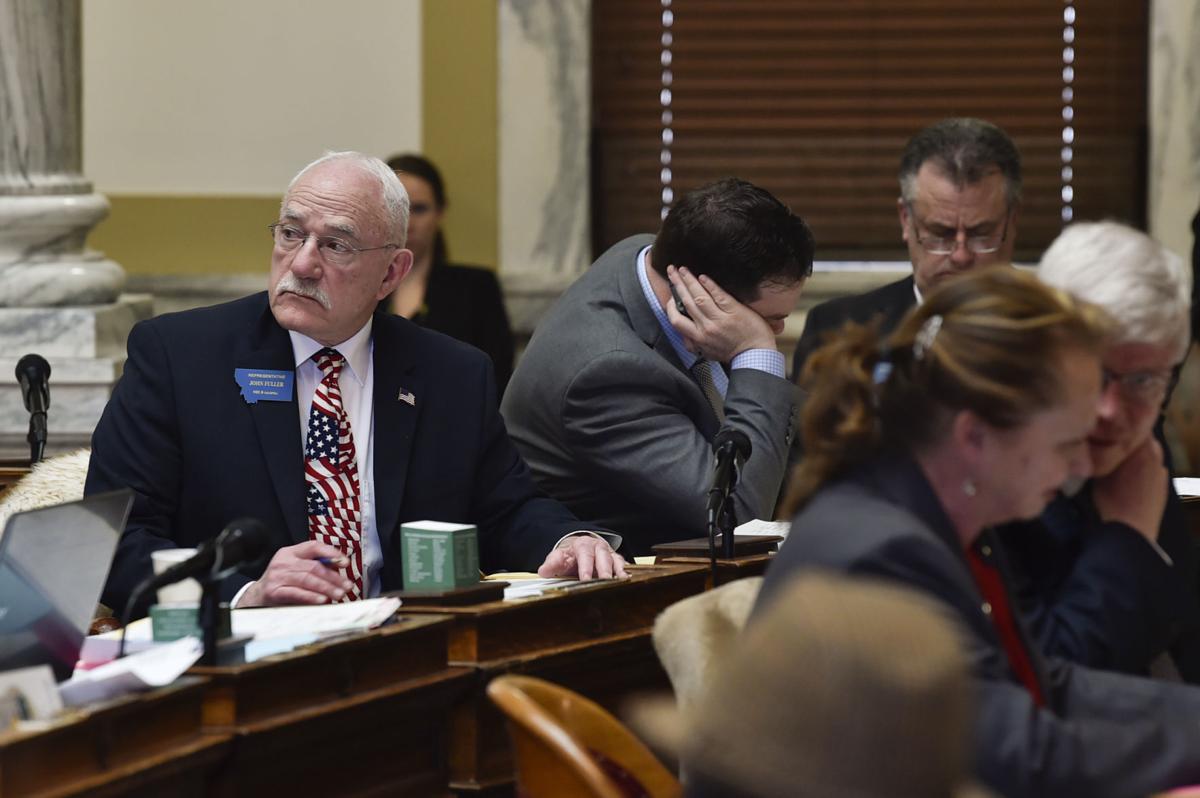 Montana lawmakers next week will consider a pair of bills that would require high school athletes to participate in sports aligned with their gender assigned at birth and fine health care providers for performing gender reassignment surgery on a minor.
Rep. John Fuller, R-Whitefish, is the sponsor of both House Bill 112 and House Bill 113. HB 112, called the "Save Women's Sports Act," seeks to require public school athletic teams to be designated based on "biological sex" while HB 113, called the "Youth Health Protection Act," would prohibit health care providers from medically affirming transgender minors' gender.
HB 113 states that providing antiandrogen, estrogen and testosterone to affirm gender identity in minors would be illegal, as would gender-affirming surgeries. The civil penalty proposed in HB 113 for a violation of the proposed law would be anywhere from $500 to $50,000.
Fuller on Wednesday said he brought HB 112 because he believed allowing transgender girls to compete in girls sports would create unequal competition. 
"Its an important matter because women's sports are vital," he said. "I want to protect and defend women's sports, I believe this continued practice of allowing males to compete as females ... is egregious and wrong"
There is no evidence transgender women or transgender men have a competitive advantage over non-transgender men or women in any sports. In fact, in a document by the NCAA called "NCAA Inclusion of Transgender Student-Athletes," the college sports governing body goes as far to say:
"A male-to-female transgender woman may be small and slight, even if she is not on hormone blockers or taking estrogen. It is important not to overgeneralize. The assumption that all male-bodied people are taller, stronger, and more highly skilled in a sport than all female-bodied people is not accurate," the NCAA says in the document.
"It is also important to know that any strength and endurance advantages a transgender woman arguably may have as a result of her prior testosterone levels dissipate after about one year of estrogen or testosterone-suppression therapy."
A legislative legal review found HB 112 could also conflict with the Montana Constitution, noting that the the state university's Board of Regents has a high degree of independence to set rules for subjects regarding college and high school-level athletics. 
Mark Beckman, executive director for the Montana High School Association, said his organization will be monitoring HB 112 through the session.
HB 113
For the proposal to fine health care providers who affirm transgender minors' gender, Fuller said he wants to protect children from undergoing procedures that he said can lead to irrevocable health hazards.
"We don't let children do all kinds of things," Fuller said. "Why should we allow this to happen? The state has a vested interest to protect children from such barbaric behavior."
Both bills were initially scheduled for a hearing Wednesday morning before the House Judiciary Committee, but were rescheduled for Monday morning at 8 a.m. House Minority Leader Kim Abbott said Tuesday the rescheduling was meant to accommodate public testimony.
"We had a lot of concern about the timing and people having the footing in terms of how these hearings go in terms of participation and the hybrid (model)," Abbott said.
"We went to GOP leadership and asked if they would consider delaying those bills until we had a better feeling of how things were going. We were involved in that request to delay the bills and we're happy they got delayed."
Some state lawmakers, including Rep. Danny Tenenbaum, D-Missoula, strongly oppose the bill.
"It's dehumanizing to force people to come to the legislature and to contact elected officials like myself and like my colleagues here, just to beg for their human rights and to beg to be treated as equals," Tenenbaum said. "I find it really offensive that we do this every two years, present these anti-trans bills, and really force people to fight for their humanity."
Tenenbaum also noted he had received many letters and messages from student-athletes around the state who were strongly opposed to both pieces of legislation.
At least one group, the ACLU of Montana, is set to oppose the bills next week. 
"Make no mistake: these bills target and attack trans youth and will cause them serious and lasting harm," said Caitlin Borgmann, executive director of ACLU of Montana. "We cannot let fear mongering and lies about what it means to be transgender result in laws that would stigmatize trans youth, harm families and communities, and drive businesses away from Montana. Trans youth deserve respect and dignity for everything they are. These anti-trans bills are not welcome in Montana."
Those who wish to testify at a committee meeting must register by noon the day before the hearing in order to do so. Registration can be found at www.leg.mt.gov/public-testimony.
Jordan Hansen covers a bunch of stuff for the Missoulian and 406 Sports. Shout at him on Twitter @jordyhansen or shoot him an email at Jordan.Hansen@406mtsports.com