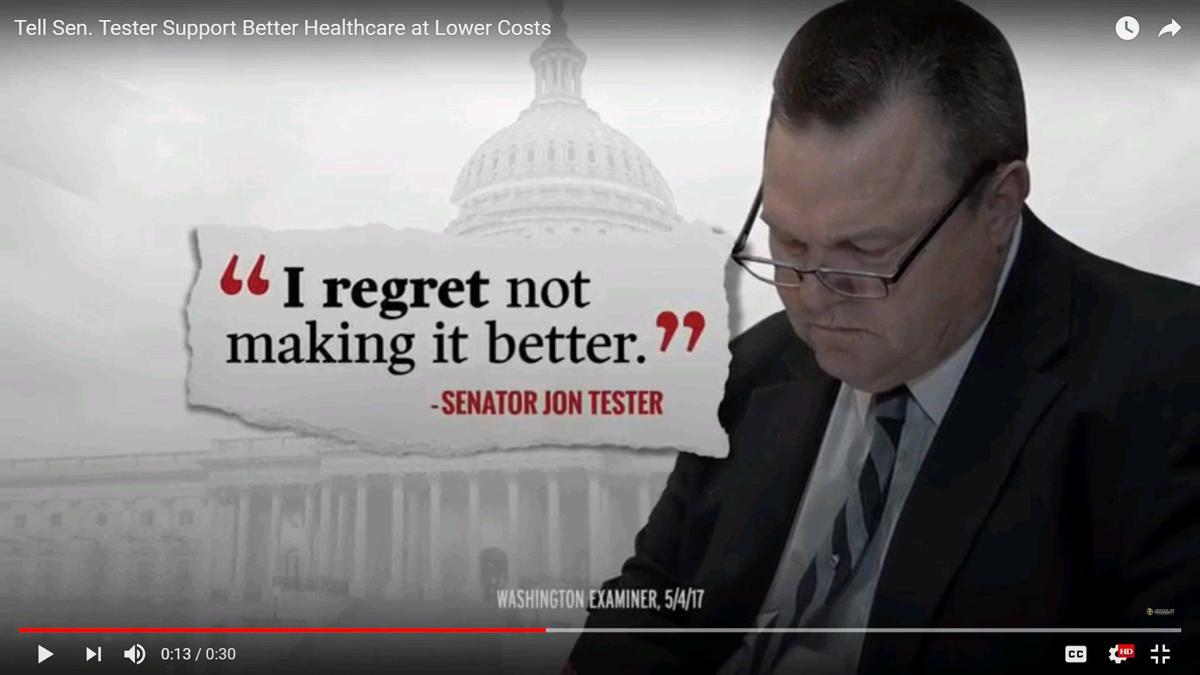 The conservative group Americans for Prosperity Montana is running $560,000 worth of television and digital ads critical of incumbent Democrat U.S. Sen. Jon Tester, who is seeking his third term this fall.
The ads attack Tester over his votes on the Affordable Care Act, also known as Obamacare, and call for him to vote for a bill carried by Wyoming Sen. John Barrasso, a Republican.
The bill is called the Improving Choices in Health Care Coverage Act. It would allow the duration of short-term health insurance plans to be extended to just shy of a year and be able to be renewed. The Affordable Care Act, a hallmark piece of legislation championed by former President Barack Obama, a Democrat, capped those plans at three months in an effort to move people to more long-term plans purchased on federal marketplaces.
Americans For Prosperity-Montana, a conservative group funded by the Koch brothers, has long opposed the Affordable Care Act, blaming it for increasing health insurance costs.
You have free articles remaining.
"Again and again Tester promised us relief from rising health care costs," said AFP-Montana state director David Herbst, "Instead, we've had years of empty rhetoric and health care costs that continue to rise."
The ads start on television Thursday and will run through the coming weeks.
Tester voted for the initial passage of the Affordable Care Act but hasn't been shy about criticizing it in recent years. While he's called for fixes, he also voted against Republican efforts to repeal the law last year, saying it would badly hurt rural Montana hospitals and cause Montanans to lose their insurance coverage.
Tester's communications director responded to the ad Thursday, saying it's a false portrayal of Tester.
"Once again, the Koch Brothers are swooping into Montana trying to make Jon into something he's not," said Chris Meagher. 
Tester has put support behind the Alexander-Murray bill, a bipartisan effort to preserve insurance subsidies and give states more flexibility in complying with the ACA.
Tester is running for re-election this fall in what's expected to be a hard-fought race that draws a significant amount of money and advertising to the state. There are four Republicans running in their party's primary hoping to unseat him: Big Sky businessman Troy Downing, former Billings judge Russ Fagg, state legislator and Kalispell doctor Al Olszewski and state Auditor Matt Rosendale.