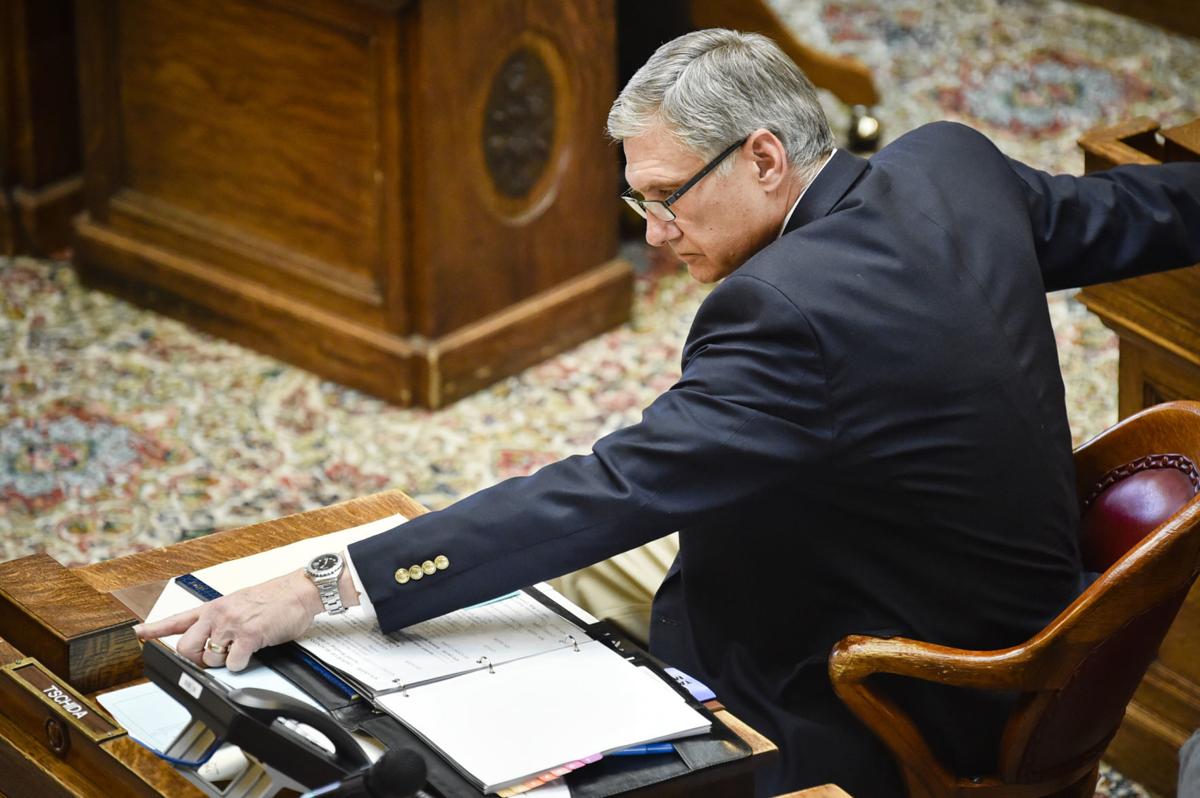 An amended state House bill introduced to bring Montana labor law up to date with a recent Supreme Court decision inched closer Monday to the desk of Gov. Steve Bullock.
House Majority Leader Brad Tschida, R-Missoula, originally carried House Bill 323, which he told a House committee last month would bring state law in line with the U.S. Supreme Court's decision in Janus v. American Federation of State, County, and Municipal Employees, Council 31.
On June 27, 2018, the court ruled that fees assessed by unions to nonunion public employees violated the First Amendment.
The bill as voted on Monday includes from its original draft the striking of language in state law allowing compulsory union fees for non-union public employees and the repeal of requirements public employees must meet to opt out of a union on religious grounds.
The House Business and Labor Committee voted Feb. 8 to amend HB 323 to the slimmer version that ultimately passed the House.
President Eric Feaver of the Montana Federation of Public Employees reminded the Senate Business, Labor and Economic Affairs Committee last week that the Janus decision already applies to Montana labor law regardless of action on HB 323.
You have free articles remaining.
Feaver, who testified against the original bill last month, said the MFPE stood in favor of the revised HB 323 as it "cleans up" language in state law.
Prior to Monday's vote, Senate Majority Leader Fred Thomas, R-Stevensville, reminded senators that the bill garnered the support of the MFPE, the state's largest union at more than 25,000 members.
"And I get it that there's been a lot of great things that have been done by unions and the push for unionization and better working conditions particularly over the years," Thomas said. "We all know that, we all get that, we all say that. Today, this bill, all it simply does … if you don't want to be a member of the union for religious purposes, then you don't have to be."
Senate Minority Leader Jon Sesso, D-Butte, said Monday he could not vote in the bill's favor as a representative of Butte and unions around Montana and called the Janus decision an "overreach by an activist Supreme Court."
"The last time I checked, I didn't see anybody who wasn't paying dues and wasn't a member of the union giving back the increases that they have been given," Sesso said. "They haven't given back the health benefits that they've been given. They are deriving benefits from … fair, collective bargaining."
Sesso was joined by four Republicans and all fellow Democrats in his vote, but the bill passed on second reading, 25-24.
Lt. Gov. Mike Cooney testified against the bill in person before the House committee and submitted a statement read on his behalf at last week's Senate committee meeting.
"I do want to acknowledge that the amendments to this bill have made it significantly less problematic, and I appreciate that the sponsor believes a clarification of the Montana Code is necessary," the statement read. "Nonetheless, I am here today because this bill is not necessary. ... The Janus decision has already been implemented, and there is no need to amend the code. I urge this committee not to move forward this unnecessary legislation."
The Senate will hear HB 323 for its third reading on Tuesday afternoon.
Get Government & Politics updates in your inbox!
Stay up-to-date on the latest in local and national government and political topics with our newsletter.