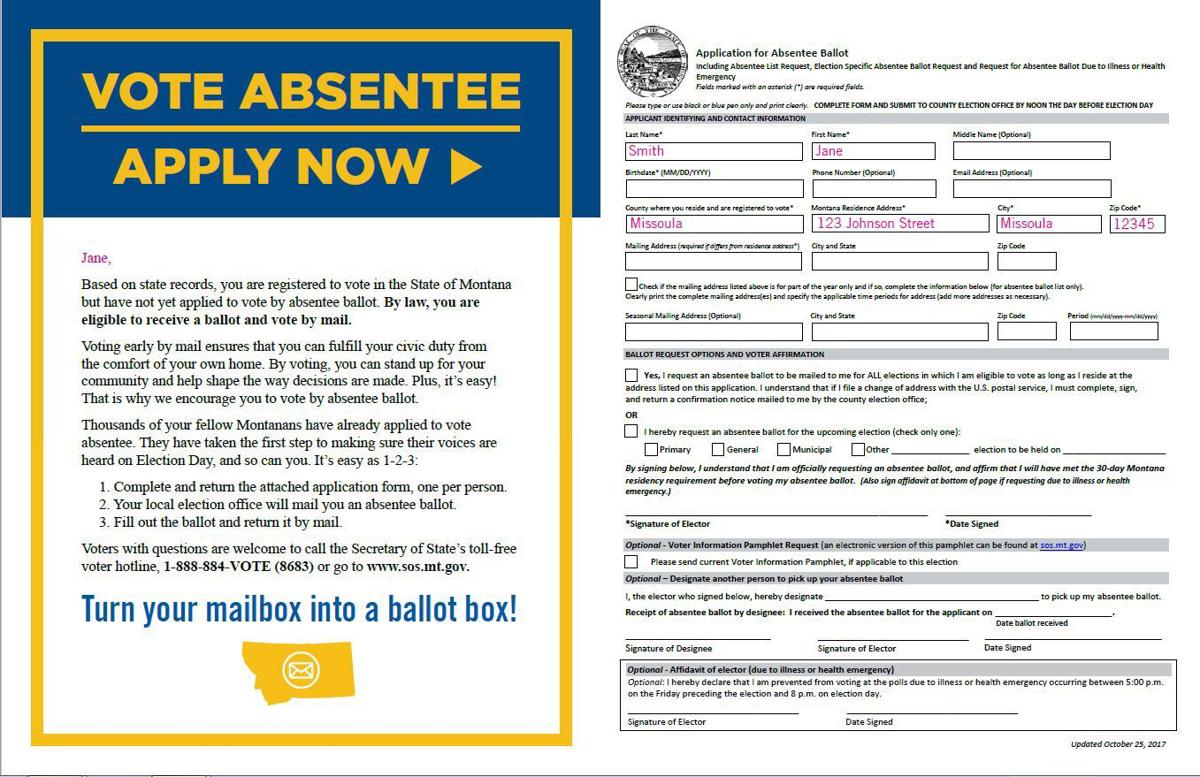 A mailer sent to about 90,000 Montanans at the end of September and start of October containing an absentee ballot application is causing confusion among people already signed up to get a ballot in the mail.
The mailer was sent by New American Jobs Fund, a super political action committee that is a partnership between United Steelworkers and the League of Conservation Voters.
An absentee ballot application is included in the mailer and an accompanying letter to voters reads:
"Based on state records, you are registered to vote in the state of Montana but have not yet applied to vote by absentee ballot."
However, the mailer reached voters who are already signed up to get ballots by mail.
Montana Secretary of State Corey Stapleton said Tuesday county election officers are getting "hammered" with questions about the mailer. And Stapleton's office already has more than 200 calls from voters with questions.
Earlier this month, Butte-Silver Bow Clerk and Recorder Sally Hollis told the Montana Standard her office was inundated with calls about the mailers.
The partnership between the League of Conservation Voters and United Steelworkers is targeting four key U.S. Senate races, including Montana, where Democratic Sen. Jon Tester is seeking re-election against Republican state Auditor Matt Rosendale.
While the committee supports Tester, the senator and his campaign do not coordinate with the committee and cannot by law. Tester's campaign was not involved in sending the mailer.
The other races New American Jobs Fund is targeting are in Arizona, Nevada and Ohio. The effort is backed by $3.1 million from the two groups supporting the committee.
According to its website, the super PAC is "focused on large-scale voter persuasion and mobilization in critical federal races across the country." Super PACs are allowed to raise unlimited sums of money from unions, corporations or individuals.
In addition to the statewide mailer, the group has also funded vote-by-mail signups and canvasses in Missoula and Bozeman.
"Voting by mail is the easiest way to vote for many Montanans, and we're trying to get the word out so as many people as possible participate in the election in November," said Alyssa Roberts, national press secretary for the League of Conservation Voters.
Montana voters received the mailers in two waves, one Sept. 27 and the other Oct. 4. The mailers cost $141,068 to produce and send. The committee got its information from the Secretary of State's public voter file, which is available for purchase.
Voters who used an absentee ballot in the June primary should still be registered for an absentee ballot for the Nov. 6 election.
In Montana, any voter may request an absentee ballot to vote by mail. Each January, voters that request permanent absentee status are sent a form to confirm their mailing address and must return it to remain on the absentee list.
For this election, absentee ballots must be mailed to voters by Friday. Ballots must be mailed in time to arrive at county election offices by Election Day, Nov. 6. Absentee ballots can also be dropped off at county elections offices until polls close on Election Day.
Applications for absentee ballots can be submitted at county election offices up until noon the day before the election, where people can be issued an absentee ballot to vote.
Late voter registration starts Oct. 10.