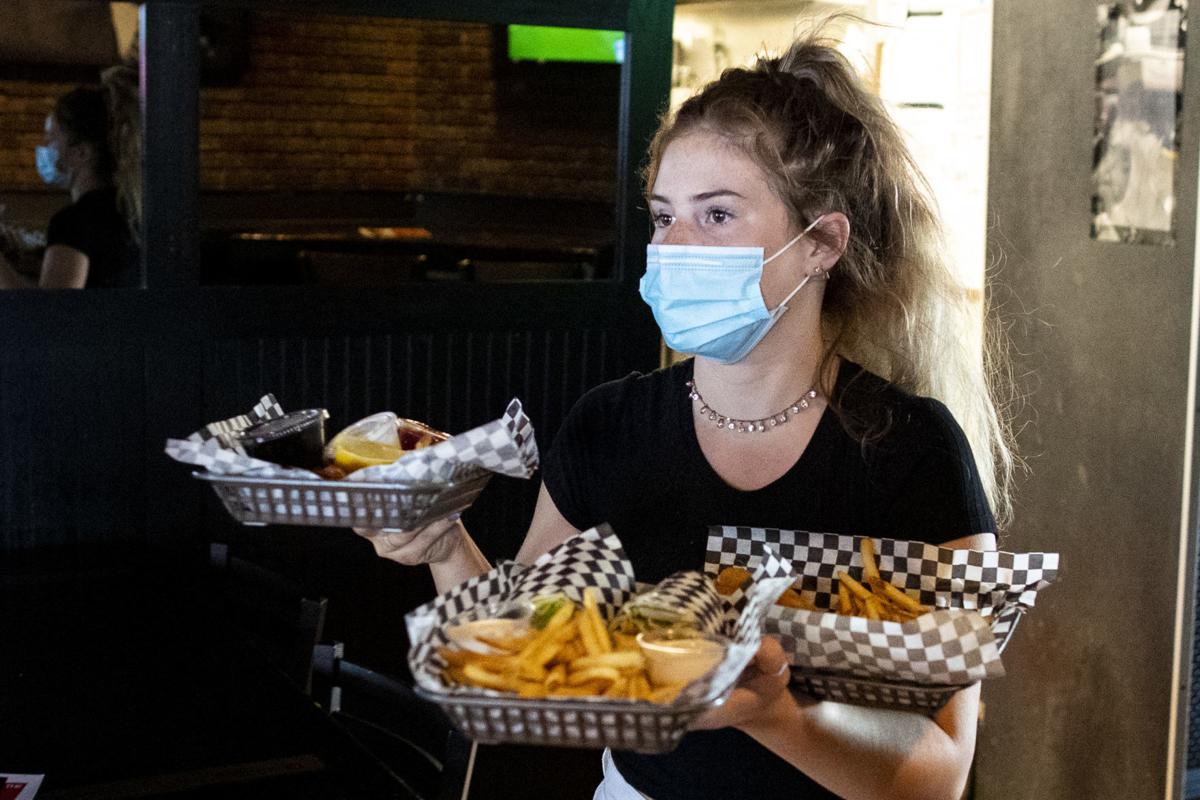 Gov. Steve Bullock didn't issue an order requiring Montanans to wear masks in public Thursday, but he reiterated their importance as confirmed COVID-19 cases rise in the state.
Mandating mask wearing is on the table, Bullock said in a press conference Thursday, but didn't go that route. Instead, he encouraged employees and residents to wear masks as cases rise.
"We'll continue to look at how Montanans are responding," Bullock said. "I think the best way actually to make sure that we're all masked up is making sure that folks in all of our communities are saying that this is something that is just acceptable."
On Wednesday, Montana reached 1,000 cases since COVID-19 appeared in the state. This week alone, about 222 cases have been reported, Bullock said.
On Thursday, Montana added 67 new cases of the coronavirus, the highest number recorded in one day in the state.
Yellowstone County added 14 new cases, Missoula County added ten, Gallatin and Richland Counties added six each, Big Horn and Teton added five each, Flathead and Glacier Counties added four each, Carbon, Madison, and Silver Bow Counties added three each, and Cascade, Custer, Lewis and Clark and Park Counties added one new case each.   
There were 389 cases active statewide; 672 recoveries; and 1,083 total cases.  
And while Montana maintains the lowest number of COVID-19 hospitalizations and deaths per capita in the country, Bullock noted a number of cases traced back to large gatherings, bars and work settings.
Twenty-four cases were traced back to six weddings in the state, and 15 cases were linked to bars. Others were linked to travel. Bullock acknowledged that cases will increase in the coming weeks.
Businesses are encouraged to continue mask-wearing protocols and following other sanitation practices not only to protect employees, but also their customers and the economy, said Todd O'Hair, president and CEO of the Montana Chamber of Commerce.
Other states, like Florida, Arizona, Texas and California, have all rolled back business reopening phases as cases grow.
"One thing that is clear is that Montana, having gone through a rough several months economically associated with COVID, we cannot afford to go back and experience any sort of a rollback in any way, shape or form in Montana," O'Hair said during the press conference.
The Montana Chamber of Commerce has partnered with different business associations, like the Montana Restaurant Association, the Montana Tavern Association, the Montana Lodging and Hospitality Association and others, to call on members to increase the usage of face masks. 
The chamber has posted resources on its website on hygiene and sanitization protocols and have hosted a number of webinars for businesses, especially in the first phase of reopening in the state. More information and assistance will be available as cases grow, O'Hair said.
Healthy economies are based on a healthy population, he said.
"Government grants, low-interest loans, business bail-out dollars cannot compare to healthy economic activity," O'Hair said. "Businesses will not be able to survive in Montana without healthy economic activity in the state."
One business that has made changes to prevent COVID-19 spread is The Vig Alehouse & Casino in Billings' Heights. The bar's employees practice intense sanitation protocols and are required to wear masks, according to general manager Aric Weber.
"There's an agreement you have when you open your doors to guests who come in," Weber said. "They decide to come to you for hospitality, food and whatever else. The unsaid agreement is that it's going to be a clean, safe environment where you can enjoy yourself and be comfortable. Otherwise, why aren't you just staying home?"
The Vig kept its operations closed amid the business shutdown in March and April, taking the time to deep-clean the building and catch up on maintenance repairs.
They carried out a few take-out orders prior to opening May 4. The restaurant follows RiverStone Health's guidelines, like limiting parties of 10 to a table and distancing tables at least six feet.
One employee is tasked with sanitizing surfaces, door handles, menus and condiment bottles throughout an entire shift. Employees get their temperatures checked before each shift as well, Weber said.
People often call in advance to see if servers and staff wear masks and practice guidelines, Weber said. Having masked workers has helped business continue.
"We've been pretty blessed that so many folks love it here," Weber said.