---
Clustered around Steve Bullock Tuesday morning were a bunch of familiar faces — the Montana journalists who are used to covering him as the governor of the state.
"It's just like a Thursday afternoon during the session," he joked.
Steve Bullock, the only Democratic governor to be re-elected in a state Donald Trump carried in 2016, is running for president.
He still looked the same — jeans and rough-out boots, blue blazer over an open-collared shirt — and he still cracked the same dad-joke-quality ripostes. But his gaze was clearly on a prize beyond the borders of the Treasure State.
The questions came quickly, and for Bullock, they must have had a familiar ring, mirroring all the thoughts he has had to be having over the past few months: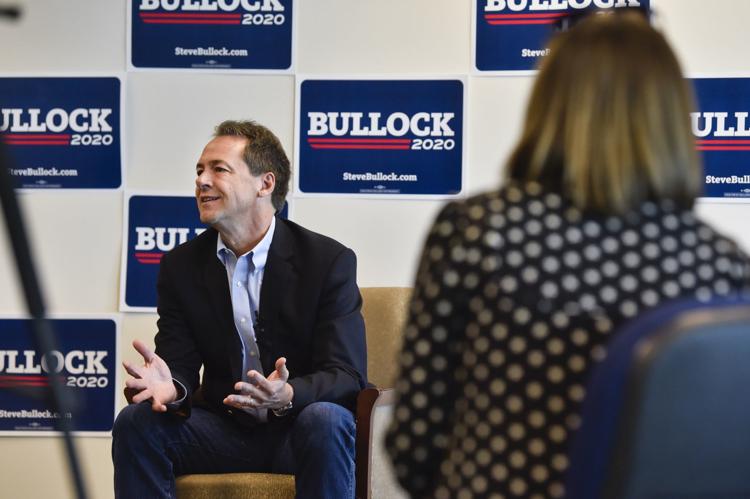 — "Why are you doing this?" (Answer: "It's not a vanity project. If I didn't think I had something to contribute to the national conversation I wouldn't be here.")
— "Many people are posting comments they want you to run for the Senate. What are you telling people who say that?" (Answer: I have great respect for the Senate and for a lot of Senators. That guy Jon Tester is pretty good at it – he's gotten a dozen bills passed for veterans. But my whole career I've been on the executive side. I think I have a lot to offer in this race.")
You have free articles remaining.
— "Who are you going to leave the job of running Montana to while you're in Iowa?" (Answer: "Myself. There's never been a day when I haven't been engaged with this job. Last summer I spent a few days on the South Fork of the Flathead, in the Bob Marshall. Every day I was on the (satellite) phone and email. This just isn't a job where you can clock out, and I'm not going to.")
— "What's your strategy for making the cut to get in the debates?" (Answer: "I will do my best, and I believe my message will be heard, thanks to folks like you. I'm already at a qualifying level in some polling. It's a disadvantage running as a governor and not a Senator. Senators can transfer federal campaign money and they can transfer their donors. When we flipped the switch this morning we started at zero. But it would be a shame if that group didn't include the only Democrat to win in a Trump state. It would be a shame if it didn't include the only candidate who's worked to bridge divides in state government.")
— "What's your strategy for dealing with Joe Biden, who has a commanding lead in the polls?" (Answer: "I have a lot of respect for the Vice President. His son Beau and I were fellow attorneys general. But we just bring different things to the race.")
— "Can we expect a full-throated endorsement of the Green New Deal?" (Answer: "You can expect a full-throated endorsement of 'I'm glad we're having the conversation.' Whether that 4-page memo has all the answers, I don't know. We can do a lot just with energy efficiency. We can reduce emissions 30%.")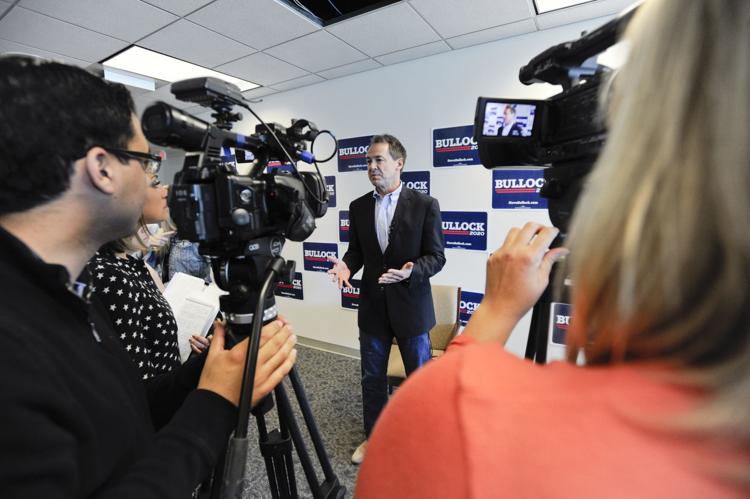 After a while it seemed like it wasn't necessarily the answers that were the point — it was that this performance, in front of a sharply questioning but at least familiar state press contingent, was a dress rehearsal for the grilling Bullock will get from the national media — starting now. Later Tuesday afternoon he would be in front of some of those national camera lenses at an event at Helena High School. And beyond, for the next eight months until the Iowa caucuses, many of these answers will be given, time and again, and be morphed into a stump speech that Bullock will doubtless tire of giving.
The question is how the answers will resonate — and early signs were modestly encouraging. His announcement video was getting good reviews on Twitter early Tuesday. But, as Bullock said Tuesday morning, this race is a marathon, not a sprint.
And hey — a longshot just won the Kentucky Derby in a 20-horse field. Bullock, on Tuesday, had to be happy just not stumbling out of the starting gate.