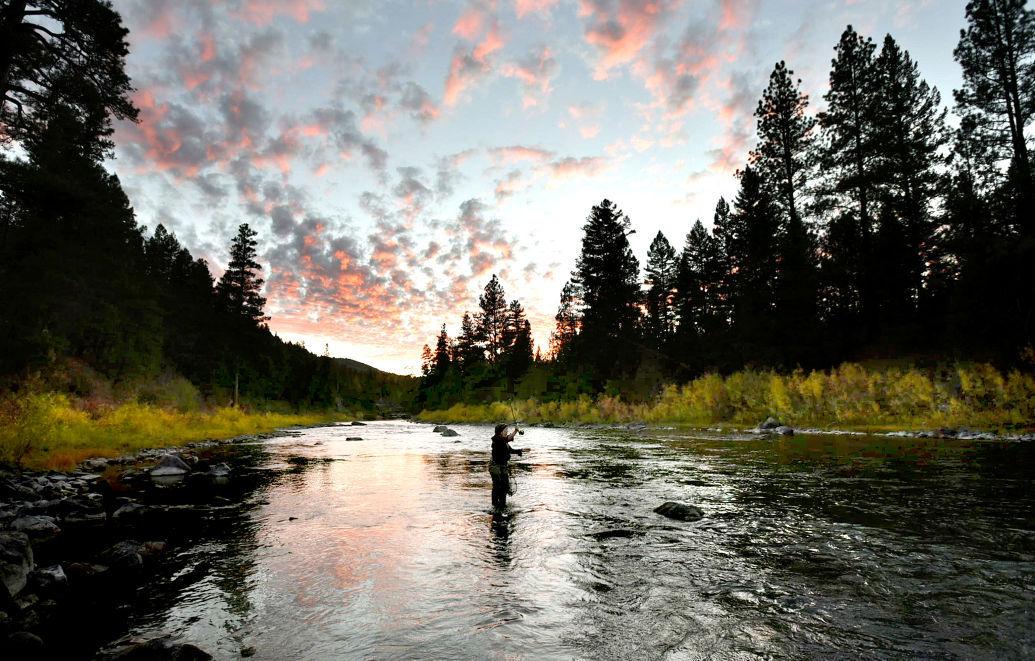 Outdoor recreation in Montana generates $1.5 billion in wages and salaries, $5.8 billion in consumer spending, $403 million in state and local tax revenue, and supports 64,000 jobs, according to surveys conducted by the Outdoor Industry Association.
Commercial and private fishing, in particular, are vital to Montana's economy, and the effects of climate change on the state's ecology and wildlife will have a big impact on that industry.
Tourists come here because of the famed Yellowstone cutthroat trout, for example, a prized game fish that is highly susceptible to warming waters and the invasive species that follow.
If fishing opportunities dry up in Montana, so will tourists' dollars and the jobs they support.
A disturbing pattern pointing to just such a possibility has emerged, as this past year saw Montana gripped by record high temperatures, a record number of days without rain, record low precipitation, record low streamflows and expanding drought conditions. It's a recipe for disaster, and all the ingredients are on the table.
On Tuesday, the National Wildlife Federation held a conference call to discuss its new report, "Wildlife in Hot Water: America's Waterways and Climate Change."
The report outlines the many ways that climate change is affecting wetlands, rivers and lakes and the fish and wildlife that inhabit them. The report was released just weeks after the U.S. Environmental Protection Agency unveiled its Clean Power Plan, an effort to reduce carbon pollution from the nation's power plants.
According to Dave Dittloff, a Missoula-based regional representative of the Wildlife Federation, hunters, anglers and wildlife enthusiasts across Montana and the U.S. are seeing the impacts of climate change and many are advocating for changes in energy policy.
"Climate change is rapidly altering the Earth's water cycles in significant ways, and in turn impacting the fish and wildlife that depend on them," he said.
On the front lines
Dan Vermillion, the owner of a fly-fishing business in Livingston and chairman of the Montana Fish, Wildlife and Parks Commission, said fishing guides are on the front lines of how climate change is affecting Montana's outdoor recreation industry.
"We have had major river closures in southwestern Montana pretty much one out of every two years, sometimes two out of every three years," he said. "This year, for the first time, rivers were closed down the second week of July. The 'hoot owl' restrictions close rivers at 2 p.m. to give fish a break during the hotter times of year. So we are talking about the Bitterroot, the Blackfoot, the Big Hole, the Beaverhead, pretty much all of southwestern Montana. As an outfitter and a person who is deeply dependent on the flow of tourists to Montana, years like this are getting pretty difficult."
Outfitters and anglers are forced to crowd onto the few rivers that aren't closed and consolidate their trips in the early summer months, meaning that fisheries are feeling the impacts of heavy human pressure.
As the waters warm, nonnative species are able to move higher up rivers and streams into the last bastions where highly susceptible cold-water species have been able to survive and stay genetically pure.
"This one spooks me the most," Vermillion said. "We caught several smallmouth bass on the Yellowstone this year. You have a warm-water species that was historically not much higher than Columbus and now it's in Livingston. This is directly attributed to warming water. One of the things they talk about with climate change is warm-water fish moving up into trout water. That is directly attributed to warmer waters, which is clearly linked to climate change."
Other nonnatives such as rainbow and brown trout are moving into higher elevations and breeding with Yellowstone cutthroat trout.
"You can catch rainbows and browns in Missouri and smallmouth bass in Wisconsin, but the only place in the world you can catch Yellowstone cutthroat is in the Yellowstone drainage," Vermillion explained. "They are losing their genetic purity, and the population is threatened by predation."
State fish and wildlife experts are now having to build barriers to protect genetically pure strains of cutthroat in certain drainages.
"It's unfortunate that we are having to do this stuff," he said. "But I think this is the future. It's going to have a big impact on long-term economics if you have a situation where it imperils the cutthroat. If they have to be protected by the Endangered Species Act in the future, the economic implications of that would be pretty serious. As an outfitter I'm very concerned about climate change and concerned about its impacts on fisheries and the impact on business."
Missoula recorded a record high temperature of 102 degrees on June 28 of this year, a date when the historical average is only 80 degrees. Vermillion said tourists don't want to come all the way to Montana to fish in blistering heat.
"If you have people come out here to fish and it's 102 degrees, they are less likely to come back," he said. "Our fisheries are resilient and well-managed, but there's only so much bend and flexibility of species to adapt. And as the trend continues, it becomes much more difficult to do so."
'Water tower' drying up
Clint Muhlfield, a research ecologist and a fisheries biologist for the U.S. Geological Survey, said the Crown of the Continent region is America's "water tower" and it is drying up.
"This area had 150 glaciers in 1850, and now 25 remain," he said. "They are all predicted to be gone by 2030. North America's water tower is drying up. Permanent snow and ice is disappearing. The flow regime is changing.
"We are having an earlier spring runoff, 2-3 weeks earlier than average, and a reduction of spring runoff in terms of peak flows, leading to reductions in rivers. This year was a great example of drought-like conditions we will be experiencing more frequently and intensely. This year we saw some of the lowest flows on record."
Carter Johnson, a distinguished professor of ecology at South Dakota State University, said the 100-million-square-kilometer prairie pothole region that includes portions of Montana, the eastern Dakotas and south-central Canada is experiencing less rainfall and warmer air temperatures.
"It's nicknamed the 'duck factory' because it produces about 60 percent of the ducks in North America," he explained. "The most vulnerable parts are in eastern Montana. People call this region a knife edge, because at times it's a boon for waterfowl production, maybe one year out of 10, but the rest of the time it's too dry for waterfowl production. The climatologists' view of the future is that we're looking at a rather dire situation for waterfowl and other wetland-adapted species that occur in our region."
Clean Power Plan
Vermillion said many outfitters and guides are engaged with the climate-change issue, but he would love to see them become more vocal and active about pressing for an energy policy that reduces greenhouse gases.
"As warm summers mount up and come back-to-back and we are all scrambling for cool water in August every year, there's more of a realization that things are changing and it's not healthy for our environment," he said.
Vermillion said he interacts with many conservative friends, family members and clients who are resistant to what is causing climate change.
"They all recognize that something is occurring, and they all recognize that the climate is very different from where they were 15 years ago," he said. "Where the agreement tends to break down is A, who is responsible; and B, if there is anything we can do about it."
Vermillion said tourists spend at least $343 million in the state on fishing every year, and the industry is growing at a nice clip. He would like to see that continue. He hopes people don't wait to take action until it affects other industries in Montana.
"If you look at the state's economy, whether you are concerned about the presence of rainbow trout in Slough Creek or not, if suddenly ranchers are not able to irrigate fields, people are going to pay attention," he said. "My family holds very old water rights, and in the last three years we've had to make closures or calls on water. Drought impacts yields on people's fields, it impacts cattle prices and feed prices, and impacts the agricultural industry, which is heavily water dependent."
Agriculture is Montana's largest industry, and Vermillion said it is just as susceptible to climate change as the outdoor recreation industry.
"Dryland farmers live and die on a couple rainstorms every year, and the margin is really thin," he said. "In a few years' time, it won't just be fishing guides talking about a few smallmouth bass, it will be farmers talking about not having enough alfalfa to feed their cattle in the winter. The reason people come here is we have a great outdoor economy. You can see bighorn sheep and moose here and catch a cutthroat trout. If these trends continue, it will certainly affect that billion-dollar-a-year economy."