Eighteen years feels like a long time by most measures, Helena Mayor Wilmot Collins told a crowd gathered at the Capitol Wednesday to honor the lives lost on Sept. 11, 2001. But today, 18 years feels like last week.
Collins was joined by Gov. Steve Bullock, Lt. Gov. Mike Cooney, Lewis and Clark County Sheriff Leo Dutton and numerous firefighters and law enforcement officers to reflect on those who died, but also what happened in the days, weeks and months after as the country rallied.
"Although it is a tall order to put into words why we must seek a light on a day that is deemed dark by all of us who share the sorrow of witnessing such an unnecessary tragedy, this day now and forever will always bring one word to the front of my mind: together," Collins said.
Speakers praised the actions of first responders who rushed to the scenes of the attacks and those who continue to serve every day. Bullock highlighted several important measures from funding illness compensation for 9/11 responders to a Montana bill passed this year providing presumptive illness workers' compensation to firefighters.
"I ask that this not only be a day of mourning, but a day and a reminder of the promises we made to these heroes and the recommitment that we make good on these promises," Bullock said.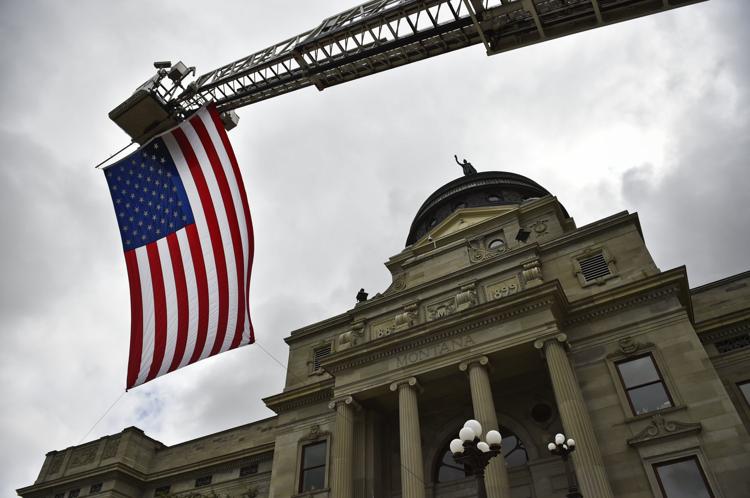 You have free articles remaining.
Most people remember where they were on Sept. 11, 2001, Cooney said, seeing the images on TV and the firefighters, paramedics, police officers and civilians that rushed in. While the anniversary is about remembering those lost, he encouraged responding with acts of service and community.
"We must always carry on the memory of those lives lost and the sacrifices made following this historic event," Cooney said. "I also hope today and in the coming weeks you will seek a way to make a difference in someone's life: a neighbor in need, a fellow Montanan struggling to get by, or simply giving thanks to a first responder."
Dutton asked what would those who died 18 years ago say today, and concluded that they would want to know: "Have we made things better?"
"They would want to know, in your life, what are you doing to make things better for your nation, your state, yourself and your families. And they would say love your families with all your hearts, and each day when you go off don't forget to say I love you because it may be the last time you get to do that," he said.
The speeches done, the silence of the Capitol rotunda was split by the ringing of the ceremonial bell – three sets of five rings – a tradition during funerals for fallen firefighters.