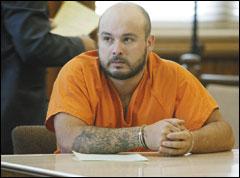 BOULDER — John Russell Howald, 30, of Butte, who is charged with killing and beheading a dog Sept. 3 near Bernice, entered not guilty pleas to all seven charges against him in his initial court appearance in Boulder, Wednesday.
The grisly nature of the alleged crimes has attracted international attention, resulting in a flurry of about 100 faxes and e-mails to the county attorney's office from around the country and the world.
District Court Judge Loren Tucker noted the "bizarre" and "violent" aspects of the crime, but reduced Howald's bail from $100,000 to $35,000.
Howald bonded out of jail Wednesday afternoon, according to the county attorney.
Howald and three other men were at a campsite near Bernice when two dogs showed up, according to one of Howald's companions quoted in court documents.
When the dogs would not leave the site, Howald allegedly shot at them, wounding a chocolate Lab.
He allegedly pursued the wounded Lab around the side of a trailer and then into the trees and shot at it a number of times, then came back to the campsite and got a chainsaw and severed the dog's head.
Howald then allegedly drove to a campsite occupied by Mike and Brenda Sullivan of Butte and threw the severed head of their dog at them, saying "Here is your f—— dog back," according to the documents.
Shortly after receiving a call from the Sullivans at 9:18 p.m., the Jefferson County Sheriff's office received two other phone calls allegedly regarding Howald and his companions.
A caller reported that a vehicle, matching that of Howald's, was pulling an orange-colored truck that had been involved in a roll- over out of a ditch, according to the affidavit.
While officers were responding to these first two incidents, yet a third call came into the Sheriff's Department.
The caller reported that the occupants of an orange-colored vehicle and a blue-grey Chevy had thrown a beer bottle at the caller's son, according to the documents.
When the caller approached the individuals, who were described in the documents by witnesses as "clearly intoxicated," to discuss the beer bottle incident, "they began to exchange heated words." Howald allegedly fired a shot when the man turned his back to walk away, according to the affidavit.
Howald is charged with felony counts of aggravated animal cruelty, attempted aggravated animal cruelty, tampering with evidence, criminal endangerment and two charges of intimidation. He is also charged with misdemeanor criminal mischief.
Jefferson County District Attorney Mathew Johnson told the court Wednesday that his office had received phone calls from witnesses who "fear for their safety" if Howald is released on bail.
Kellie Doherty, the Jefferson county attorney's office paralegal, testified that Howald has a previous criminal history including misdemeanor assault in both New London, Mo., and in Jefferson County.
She further testified that Howald had previously failed to make court appearances on charges in Missouri.
Howald had just been terminated from his job Wednesday morning at Montana Resources in Butte for nonattendance, she said.
Johnson requested that high bail be continued, saying that Howald, faces "serious prison time," if convicted.
He noted Howald's "demonstrated history of violence" and the violent nature of the current crimes.
In response, Frank J. Joseph, Howald's defense attorney from Butte, said Howald has been called "an exemplary employee" and described him as being "very much family oriented." Joseph said it was his understanding that Howald's job at MRI was being held open, pending the outcome of Wednesday's hearing.
Howald also financially supports his three children who live out of state, Joseph said, and provides insurance for them.
Both Joseph and Jackie Colombe, Howald's aunt, stated that Howald is part of a "close family" that includes his mother in Butte, as well as great-grandmother, grandparents, aunts and uncles, who live in the Butte-Basin area.
Colombe also identified Howald as a member of the Basin Volunteer Fire Department.
Joseph requested bail be reduced to $25,000 so his client could retain his job and fully participate in his defense.
He noted that no humans had been hurt in the alleged incidents and that Howald's family would be responsible for posting bond money.
If Howald failed to appear, he "would be letting his family down," Joseph said.
Tucker, while reducing the bond, said, "It is hard to fathom the bizarre nature of these allegations." Although Howald's previous offenses are misdemeanors, Tucker said he was concerned because "a certain amount of violence was involved." However, a substantial number of family members are concerned about Howald's welfare, he said.
And "while people are concerned about their safety," Tucker said, there was no evidence they would be in danger.
Conditions of Howald's release on bail, include: meeting weekly with his attorneys; living at his Butte residence; avoiding all contact with witnesses; maintaining or securing a full-time job; meeting a daily 8 p.m. curfew; abstaining from drug and alcohol use or being in their presence; relinquishing all dangerous weapons; and submitting to a search of his residence at any time.
Howald, who does not have a valid driver's license, was also prohibited from driving.