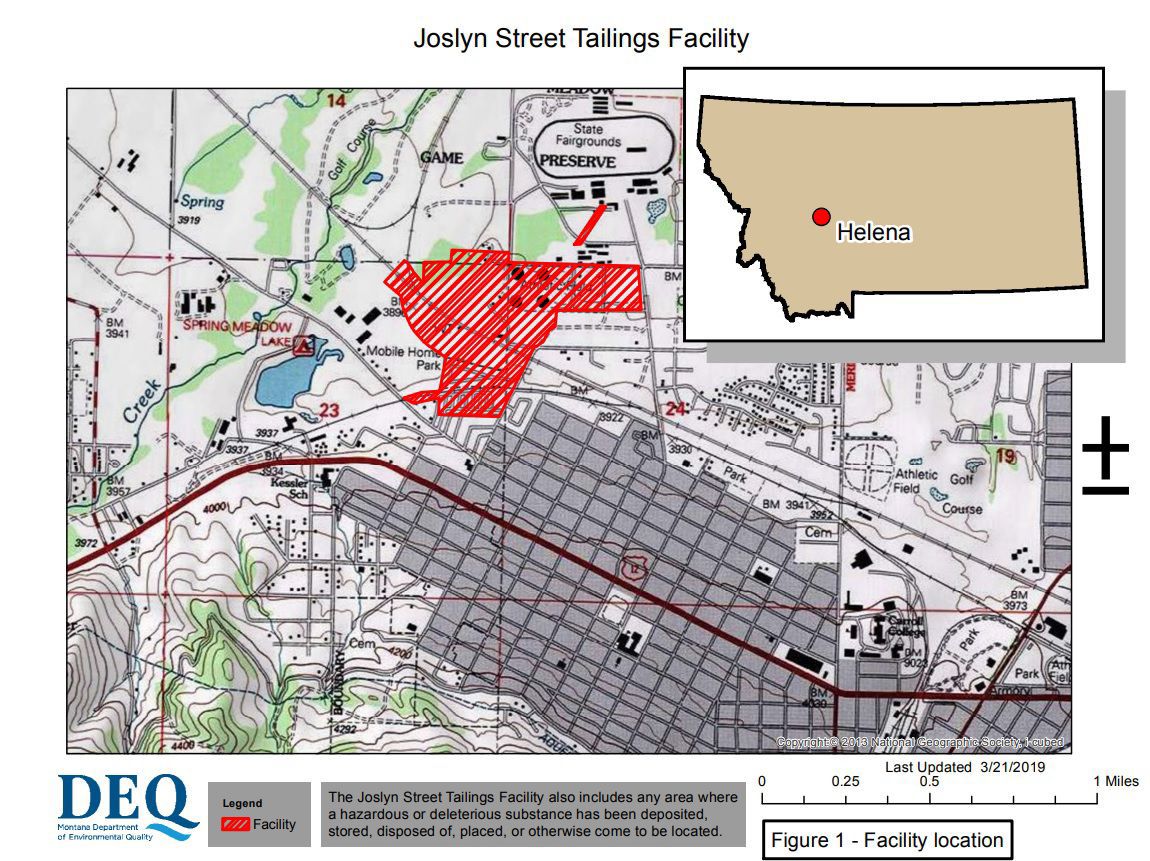 The Montana Department of Environmental Quality is taking public comment on a proposal to remove contaminated soil from historic mining tailings on Helena's west end.
The 131-acre Joslyn Street Tailings Facility is the product of the defunct Montana lead, Inc. that operated a mill on the site from 1935 to 1938 to process ore from the Rimini area. Milling left metal-heavy tailings that have contaminated soil and pockets of groundwater with arsenic and lead.
The company operated before environmental permitting on land leased from Northern Pacific Railway, the predecessor of Burlington Northern Santa Fe Railway, which is liable for the cleanup under Montana's state Superfund law. In 1996, BNSF completed some voluntary cleanup at the facility by removing contaminated tailings and placing them in an on-site repository.
BNSF has also completed several assessments of the property along with cleanup of residential yards, including replacement of yards in an area mobile home park as recently as 2018, according to DEQ.
The voluntary cleanup in the 1990s did not get all the contamination, said Scott Owen with DEQ. That cleanup got the bulk of tailings, he said, but subsequent testing continued to find elevated concentrations of arsenic and lead.
Officials have not found evidence that the site has directly impacted human health, said Denise Martin, who heads DEQ's Superfund division. At about the time of BNSF's voluntary cleanup, a family residing near the tailings was tested for potential exposure and the tests came back normal, she said.
DEQ has several cleanup alternatives currently out for public comment. The agency's preferred cleanup calls for removal of remaining contamination to be disposed of off-site. With pollution removed, pockets of contaminated groundwater would naturally improve to acceptable levels over time, Owen said, adding that DEQ would continue testing and monitoring the site.
Along with cleanup, the property could face deed restrictions on its future use to include commercial and industrial uses.
Total cost for the project is $2.75 million. Expected funding would come from both BNSF and a state account called Orphan share. The account was specifically designated and funded by taxes on mining to pay for environmental cleanup in cases where the company that polluted no longer exists.
Martin says BNSF will be eligible to apply for reimbursement for a portion of cleanup costs but exact amounts remain to be seen.
Following public comment, DEQ expects to render a decision this fall. Cleanup would begin next summer under the proposal.
Reporter Tom Kuglin can be reached at 447-4076 @IR_TomKuglin