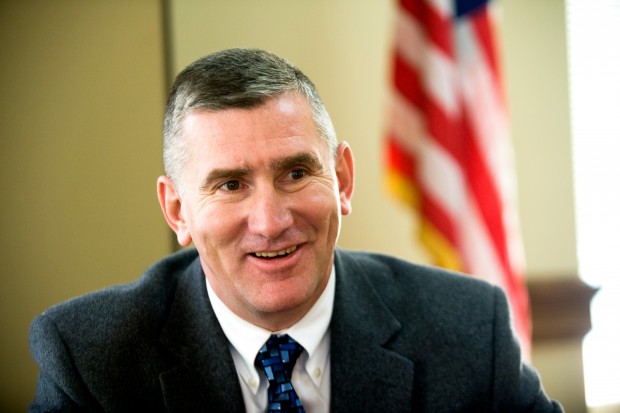 Lt. Gov. John Walsh launched his campaign Thursday for the U.S. Senate seat being vacated by Democrat Max Baucus, becoming the first high-profile Democrat to enter the Montana race.
Walsh, 52, a former adjutant general for the Montana National Guard, made his announcement early Thursday morning through a YouTube video and press release, saying he would bring to the office a "sense of duty to stand up for what's right."
In an interview later Thursday, Walsh said that Washington, D.C., is "broken" and that he hoped to bring leadership to Congress that could work to avoid breakdowns like the current impasse over the federal budget and health-care law.
Walsh said Republicans shouldn't be holding the country "hostage" over either the health care law or federal debt ceiling.
"I think health care reform is needed in our country and there should be time to debate that, but not by holding the country hostage or shutting down the government," he said.
Walsh joins political unknown Dirk Adams, a rancher from Wilsall, as the only Democrats so far in the race to succeed Baucus, who is retiring next year after 36 years in the Senate.
Former Montana Lt. Gov. John Bohlinger has also said he's considering entering the race as a Democrat.
The only declared Republican candidates are David Leaser, an air-traffic manager from Kalispell, and state Rep. Champ Edmunds of Missoula, but Edmunds has said he expects to drop out and run for the U.S. House when U.S. Rep. Steve Daines, R-Mont., becomes the Republican standard-bearer in the Senate race.
Daines, a freshman congressman, is not an official candidate, but Republican Party sources say they fully expect Daines to run for Baucus' seat.
Montana's open U.S. Senate seat should be one of the most-watched Senate battles in the nation in 2014, as Republicans attempt to take control of the body next year. Democrats currently hold a 54-46 majority.
Baucus, who had raised $5 million for his re-election effort, stunned the state in April when he announced he would not run for re-election. The veteran Democrat and senior member of Montana's congressional delegation has been in Congress since 1979 and chairs the powerful Senate Finance Committee.
While Walsh will be considered the Democratic front-runner, he's relatively new to politics. His first run for political office was last year, when he was the running mate to Democratic gubernatorial candidate Steve Bullock.
Bullock won a narrow victory in 2012, defeating Republican Rick Hill by about 7,500 votes. Bullock had 49 percent of the vote and Hill had 47 percent.
Walsh, originally from Butte, was in the Montana National Guard for 33 years before running for lieutenant governor and commanded a 700-member Guard contingent during the Iraq war.
He has a bachelor's degree from the State University of New York-Albany and a master's degree from the U.S. Army War College in Carlisle, Pa. Walsh and his wife, Janet, have two grown sons.
Walsh said during the campaign, he'll be emphasizing his military background, including 27 years as an officer, and the record of the Bullock administration during its first year in office.
Walsh hadn't been mentioned as a U.S. Senate candidate until May, when former Gov. Brian Schweitzer announced he would not run for Baucus' seat.
Walsh said after Schweitzer's announcement, he was approached as a possible candidate. After giving it some thought and consulting with Bullock, his family and friends and political supporters, Walsh said he decided to get into the race.
"We've seen that Washington is broken; that's why I'm running," he said Thursday. "This government shutdown is sad, but it's a perfect example of why Washington needs good, strong leaders."
He also said there shouldn't be brinksmanship later this month over whether to raise the nation's debt ceiling: "We've got to pay our bills and we can't allow our economy to take a dive, if we default."