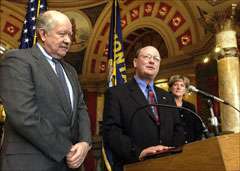 HELENA -- Republican gubernatorial candidate Pat Davison on Thursday tapped David Mihalic of Missoula, former superintendent of Glacier National Park, to be his running mate.
On the final filing day, Davison introduced Mihalic, a retired federal public land manager who now works as a self-employed management consultant, as his ''first choice" for lieutenant governor. A number of other Republicans, including Senate President Bob Keenan, former congressional candidate Alan Mikkelsen, logging activist Bruce Vincent and others have previously been mentioned as potential running mates who had talked to Davison.
Mihalic was superintendent of Glacier National Park from 1994 to 1999 and then held the same post at Yosemite National Park from 1999 to 2002. He worked as a seasonal ranger in Glacier in the early 1970s and as a ranger in Yellowstone National Park from 1976 to 1981.
''Dave understands that our public lands and national parks are not only beautiful, they are critical to our economy and to keeping and creating jobs," said Davison, a Billings business consultant.
He said Mihalic has a proven track record getting things done with both the federal and state government.
During his 30-year career, Mihalic held management positions for the National Park Service and Bureau of Land Management, also serving as superintendent of Yosemite, Mammoth Cave and Yukon-Charley Rivers national parks. In addition, Mihalic served as a national resources policy adviser to Gov. Marc Racicot in 1999 and helped develop the strategy to transfer the Otter Creek federal coal reserves to Montana.
''Dave is a man who will make a difference in the future of our lives," Davison said.
Mihalic, 57, said he has been a Republican for a long time but couldn't express partisan views as a National Park Service executive. He called himself a fiscal conservative and signed the pledge that Davison already signed to oppose raising state taxes.
In addition, Mihalic said he supports multiple-use of public lands.
''I believe the natural resources of the state and the special places of this state deserve the protection they need, but not from people, but for the benefit of people," he told a press conference in the Capitol.
He was asked if he agrees with Davison's statement that ''extreme environmental groups" are stopping economic progress in Montana.
''I think all Montanans are environmentalist to one degree or another," Mihalic said. ''To me, 'ecology' and 'economy' come from the same root word."
He said he and Davison share the view that ''the sensitive development of resources is critical to all Montanans" and the state's economy.
Asked again if he agrees with Davison's assessment of ''extreme environmentalists," Mihalic said: ''My assessment is we have the professionals who work for the state and federal government to do their jobs. We ought to let them do their jobs rather than let the courts do it for them."
An Illinois native, Mihalic has a degree in recreation administration from Southern Illinois University and a master's degree in park management from Michigan State University. He served in the U.S. Army from 1968 to 1972. He and his wife, Jeri, have a daughter, Emily, and a son, Nicholas.
Besides doing some consulting in his retirement, Mihalic said he is an oil and watercolor artist who likes to paint wildlife and landscapes. He also serves on the strategic planning committee for the Missoula Catholic Schools.
The Davison-Mihalic team will face off against these other teams in the Republican primary on June 8: Bob Brown and Dave Lewis, Tom Keating and Matt Brainard and Ken Miller and Wayne Buchanan.
Democratic teams running are Brian Schweitzer and John Bohlinger and John Vincent and Mary Sexton.
Running on the Green Party ticket is the team of Bob Kelleher and Colleen Little Thunder.