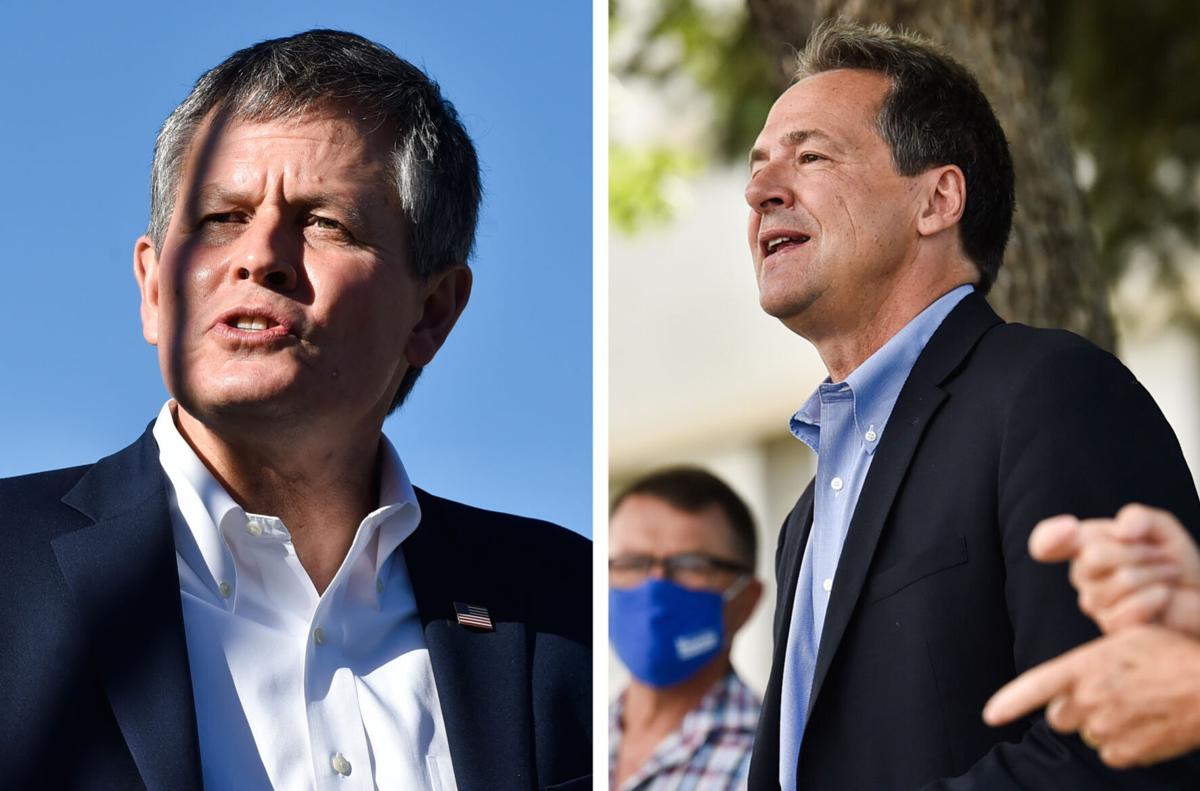 In a race that has likely set a record for spending, Montana's Republican incumbent Sen. Steve Daines and Democratic Gov. Steve Bullock are in a tight battle that could decide which party controls the U.S. Senate.
Daines, 58, spent much of his career in the private sector before seeking public office. He touts his work for Procter & Gamble and later with RightNow Technologies in Bozeman as critical for understanding job creation and technological innovation. Daines was elected to the U.S. House in 2012, and then to the U.S. Senate in 2014.
"If you look at the contrast between myself and Gov. Bullock, first we have two very different backgrounds," Daines said in an interview. "He's had a career in politics and I've had a career in growing businesses, creating jobs including high-paying jobs right here in Montana.
"What we are talking about and what I stand for hasn't changed, and that is more jobs and less government, so that's been common and consistent in every campaign that I've run and how I've made policy decisions."
Bullock, 54, began his career as an attorney for organized labor before entering Montana's political scene. He first won office in 2008 as Montana's attorney general. He was elected governor in 2012, was reelected in 2016 and made an unsuccessful run for president before a last-minute entry into the Senate race. Bullock touts his fight for issues important to Montanans as the state's top law enforcement officer, and pragmatism working with a Republican Legislature as Montana's top executive, as he makes his Senate run.
"In eight years we've been able to get beyond some of the partisanship, brought Republicans and Democrats together to do everything from expanding health care to investing in education to eliminating the business equipment tax as an example for our small businesses, protecting our public lands, and if D.C. could work more like that I think that we'd be in better shape," Bullock said in an interview. "I candidly don't think Steve Daines has spent his time working on what's right for Montana."
The issues shaping Montana's race vary from those familiar to most elections – health care, the economy, public lands, guns, taxes and the environment – to the issue affecting most aspects of daily life: the COVID-19 pandemic.
The nonpartisan Cook Political Report rates the race a toss-up and experts have identified Montana as a potential tipping point race for control of the Senate. That has meant major spending in the race that tops $75 million -- a record in Montana, MTN reported.  
Daines has hammered Bullock over the governor's repeated insistence that he would not run for Senate. He has accused the governor of pandering to party pressure as he met with Senate Minority Leader Chuck Schumer and former President Barack Obama before jumping in. The senator also believes the governor has taken untenable stances on gun control and abortion and supports over-regulation of industry – issues that put Bullock at odds with Trump, who is expected to win Montana in the election as he did in 2016.
"I think there's a real contrast between how I will work with President Trump to protect our Montana way of life, and he proudly proclaimed here virtually a year ago last week that he's a single issue voter, and that's defeating President Trump and removing him from office," Daines said, referring to statements Bullock made during his presidential run. The senator has been a staunch supporter of the president.
Bullock has painted Daines as a favorite of the rich, corporations and specials interests. He argues that the senator has taken too much money from big pharma and oil and gas, has a spotty record on public lands, and that his votes on health care put at risk rural hospitals and the health of Montanans. And the governor calls Daines hypocritical for supporting Judge Amy Coney Barrett to the Supreme Court weeks before the election after declining to meet with Judge Merrick Garland months before the election in 2016.
"I think the distinctions on health care and public lands and fighting for Montanans versus corporations are probably the biggest issues," Bullock said. "But probably more than that, it's who are you going to represent and who are you going to work for?
"I think his biggest failure of leadership is that he's been looking out more for corporations and special interests than us."
The issue of the Affordable Care Act, often called "Obamacare," is again at the forefront of the race. A week after the election, the U.S. Supreme Court is scheduled to take up a case which could see all or parts of the law invalidated.
Obamacare has been a hot button issue in Montana for the decade it has been in place.
Proponents applauded protections for those with preexisting conditions, expanded health care coverage including Montana's expansion of Medicaid, and hundreds of millions of dollars the law has brought to hospitals and in particular, financial support for rural hospitals.
Opponents have both seen aspects of the law as failures with rising costs as well as criticized it as a government intrusion, particularly before Obamacare's individual mandate to buy insurance was struck.
Daines has been a staunch opponent of the law but has come out in support of certain aspects, such as protections for preexisting conditions.
"What we want to do here is address the issues that Obamacare created as problems, at the same time to be absolutely clear, those with preexisting conditions must have access to health care coverage and should not be paying more for their insurance because of that condition," he said.
His votes to repeal Obamacare though have come into question, as critics point out that should the law be eliminated through legislation or lawsuit, no preexisiting conditions protections will exist.
"A week after the election, the Supreme Court is going to be hearing a case that could take away that coverage for preexisting conditions, could take away Medicaid expansion, could take away $63 million seniors got through the ACA for prescription drug relief, and Daines has been for that every single step of the way, of taking away that from Montanans, tearing down what we have built," Bullock said.
Daines maintains that his stance on Obamacare overall does not mean preexisting conditions will not be protected. He is co-sponsor on a Republican bill introduced last year by North Carolina Sen. Thom Tills called the Protect Act. While the bill is a mix of criticisms of the ACA and policy, it would offer preexisting condition protections.
But Daines also believes one of Obamacare's fundamental failures was its lack of bipartisan support when enacted and that any future law must be a compromise by Republicans and Democrats. He also favors legislation aimed at lowering prescription drug costs such as pushing generic drugs to market faster.
"The bottom line is we've got to come together on this and there's room to come together on it to address the issue of preexisting conditions and lower the cost of prescription drugs," he said.
The race has been anything but normal due to COVID-19, with questions swirling over both the national and state response and polarization over restrictions such as mask mandates.
Both candidates have played important but different roles in the pandemic response, with Bullock managing much of the shutdown and phased reopening in Montana and Daines working with lawmakers to pass the Coronavirus Aid, Relief and Economic Security (CARES) Act that sent $1.24 billion to Montana.
"I will literally be the only person in the Senate or the House that had to try to manage a state's response to COVID-19," if elected, Bullock noted. "From the beginning we were told this will be a locally executed, state-managed, federally-supported public health emergency, and the federal support has not been there."
Bullock's frustration centered on the responsiveness of the Trump administration in helping states secure personal protective equipment and adequate testing. Not enough small businesses saw relief through the CARES Act, he said, while billions lack the proper oversight on how it is spent.
Bullock also decries politicization of the virus as many Montanans openly scoff at restrictions such as mask mandates.
"Yeah, I feel like I'm fighting a fight that shouldn't be there," he said. "We know that the only way we're going to have a healthy economy is to get our hands around this virus.
"I've always looked at this as a public health and economic challenge, but not a political one."
As restrictions swept the nation, the economy felt the shock and millions lost their jobs. Relief from Congress came in the form of stimulus checks, enhanced unemployment benefits and funding to states to tailor their relief locally.
"(Voters) didn't want to hear much about a campaign, they wanted to make sure they were being taken care of as it related to what was going on with health care as well as the economic crisis of today," Daines said.
The senator would like to see both therapeutic drugs and a vaccine once developed offered to Americans free of charge. He advocates for "personal responsibility" over mandates, citing the need for increased precautions around vulnerable populations such as seniors or those with compromised immune systems.
"The pandemic is not going to end until we have immunity," Daines said. "We're going to see immunity occur most likely when we get a vaccine safely ready and available for Montanans and the American people. And when we stop the pandemic we'll also stop the economic crisis."
Daines also believes Congress will pass another relief package.
"I do think that Congress will come together and pass another COVID relief package," he said. "Whether it happens before the election, that remains to be seen, but I believe something will pass here before the end of the year."
The issues of racism and policing have played out across the country and in Montana with demonstrations in support of movements such as Black Lives Matter and Back the Blue.
Daines was critical of calls by some to "defund" police departments and felt that Democrats have aligned themselves with a dangerous policy.
"Sadly it seems to have become a partisan issue and we've got to move beyond that and unify as Americans and as Montanans to both back the blue as well as confront the issues of racism," Daines said. "Those should both be bipartisan issues, and it is for me."
Bullock felt the clash at the national level was another indication of congressional dysfunction.
"It's typical of D.C. that the Republicans said one thing, the Democrats said another thing, and as opposed to actually getting together and figuring out something, they just said, 'alright we're done,'" he said. "I think Montanans and Americans are just tired of that zero sum game of saying, "Are we introducing this stuff because people need things done or is it just talking points?'"
Bullock felt that as a Democrat, he has been unfairly linked to policies such as defunding police departments, which he opposes. Still, he believes the dialogue over racism is a conversation worth having.
"I don't know how you define Black Lives Matter necessarily in a nutshell, but when individuals view health disparities, economic disparities, concerns about whether they're treated fairly under the law, I think we should listen," he said. "I think it's critical to listen to folks."
Despite the divides facing the country, Daines and Bullock say bipartisanship must prevail in order to move forward. And both believe they are capable of reaching across the aisle to come up with solutions.
Daines highlights the Great American Outdoors Act – a law fully and permanently funding the Land and Water Conservation Fund as well as putting funding toward maintenance backlogs in national parks and other public lands. The senator, credited with gaining support from Trump and Senate leadership, earned accolades from many conservation groups who have worked on the issues for more than a decade. The bill passed with a coalition of Republicans who joined with Democrats in support.
"In the midst of a very polarized and divided Congress, we found an issue that brought Republicans and Democrats together," Daines said.
In 2019, the data firm GovTrack named the senator one of the most bipartisan and effective in the body. Daines also cited a recently introduced bill with California Democrat Diane Feinstein aimed at increasing forest management as his bipartisan approach.
"We share common ground of addressing the issues of catastrophic wildfires, so we need more of that," he said of the forest management bill.
Bullock has faced Republican majorities in both the Montana House and Senate for the entirety of his eight years in office. During that time, major priorities such as Medicaid expansion and limiting the influence of dark money in elections have received his signature, and the governor believes he can unite in the Senate.
"The same way I've worked for the last eight years in our statehouse trying to get folks together to get things done is what I think our country and D.C. desperately needs right now," he said. "I mean, we're more divided than any time in my lifetime and we've got to figure out ways to actually bring people together than further divide."
Bullock took a less rosy view of Daines' role in passing the Great American Outdoors Act, saying it came at a time when the senator needed to build political credibility with conservationists despite past bills that threatened public lands.
"I think the Great American Outdoors Act was an accomplishment that so many people who've been fighting for decades can celebrate and take credit for," he said. "… I'm glad Steve Daines was a champion of it, but you need a champion for public lands for more than just four months of the election, you need one for an entire term."
Bullock was also critical of Daines' initial support of William Perry Pendley to lead the Bureau of Land Management. Conservation groups have long railed against Pendley when he was a private attorney as he advocated for federal land transfer, litigated against Montana's stream access law and represented oil and gas interests attempting to drill in the Badger-Two Medicine region.
For his part, Pendley has said he was representing his clients' interests as an attorney and it was not relevant to how he would run BLM.
After Trump appointed Pendley on an interim basis, Daines replied in the affirmative after national media asked if he supported the appointment. More recently, the senator said he is undecided.
In response to a Bullock lawsuit, a federal judge ruled Pendley was serving illegally in his role without Senate confirmation.
When it comes to his public lands record, Bullock believes his accomplishments at the state level show his commitment to protecting public lands, public access and outdoor recreation. That work includes support for programs such as Habitat Montana, state conservation easements and creation of the Office of Outdoor Recreation within the governor's office.
Daines credits his A+ rating from the National Rifle Association against Bullock's F as evidence that gun owners should be wary of the governor's claims of supporting the Second Amendment.
Bullock has come out in support of universal background checks and banning some semiautomatic weapons – a position he had previously opposed during his presidential run – and vetoed several bills easing restrictions on firearms such as barring municipalities from requiring concealed carry permits.
Bullock counters that he is a gun owner, and he points out that his work both as attorney general and governor streamlined concealed carry processing and allowed silencers while hunting. The reforms he does support are common sense and about community safety, he argues, with broader support among the greater public than the narrow focus of the NRA.
Montana is a natural resource state, and that means seeking a balance between extractive industries and environmental protections.
A committee commissioned by Bullock to study climate change in Montana offered carbon pricing, which is a tax on fossil fuels, as one of 50 suggestions for the state to explore to reduce greenhouse gases. During his run for president, Bullock told the Washington Post carbon pricing should not be off the table so long as it did not disproportionately affect low-income communities.
Daines has called carbon pricing a job-killer for Montana and said that other countries must work to reduce emissions.
"The problem we face right now globally is not what the U.S. is doing, it's what China and other countries are doing where they're continuing to increase their CO2 emissions related to energy," he said. "What I believe the right thing to do here is how do we allow innovation continue to drive CO2 emissions down."
Daines cited carbon capture technology from energy to be used for enhanced oil recovery as one example of innovation that should be encouraged.
Bullock, who said he does not back current carbon tax proposals, echoed support for carbon capture and noted that Montana has increased its footprint of wind and solar energy. He believes lobbyists and special interests have largely stood in the way of moving forward on addressing climate change.
"We can look at this as an opportunity to both create jobs, invest in infrastructure and not leave communities behind," he said. "But if we're not even going to be at the table, you're either driving the bus or you're under it. I think the senator has had his head in the sand and his hand in the pockets of the millions of dollars of oil and gas that he's gotten if he won't even have this conversation."
Reporter Tom Kuglin can be reached at 447-4076 @IR_TomKuglin